John T. Biggers was a muralist, educator, and Penn State alumnus who dedicated his work to establishing a sense of African American identity and pride through art. His murals, portraying rural Black laborers, can be seen at Penn State in the Burrowes Building and the Paul Robeson Center.
Born on April 13, 1924, in Gastonia, North Carolina, Biggers was the youngest of seven children. He grew up in a shotgun house constructed by his father, the Reverend Paul A. Biggers.
Throughout Biggers' childhood, his father worked as a farmer, a shoemaker, a preacher, schoolteacher, and principal. His mother, Corina Biggers, whom he once described as having "an artist's perception," was a domestic worker.
His upbringing fostered a respect for education and artistic expression. His earliest artistic memory was sketching copies of religious illustrations from his father's Bible.
Despite Biggers' talent, he initially had no desire to become an artist. When his father died in 1936, he was concerned with helping his mother support the family. Biggers entered Virginia's historically Black Hampton Institute in 1941 with the goal of becoming a plumber. His life changed, however, when he signed up for an evening drawing class and was introduced to the man who became a lifelong mentor and friend, Dr. Viktor Lowenfeld.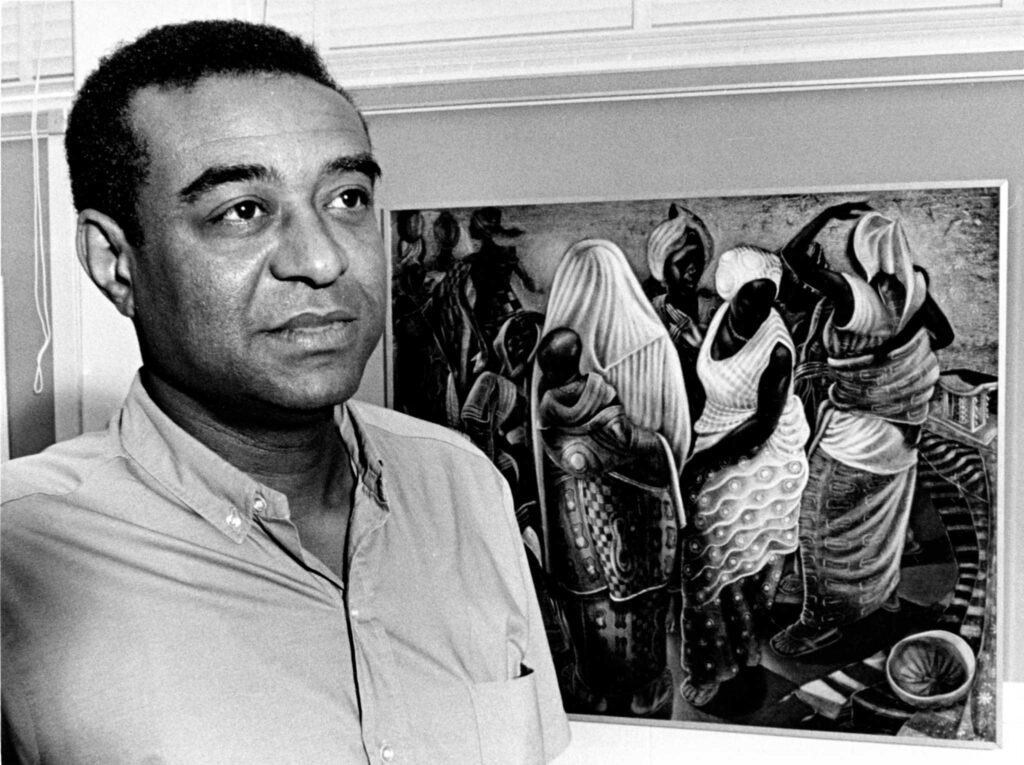 A Jewish refugee who fled Nazi persecution, Lowenfeld was interested in promoting art as a tool for oppressed people to connect with their cultural identity and gain self-esteem. Lowenfeld emphasized the beauty and dignity inherent in African art and encouraged his students to take pride in their heritage. Inspired by Lowenfield, Biggers quickly dropped his plan to become a plumber and became an art major.
During his time at Hampton, Biggers studied under prominent African American artists Charles White and Elizabeth Catlett. He took a particular interest in creating murals and showed his work, Dying Solider, an exhibit at New York's Museum of Modern Art.
After briefly serving in the U.S. Navy, Biggers transferred to Penn State, where Lowenfeld had become head of the Art Education Department. Biggers earned his bachelor's, master's, and doctoral degrees at Penn State. He also married his wife Hazel Hales, whom he had met at Hampton.
Biggers painted several murals at Penn State, two of which — Night of the Poor and Day of the Harvest — hang in the entrance of the Burrowes Building. Appropriately, these murals portray the life-giving power of education. A third work, Sharecropper Mural, is on display at the Paul Robeson Center.
At this stage of his career, Biggers' art style was characterized by social realism. While Biggers' later work became increasingly abstract and symbolic, his Penn State murals reflect his early focus on depicting the everyday lives of rural African American laborers.
Biggers taught at Penn State for one year. He then went on to help establish the Art Department at Texas Southern University, where he trained and inspired hundreds of young artists for more than thirty years.
In 1950, Biggers won a statewide competition sponsored by the Museum of Fine Arts in Houston for his painting, The Cradle, but he was barred from attending his own reception due to the museum's segregationist policies. In 1957, Biggers visited several West African countries on a UNESCO fellowship, an experience which impacted him profoundly. He would later reflect, "Segregation and discrimination were hell when I was a kid. But Africa embraced me, and I embraced it back. I needed to be embraced. I had been isolated all my life."
Beyond this newfound sense of community and acceptance, the journey also revolutionized Biggers' art style, as he began to incorporate African symbolism which emphasized nature and the interconnectedness of life. He depicted his travels in an illustrated book, Ananse: The Web of Life in Africa, published in 1962.
Biggers died in 2001 at the age of 76, leaving behind a significant legacy. The author Maya Angelou described him as "one of America's most important artists," adding, "(he) leads us through his expressions into the discovery of ourselves at our most intimate level."
Grey Rochon
---
Sources:
Bearden, Romare and Harry Brinton. "John T. Biggers," A History of African American Artists from 1792 to the Present. New York: Pantheon Books, 1993.
Sweeney, Jason. "Biggers, John Thomas," Handbook of Texas Online. https://www.tshaonline.org/handbook/entries/biggers-john-thomas (Accessed February 13, 2021).
Alvia Wardlaw, J., John Thomas Biggers, and Elaine M. Stainton. The Art of John Biggers: View from the Upper Room. Harry N. Abrams Inc., 1995.
---
First Published: June 11, 2021
Last Modified: October 11, 2021