Canoeing and kayaking on whitewater streams in Centre County is enjoyed for recreation and competitive sport. Canoe clubs are organized around both activities, and county paddlers have achieved success on both the national and international levels, including medals held at world championships.
Recreation paddling attracts canoers and kayakers to remote sections of wilderness streams. The American Canoe Association (ACA) ranks streams from very easy (Class 1) to very difficult (Class 5). Centre Country area has numerous streams that are frequented by whitewater enthusiasts and recreation paddlers, including Spring Creek (Class 1-2), Red Moshannon (Class 2), Black Moshannon (Class 3), Mosquito (Class 2-3), Kisaquoquillas (Class 2-3), Penns Creek (Class 1), Bald Eagle (Class 1), Little Juniata River (Class 1-2), and West Branch of the Susquehanna River (Class 1-2).
Competitive events on whitewater include slalom races and downriver races (aka wildwater). Slalom uses gates suspended from wires over short stretches of a stream with both downstream and upstream maneuvers required. The intent is to simulate whitewater rapids. Competitors are timed from start to finish and time penalties are assessed for touching gate poles or missing a gate.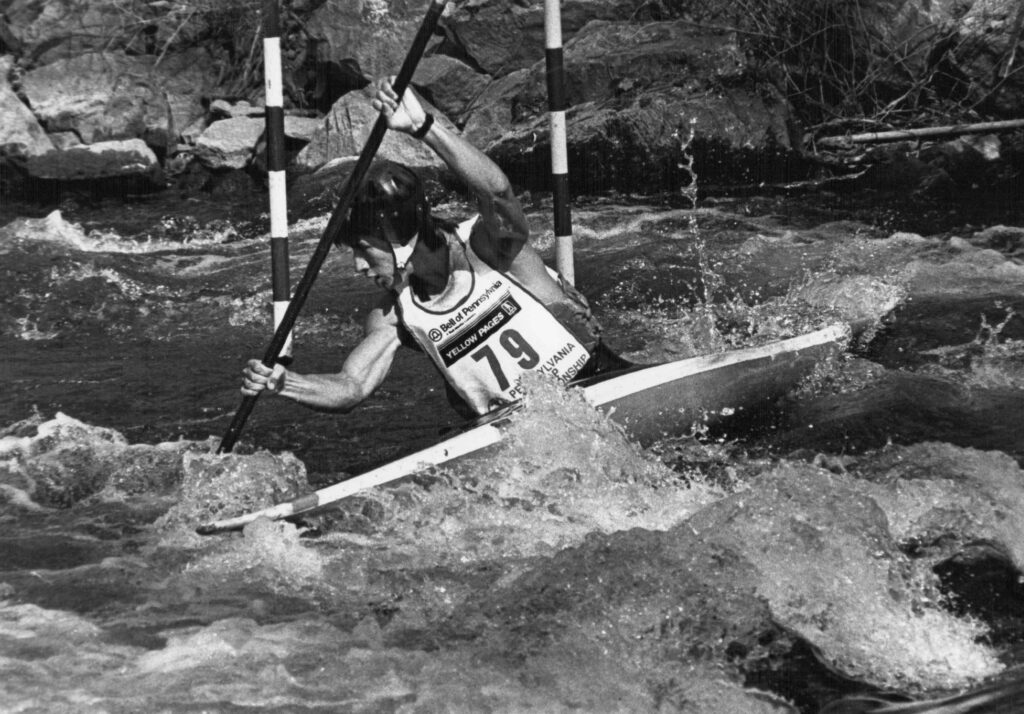 Downriver events involve racing against time over distances ranging from a few miles to 10 miles or more. Classes for both males and females are contested as well as mixed teams in kayaks, decked canoes, and traditional open canoes. Kayak classes are usually faster due to use of a double-bladed paddle while canoe classes require the paddler to kneel and use a single blade paddle.
Canoeing in the U.S. as an organized recreation activity began in the 1870s with the formation of regional canoe clubs, which sponsored events such as canoe cruises and canoe sailing regattas. The ACA was organized in August of 1880 and is the national governing body for Olympic events in canoe and kayak as well as a supporter of recreational paddling, stream access, and river conservation.
Whitewater competitions began in Europe in the 1930s, including both distance races and slalom events. The first World Championships were held in 1949 in Geneva, Switzerland. The first U.S. national championship for whitewater canoes and kayaks was in 1956. Today, whitewater canoe clubs organize recreational cruises, competitive events in slalom and downriver, classes for beginners and river rescue techniques, and boat building.
A permanent training center for slalom sport is on Spring Creek in Bellefonte on Sunnyside Boulevard. The site has hosted numerous slalom races since 1969. Every March since 1967, Red Moshannon Creek is the site of an annual downriver race that attracts more than 200 paddlers in a variety of boats. The current record for the 7-mile race course was set in 1993 by Brad Nelson at just over 39 minutes.
Early craft were canvas-covered canoes and kayaks and aluminum canoes, but fiberglass boats replaced them by the early 1960s. Commercially-built boats were uncommon and building your own decked canoe or kayak was a wintertime activity.
Commercial boats today are mostly roto-molded plastic craft, although fiberglass designs are still available. Fiberglass kayaks often weigh under 20 pounds compared to 40-50 pounds for plastic boats. Several early fiberglass boat designs were developed locally.
Centre County clubs were leaders in the sport, including the Canoe Division of the Penn State Outing Club (PSOC) and Explorer Post 32 (aka Wildwater Boating Club or WBC). Led by advisers Tom Smyth and John Sweet, the PSOC organized the Red Moshannon race, rolling classes in the Penn State Natatorium, indoor slaloms, river trips, and boat building by students and other club members.
The PSOC also had two dominant paddlers, Bill Bickham and John Sweet, who combined for 38 national titles in decked and open canoe events between 1959 and 1985. PSOC members and alumni won 74 national titles over the years.
Led by adviser David Kurtz, the WBC built the first fiberglass mold for a decked canoe, organized the first local slalom race, and developed the training site on Spring Creek. This was accomplished largely by area teenagers, several of whom also competed internationally in Europe, Brazil, and Australia. The WBC won 22 national titles, including seven by 1972 Olympian Tom Southworth. Kurtz continues to be active as a coach and paddler. County paddlers helped organize major races in Pennsylvania and the 1989 World Championships on the Class-4 Savage River in western Maryland. Local paddlers also have worked to conserve water quality and access on county streams.
Jon Nelson
---
Sources:
American Canoe Association. History of the ACA. https://www.americancanoe.org/page/history (Accessed March 30, 2022)
Gertler, Edward. Keystone Canoeing, 4th ed. Silver Spring, MD: Seneca Press, 2004.
McKee, Barbara S. "The Value of a Club: The Role of Organized Groups in Sport," in Whitewater '82 (Barbara McKee, editor). State College: Commercial Printing, 1982, pp. 18-19.
Sweet, John R. "Going for Gold: The Evolution of C-1 Slalom in the United States," in Whitewater '79 (Barbara McKee, editor). State College: Commercial Printing, 1979, pp. 12-20.
Taft, Susan L. The River Chasers: A History of American Whitewater Paddling. Mukilteo, WA: Alpen Books, 2001.
---
First Published: May 6, 2022
Last Modified: June 7, 2022