The Egg Hill Church in Potter Township was one of the first Evangelical churches in Penns Valley and is considered an outstanding example of the early country churches built in Centre County. The church building, located on an isolated hilltop on Short Mountain, is listed on the National Register of Historic Places.
Organized by the Evangelical Association in 1838, the original church was built on farmland donated by John Dauberman Sr. and his wife, Mary. The association, founded by Jacob Albright in 1800, was popular in the predominantly German counties of central Pennsylvania.
The church and the adjoining cemetery were named Egg Hill because they were on a hill that was egg shaped.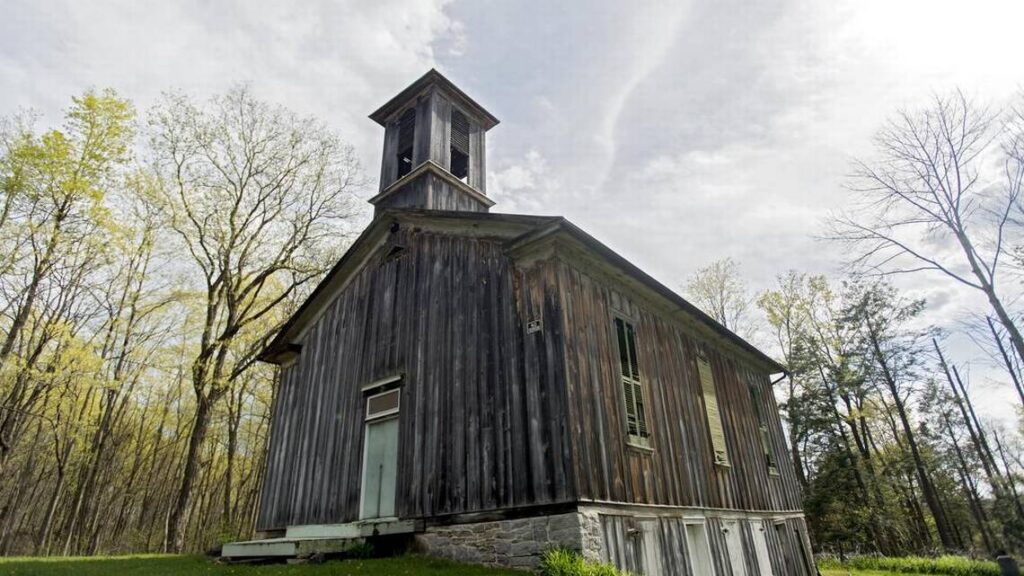 During a camp meeting near the church in 1840, a tornado struck the area. Trees on both sides of the camp trees were snapped off like matchsticks, but not a tent in the camp was blown down or a tree damaged.
During the storm, many people kneeled and prayed for deliverance. The fact that the church and camp were spared by the storm had a profound effect on the growth of the evangelical church.
In 1860, the old log church was replaced with the current building. The simple wooden structure, which was built entirely of pine, reflected the simplicity and humility of its evangelical founders.
Regular church services were discontinued at the Egg Hill Church in 1927. The steeple was removed in 1970.
Badly in need of repair, the Egg Hill Conservancy was formed in 1980 and the church was saved from being razed. In 1988, the church was used to film a documentary on William Penn's vision of creating a utopian community where religious diversity would be permitted.
The church received a new foundation in 2020. It continues to host weddings, special events, and an annual homecoming service.
Vonnie Henninger
---
Sources:
Lee, Marvin. "A Miracle at Egg Hill." Town & Gown, October 1979.
Paez, Sarah. "A historic Penns Valley church needs saving." Centre Daily Times, April 19, 2019.
National Register of Historic Places, Egg Hill Church Nomination Form.
---
First Published: January 4, 2022
Last Modified: May 21, 2022