Grilled Stickies are pastries that for many years were a staple of Penn State students and particularly patrons of the former Ye Olde College Diner, a favorite student hangout on College Avenue for decades. Although the diner closed in 2018, stickies continue to be made and sold.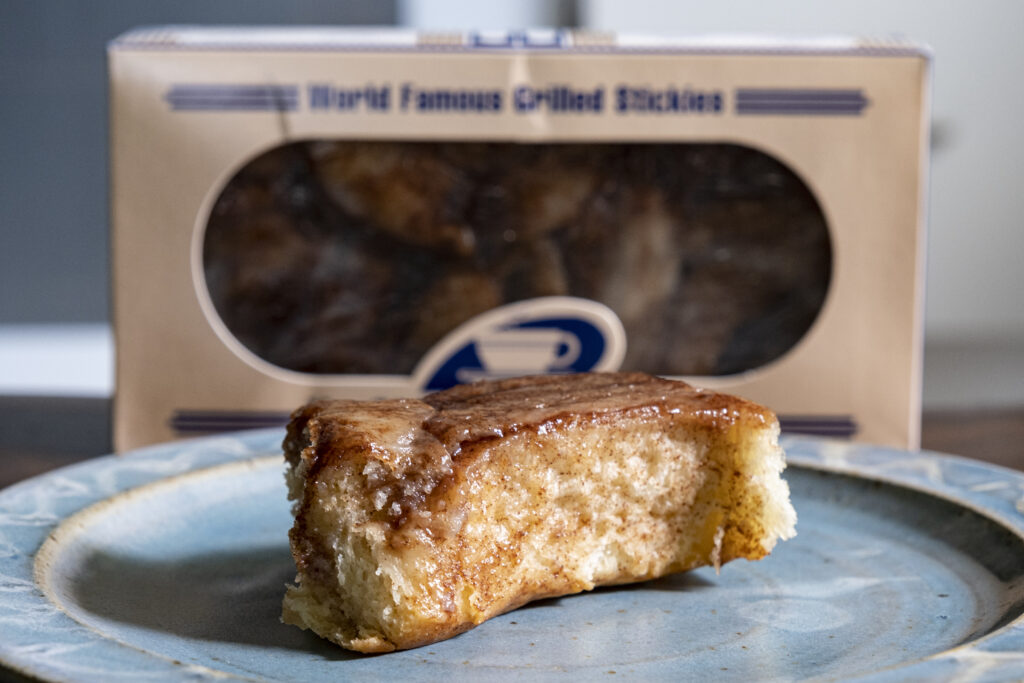 Often described as a combination of sticky buns and cinnamon rolls, the pastry is cut into rectangle shapes and then fried on a griddle. Grilled stickies connoisseurs often recommend that serving the treat a la mode, with a scoop of vanilla ice cream on top, and with a cup of coffee.
Over the years, grilled stickies have received national media attention, including a spotlight in a PBS special on diners, and numerous appearances during slice-of-life segments of nationally televised football games.
In 2019, Penn State Head Football Coach James Franklin and his daughters made an appearance on ESPN's Game Day television show before the Michigan-Penn State game to deliver grilled stickies to the commentators and the GameDay crew.
Ye Olde College Diner, a 24-hour diner that was popular with Penn State students for decades, closed in 2018. However, the culinary tradition of grilled stickies continues.
The pastries are now made and packaged in a Boalsburg bakery and sold at retail outlets and restaurants around Centre County. The grilled stickies are available in plain and with nuts. The business also offers a fundraising service for teams, clubs, and organizations.
In 2018, the Penn State Berkey Creamery introduced a "grilled stickies" flavored ice cream.
Matt Swayne
---
Source:
Ye Old College Diner. https://www.grilledstickies.com. (Accessed July 17, 2021)
---
First Published: July 31, 2021
Last Modified: February 5, 2022