John Montgomery (Monte) Ward is the only person from Centre County elected to the Baseball Hall of Fame in Cooperstown, New York. He was a player and manager in the early years of professional baseball, but is best known for organizing the sport's first union.
Ward was born on March 3, 1860, and raised on East Lamb Street in Bellefonte. His father, James, worked as a manufacturer of farm machinery, and his mother, Ruth, was a teacher, but he was orphaned by the age of 14. He began his short career at Penn State just before his mother's death when he entered the Penn State Preparatory Department.
Ward's Penn State career lasted only three years, but he was successful both academically and athletically. He was a starter on the Penn State baseball team as a 14-year-old and did well academically in subjects such as geometry, Greek, and Latin. By the fall of 1876, Ward entered Penn State College as a sophomore, bypassing the freshman year, and was the top student in his class that year.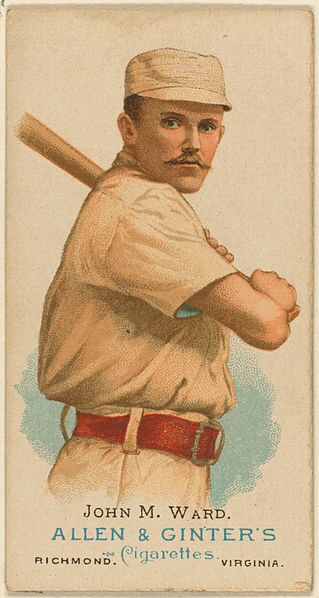 However, he had a nearly failing score in conduct. In the spring of 1877, he and a buddy, Bill McCormick of Unionville, were caught stealing chickens in nearby Puddintown. Ward was immediately dismissed from Penn State.
Ward, almost immediately, began his athletic career with professional baseball, which was in its infancy. A number of towns throughout America formed teams following the Civil War. The first professional league began in 1871 and five years later the National League was formed. When Ward was recruited to pitch for Williamsport, the county seat of Lycoming County, he was likely only one of several players who received money to participate.
The all-professional Philadelphia Athletics signed Ward, but he was unsuccessful and was soon released. He then pitched for a Janesville, Wisconsin, team before returning east to play for Buffalo, Binghamton, and then a National League team, the Providence Grays in Rhode Island. In 1879, at age 19 in his second season at Providence, he won forty-seven games and pitched the second perfect game in Major League history.
Ward pitched for only three effective years before hurting his arm. He then became a successful shortstop for both Providence and the New York Giants, amassing 2,000 hits over his career and, in one year stealing a record 111 bases.
His baseball resume was enhanced by becoming manager of the "world champion" Giants while earning both a bachelors degree in political science and law degree from Columbia University. He managed Providence in 1880, New York in 1884, and 1893-94, and Brooklyn 1890-1892.
Ward's greatest fame came from organizing the first baseball union in 1885, the Brotherhood of Professional Baseball Players. He believed that team owners, using reserve clause contracts, bound players or reserved them to a specific team for a lifetime. He opposed the type of servitude baseball players experienced in the National League.
His 1887 article in Lippincott's Magazine, "Is the Base Ball Player a Chattel?" is a considered a classic. He eventually formed a new major league, The Players League, in 1889 to implement his labor concepts. Ward later owned the Boston Braves baseball team and was a successful lawyer in New York City.
Ward died from pneumonia on March 9, 1925, soon after golfing and hunting near Augusta, Ga. He was voted into the National Baseball Hall of Fame in 1964. In 2000, a Pennsylvania state historical marker was erected in his honor at 236 E. Lamb Street in Bellefonte.
Ward was twice married, first to Helen Dauvray, a successful actress, in 1887 (divorcing in 1893), and then to Katherine Waas from 1903 until his death. He had no children.
Ronald A. Smith
---
Sources:
DiSalvatore, Brian. A Clever Base-Ballist: The Life and Times of John Montgomery Ward (New York: Pantheon Books, 1999).
Stevens, David. Baseball's Radical for All Seasons: A Biography of John Montgomery Ward (Lanham, MD: Scarecrow Press, 1998).
Ward, John M. "Is the Base Ball Player a Chattel?" Lippincott's Magazine, 40 (August 1887) 310-319.
Archival materials in the Penn State University Archives, Baseball Hall of Fame, New York Public Library Rare Books and Manuscripts Division, and Centre County Library & Historical Museum.
---
First Published: January 4, 2022
Last Modified: May 17, 2022