The Reynolds Mansion, built in 1885, is one of the best-known Victorian homes in Bellefonte. It is now operated as a bed and breakfast.
Located at the corner of Linn and Allegheny streets, the home was built by William Frederick Reynolds. The native of Mifflinville moved to Bellefonte in 1841, opening a grocery and supply store. He also began investing in land. With a partner Reynolds started the banking house of W. F. Reynolds & Co. in 1849, and in the ensuing years he became one of the wealthiest men in Centre County.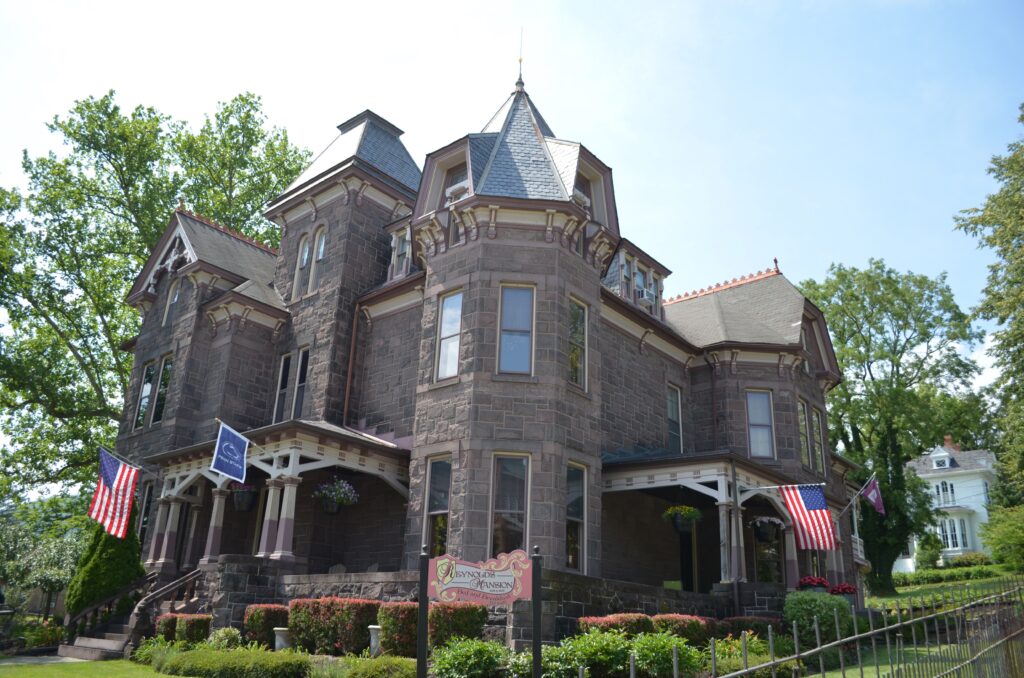 The home, designed by architect C. S. Wetzel, is an eclectic blend of Gothic, Italianate, and Queen Anne styles. The stone was quarried in Hummelstown, Pennsylvania, and is known as blue brownstone because of its purple or blue cast.
The mansion has thirteen fireplaces and features handcrafted woodwork, stained glass windows, and inlaid parquet floors. The staircase is hand carved. The home also has an intricate calling system. The Carriage House was built in 1893 and the semi-circular addition in 1901.
Reynolds was a bachelor and when he died in 1893, he left his estate to his nephew, W. Frederick Reynolds, who had worked with him. The younger Reynolds lived in the home, and after he died in 1941, the house had several owners. At one time, the Carriage House served as a church.
Joseph and Charlotte Heidt, Penn State alumni from Bucks County, purchased the mansion and opened a bed and breakfast with eight bedrooms in 1994. The couple later sold the home to Mike and Tricia Andriaccio who continue to operate it as the Reynolds Mansion Bed and Breakfast.
Ford Risley
---
Sources:
Bellefonte Republican, March 21, 1893.
Reynolds Mansion Bed and Breakfast. https://reynoldsmansion.com (Accessed June 22, 2021).
---
First Published: July 20, 2021
Last Modified: April 5, 2022