Talleyrand Park is a popular community recreation and gathering space alongside Spring Creek in downtown Bellefonte.
The park is named for French diplomat Charles Maurice de Talleyrand, who on a visit to Pennsylvania in the 1790s spent a night in Bellefonte. Local legend credits Talleyrand with giving the borough its name when, upon visiting the spring, he supposedly remarked, "Quelle belle fontaine!" (What a beautiful fountain!)
Planning for the 3.5-acre park began in 1964 as a collaboration between the Bellefonte Borough Council and the U.S. Department of Housing and Urban Development (HUD). The park's site along High Street and Spring Creek was home to commercial buildings that were no longer used and had fallen into disrepair by the 1960s.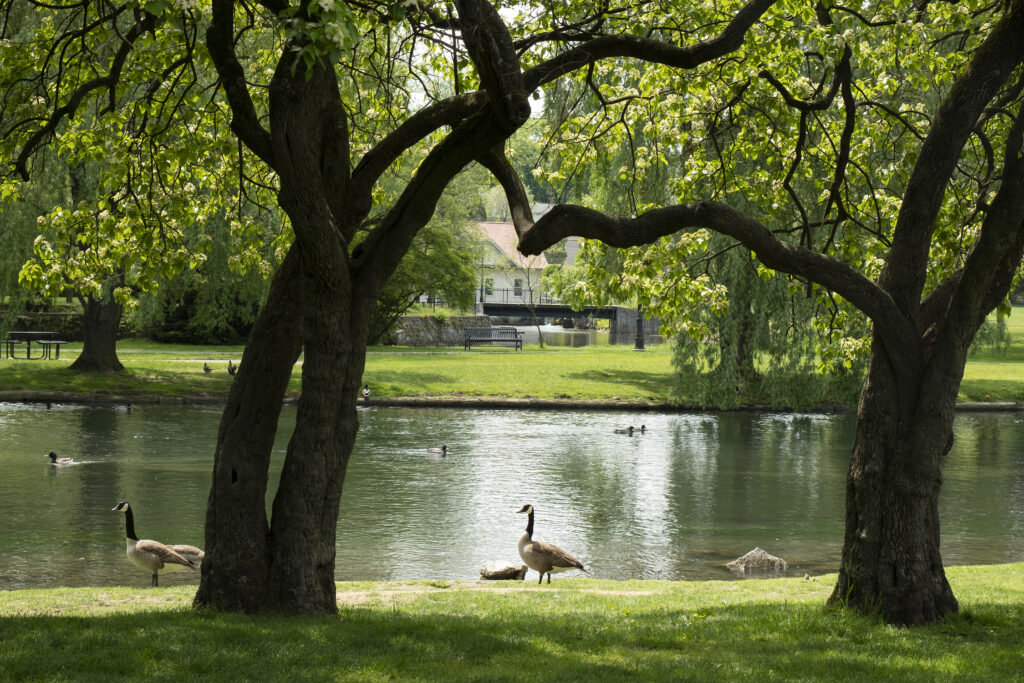 The park was created as part HUD's nationwide renewal plan to revitalize urban and suburban centers. Planning and land development took more than a decade.
The project was nearly abandoned in 1974 after the borough faced funding problems, but a volunteer group known as the Talleyrand Park Committee (TPC) was formed to help raise money and maintain the park. The next year the Borough Council approved designs for the park layout, gazebo, pergola, and promenade,
The park expanded along Water Street in 1978 after the donation of land from Gulf Oil Company at the request of the TPC. A footbridge connecting the sections of the park along High Street and Water Street was installed in 1985 and funded by a grant from the Pennsylvania Conservation Corps.
Other features, including a playground, restrooms, benches, tables, and a pollinator garden were added throughout the 1990s and 2000s. The park expanded again in 2010 as part of the Bellefonte's Match Factory revitalization project at the site of the former Pennsylvania Match Company at Water Street and Phoenix Avenue.
The park hosts numerous community events during the year, including the Bellefonte Victorian Christmas. The TPC continues to maintain and improve the park, working with the Borough of Bellefonte and the Bellefonte Garden Club. In 2014, the TPC received the Excellence in Historic Preservation Award from the Centre County Historical Society.
Jenna Spinelle
---
Sources:
Bellefonte Historical Cultural Association. A History of Talleyrand Park. Bellefonte, Pa., 2017. http://www.bellefontearts.org/TalleyrandBrochure.pdf
U.S. Department of Housing & Urban Development. Timeline 1930-2020. Washington, D.C., 2015. https://www.huduser.gov/hud_timeline/index.html
---
First Published: May 20, 2021
Last Modified: August 9, 2022