The Brockerhoff House is one of the architectural landmarks in Bellefonte, exemplifying the prosperity of the borough in the 19th century. The imposing four-story structure, which incorporates the Italianate, Queen Anne, and Second Empire architectural styles, encompasses a full block on Allegheny Street.
The site of the Brockerhoff House was originally the site of the Pennsylvania Hotel, which was destroyed by a fire in 1864. Henry Brockerhoff reconstructed the building the next year and named it the Brockerhoff House. Born in Germany to wealthy parents, Brockerhoff had moved to Centre County in 1825. He also built the Brockerhoff Mill, a grist mill in Benner Township.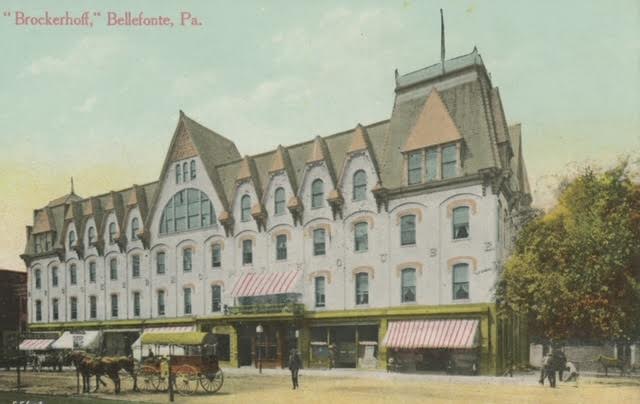 The grand hotel had three floors and was designed in the Italianate style. The second floor had a dining room, kitchen, and bar. The third floor was guest rooms.
The Brockerhoff House was redesigned by Robert Cole in 1890. The Centre County native and self-trained architect gave several Bellefonte buildings a new look by topping them with imposing Victorian attic stories. He did the same with the Brockerhoff House, adding a fourth floor and the prominent roof.
The roof is a multi-tiered slate mansard roof with prominent Second Empire style details and jerkin head dormers. The central cast iron portico and balcony were also added at this time and remain a prominent feature of the building. Large diocletian windows grace a gabled central dormer on the front and side facades.
For decades, the hotel was a popular place for guests visiting the county to stay. The hotel sent a surrey to the train station downtown to pick up guests.
During the Great Depression, the hotel closed for seven years. In 1936, G.C. Murphy Co. opened a store on the first floor. The hotel continued operating on the upper floors.
The hotel closed in 1960 and was vacant for two decades. Because of its historical significance, the county bought the building in 1983 from the Brockerhoff estate.
With a $4.3 million grant from the U.S. Department of Housing and Urban Development, the Brockerhoff House was turned into a Section 8 assisted-living senior housing community with thirty-three one-bedroom apartment units. Various restaurants and retail stores have occupied the first floor in recent decades.
The building was added to the National Register of Historic Places in 1977. It is part of the Bellefonte National Historic District.
Shannon Wright
---
Sources:
Historic Buildings of Centre County Pennsylvania. The Historic Registration Project of Centre County Library. Gregory Ramsey, Coordinator. University Park: Keystone Books, 1980.
National Register of Historic Places Nomination Form, Brockerhoff Hotel.
George Mattar. "County To Buy Brockerhoff for Senior Housing," Centre Democrat, June 22, 1983.
Chris Arbutina. "Brockerhoff gets $4.3 million grant," Centre Daily Times, October 10, 1986.
---
First Published: August 9, 2021
Last Modified: April 5, 2022