The Recreation Building, better known as Rec Hall, is a multi-purpose indoor athletic facility that has been the historic home of several Penn State athletic teams.
The building, constructed of red brick with limestone trim, was designed by architect Charles Z. Klauder and completed in 1928 at a cost of $527,260. It formally opened in January 1929, replacing the Armory, the university's previous facility for indoor athletic events.
The original name was Recreation Hall but it changed to Recreation Building in 1957. Additions and renovations were completed in 1953 and in 1963, increasing seating capacity from 5,000 to 7,200 and adding scoreboards. (A more recent project lowered the capacity to 6,500.) The building's south wing was renovated in 2006, including an expansion of the student fitness center.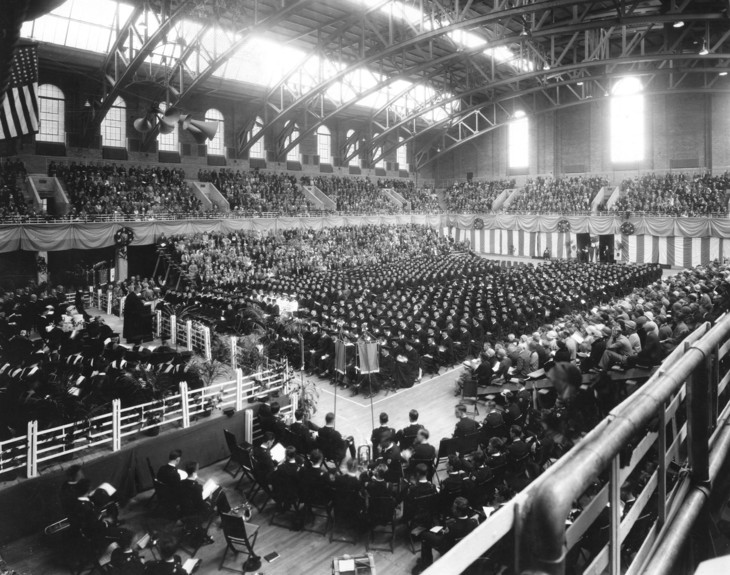 The fitness center, which includes strength training and cardio equipment and can accommodate more than 200 people, was re-named the Hepper Fitness Center after a scholarship gift from Jeff and Kellie Hepper in 2013. Rec Hall also includes two gymnasiums, 14 racquetball courts, 10 squash courts, and an indoor track.
At one time or another, Rec Hall was home to many Penn State sports teams, including boxing, men's and women's gymnastics, wrestling, men's and women's volleyball, and men's and women's basketball. The gymnastics, volleyball, and wrestling teams still compete in Rec Hall. Penn State's men's and women's basketball teams moved to Bryce Jordan Center beginning in 1996, although the men's team has returned for occasional games in the facility beginning in 2013.
Rec Hall has hosted 21 collegiate national championships, 16 international gymnastics meets, 12 NCAA and AIAW women's basketball championship tournament games, five National Invitation Tournament games, and the first Big Ten men's and women's gymnastics dual championship. Five Penn State teams have won national championships in the building — boxing (1929, 1932), wrestling (1953) and men's gymnastics (1960, 2007).
Rec Hall was the site of Penn State commencement ceremonies for many years and from 1999-2006 was the site of the annual Panhellenic/IFC Dance Marathon. From the 1930s through the 1970s, Penn State students registered for classes in Rec Hall, and several kinesiology classes are still held there today.
The building has also hosted several major non-athletic events. On January 21, 1965, the Rev. Martin Luther King Jr. addressed a crowd of more than 8,000 people about the civil rights movement and the future of integration. In 2011, President Barack Obama spoke about clean energy to an invitation-only Rec Hall audience of about 3,000.
Many notable musical artists have performed in the building, including the Temptations, Billy Joel, Janis Joplin, Bruce Springsteen, and the Grateful Dead.
Jeff Rice
---
Sources:
"Martin Luther King Jr. at Rec Hall on Jan. 21, 1965," Penn State News, January 21, 2019.
"University Park Campus History Collection 1 – Rec Hall" Penn State University Libraries Digital Collections.
"Registration in Rec Hall, old-school," Penn State News, August 20, 2015.
"Gift celebrates family's legacy at Penn State," Centre Daily Times, February 4, 2013.
---
First Published: May 20, 2021
Last Modified: April 2, 2022