The Armory, built in 1892 to provide military training for Penn State students, was a landmark campus building until it was demolished in 1964 to provide space for a new wing for undergraduate classrooms in Willard Building.
The then-Pennsylvania State College built the Armory as a symbol of its commitment to the Morrill Land-Grant College Act, which included offering military training to teach male undergraduates to become citizen-soldiers. Before World War I, all male undergraduate students were required to participate in the school's Cadet Corps. Students trained in the Armory during World War I for Army Reserve Officers Training Corps (ROTC) and during World War II for Navy ROTC. The building also was used for physical education classes, varsity sporting events, and social events.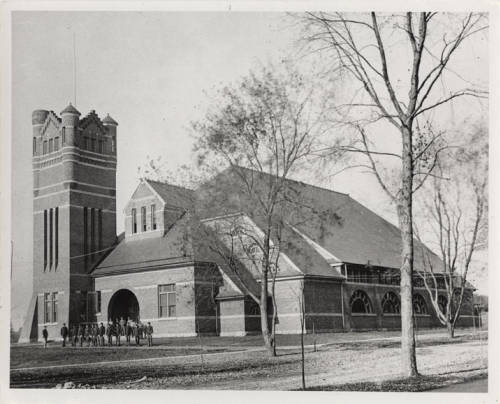 The school's first two-year state appropriation of $100,000 in 1887 launched the first major campus construction program, which included the Armory. Frederick L. Olds, the school's architect-in-residence, was in charge of the Armory project and worked with President George W. Atherton to plan the 22,000-square-foot building.
Its Richardsonian Romanesque architectural style was evidenced in the Armory's external masonry and heavy-duty structure, giving the visual impression of sturdiness. The architectural style was also shown in the Armory's prominent tower, arched windows, arched entryways, and large open interior spaces. The Class of 1909 added a touch of greenery to the much-admired building through its class gift of ivy, planted to climb the sides of the tower.
The demolition of the building in January 1964 was controversial even though classes and ROTC activities no longer took place there. For several years, the Armory had served as a meeting space for student organizations, but it was no longer heavily used.
Opponents of the demolition argued that the grand, bold architecture and the building's aura of strength were reasons to renovate it rather than knock it down. They also feared that other buildings with distinctive architecture and historical character might meet the same fate. But, in the 1960s wave of construction on campus, the Armory came down.
Sally Heffentreyer
---
Sources:
Penn State Digital Collections, Penn State University Park Campus History Collection 1, University Libraries.
Bezilla, Michael. Penn State: An Illustrated History. University Park, Pa.: Penn State University Press, 1985.
Miller, Randall M. and William Pencak, eds. Pennsylvania: A History of the Commonwealth. University Park, Pa.: Penn State University Press, and Harrisburg, Pa.: Pennsylvania Historical and Museum Commission, 2002.
---
First Published: May 19, 2021
Last Modified: October 31, 2022