Centre County Explorers Day
Centre Furnace Mansion
Sunday, June 4, 2023, 2:00-5:00 p.m.

Join us as we kick of the summer with a newly updated and designed Centre County Explorers Passport booklet to get you started on your journey of Centre County historic and cultural sites! Representatives from a variety of Centre County Explorers Passport sites will be on hand and there will be 19th century tool demonstrations, Centre Furnace Mansion open house. For more information:
Every corner of Centre County has its own unique story. Sponsored by the Centre County Historical Society, the Centre County Explorers Passport is a booklet designed to inspire you to explore the amazing collection of historic and cultural treasures that exist in Centre County..
By visiting historic houses, museums, galleries, parks and exploring the places in Centre County that make it unique, you will gain an understanding of our county's historic, cultural and natural resources. In turn, you will be helping the communities that you visit by shopping, staying or enjoying the local cuisine.
WHAT YOU NEED TO KNOW
Pick up your Centre County Explorers Passport at the Centre Furnace Mansion or at any of the Happy Valley Adventure Bureau locations.
The Explore Centre County driving map is a companion publication that support your adventures.
When planning your visits, please remember to check ahead for individual site hours, admission fees and group reservation information.
When you visit a site, simply make a note of the date and time in your booklet.
When you have visited all of the sites in Centre County Explorers passport, you will receive a special recognition gift.
Participants may share their photos of Centre County historical and cultural site and photos of them having fun exploring Centre County. Share your photographs, stories, favorite memories with us at:
Facebook: facebook.com/centrefurnace
Twitter: @CentreHistory
Instagram: @centre.county.history
Or e-mail them to: info@centrecountyhistory.org
Add #ExploreCentreCounty to your social media posts so that we can follow your journey!
This project is made possible in part through a grant provided by the Centre County Board of Commissioners and Happy Valley Adventure Bureau.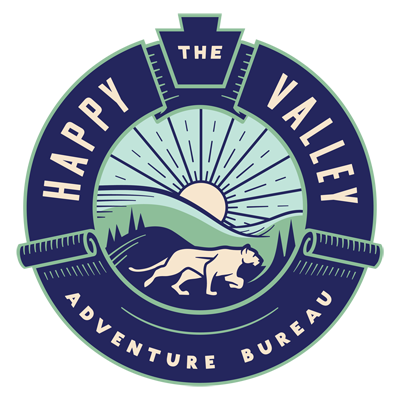 This project is being financed in part by a grant from the Community Conservation Partnerships Program (C2P2), Environmental Stewardship Fun, under the administration of the Pennsylvania Department of Conservation and Natural Resources Bureau of Recreation and Conservation.
Passport and driving map design is by graphic designer David Lembeck. Illustrations by Jeffery Mathison.