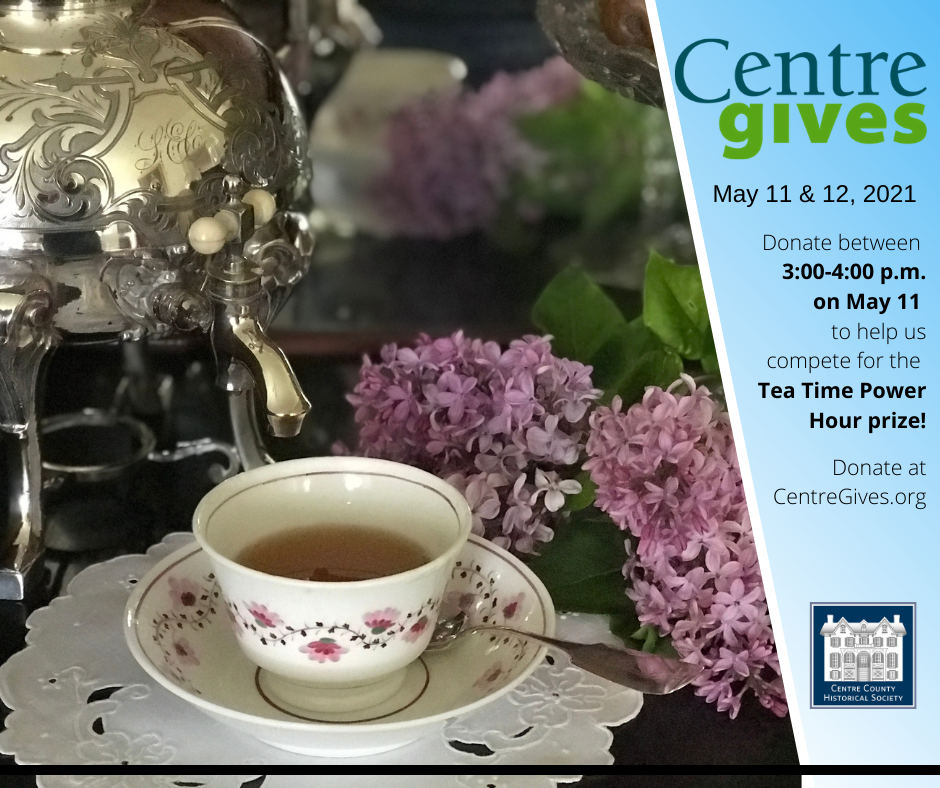 Thank you to 168 generous donors in 2020 for contributing $16,645.00 to the Centre County Historical Society and to Centre Foundation for hosting Centre Gives!
The Centre Foundation has made a huge difference for many an organization's ability to continue its mission work, including CCHS. Centre Gives is a unique, online giving event designed to encourage community giving and to support the great work of Centre County non-profits. This year, in the shadow of COVID-19, Centre Gives will be more important than ever. Beginning at 9:00 a.m. on Tuesday, May 11, and ending at 9:00 p.m. on Wednesday, May 12, the online giving event will last for 36 hours.
Your donation of $10 or more to the Centre County Historical Society through Centre Gives will not only qualify CCHS for a larger share of Centre Foundation's $300,000 stretch pool, but for additional prize money during the event as well.
Your contributions through Centre Gives provide critical funds for the many ongoing programs and activities that are held at the Society's historic sites. If you have attended talks or exhibitions, volunteered as a docent or gardened in the Mansions period gardens, been an intern, helped with collections or data entry projects, volunteered for events, written for a newsletter or publication, then you are familiar CCHS's mission. You probably already know that through these, and other activities, we work in collaboration with local, regional, county and state organizations and individuals to help preserve and promote Centre County's historic, cultural, and natural resources. There are many items on the daily do list to make the Centre Furnace Mansion, the Boogersburg School and the activities at these sites and beyond available to the public. Your donations help us to accomplish these mission goals.
Help us win the Tea Time Power Hour Prize by donating
between 3:00 – 4:00 p.m. on Tuesday, May 11!!
CCHS will have the opportunity to win an additional $500 power hour prize!
Also, every donation received between 9:00 a.m. – 5:00 p.m. on May 11 and May 12 puts CCHS in the running for an additional $500 Endowment Prize.
What forms of donations are accepted?
​The minimum donation is $10.00 and donations must be made by credit or debit card on May 11 or 12.
Anyone who holds a Donor-Advised Fund at Centre Foundation may recommend distributions to participating organizations prior to the event. These grant distributions will qualify for the stretch pool through Centre Gives.
Centre Foundation will also accept Qualified Charitable Distributions (QCD) from IRA's prior to the event. Please the Centre Foundation office at (814) 237-6229 for more information.
For the complete details on Centre Gives, please visit the Centre Gives website.
Use the button below to donate on May 11 & 12!