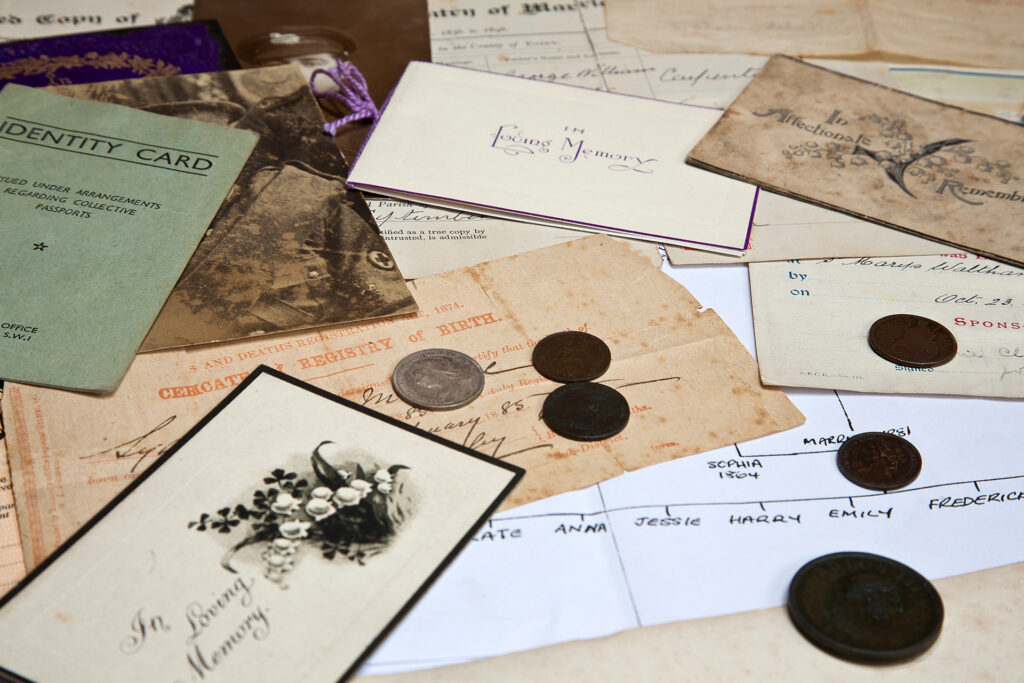 While genealogy is not a primary focus for collecting, the Centre County Historical Society does have limited genealogical resources in its archives and library. Limited information is available in our archives for the following surnames:
Allen
Antes
Armstrong
Bailey
Barnhart
Bechdel
Beckwith
Betts
Bierly
Briner
Brisbin
Brooks
Campbell
Carter
Clowes-Swanson
Corl
Cray
Culbertson
Dale
Dierstein
Ernst
Evans
Fiedler
Flocker
Frank
Geyer
Glatfelter
Gorman
Gray
Haffley
Hamilton
Hartswick
Homan
Hoog
Houser
Hull
Irvin
James
Johnson
Johnston
Katterman
Keller
Koch
Krey
Louden
Luther
Marshall
May
McCormick
McFarlane
Meyer
Miles
Musser
Neidigh
Patton
Pletcher
Potter
Preston
Randolph
Rossman
Rothrock
Schenck
Sellers
Shaw
Shirk
Shivery
Simler
Small
Snyder
Spangler
Stahle
Stover
Swanson
Thomas
Thomas-Stahle
Thompson
Thomson
Turner
Ward
Wasson
Watson
Weber
Weigel
Werntz
Wiant/Wion
Yearick
Several other organizations in the county that do have extensive genealogical records and resources about Centre County are:
Centre County Library & Historical Museum
203 N. Allegheny Street
Bellefonte, PA 16823
(814) 355-1516 x214
Pennsylvania Room
The Pennsylvania Room of the Centre County Library and Historical Museum is located in the historic Miles-Humes home at 203 North Allegheny Street in Bellefonte. It focuses on Centre County and Pennsylvania history and genealogy and has a specialized collection of genealogies, county histories, church and cemetery records, original Centre County records, newspapers, vertical files containing items of historical and genealogical interest, historical and genealogical periodicals and the massive Spangler Collection of data on the families of central Pennsylvania.
Centre County Genealogical Society
PO Box 1135
State College, PA 16804
The Centre County Genealogical Society maintains an active surname file with names of researchers; publishes a series on the cemeteries in the county; and has several members that will do research (for a fee). Membership is open to anyone with an interest in Centre County genealogical research. The Society has published a series of Centre County cemetery books and is committed to inventorying every cemetery in Centre County. A comprehensive index to Centre County marriages (1764-2005) is available on CD. Membership includes a quarterly newsletter with topics of interest for researchers and a discount on the Society's publications. For membership information and a comprehensive list of publications, please visit their website.
Penn State University
Genealogy and Family History – Extensive listing of resources for genealogy and family history research.
(814) 865-1014
Also try the Centre County PAGenWeb Project.
The Centre County PAGenWeb Project, which is part of the PAGenWeb Project and USGenWeb Project, contains helpful information such as Centre County query boards, cemeteries, census records, research facilities, family reunions, township/borough histories, and so much more.