A Million Thanks!!
Centre County United Way 28th Annual Day of Caring
At the Centre Furnace Mansion and the Boogersburg School
Thursday, October 7, 2021
Never doubt that a small group of committed people can change the world. Indeed, it is the only thing that ever has. ~Margaret Mead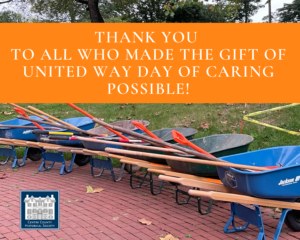 Our many thanks go out to over 70 individuals, organizations and businesses who volunteered and contributed to the 2021 United Way Day of Caring at the Centre Furnace Mansion and the Boogersburg School historic sites.
We focused on outdoor garden and landscape projects this year at both sites and are especially grateful for everyone's support and enthusiasm during these challenging times.
The Centre County Historical Society has benefited from this special day at the Mansion and then School properties for 28 years. The impact on the maintenance and beautification of the sites, seen especially in the landscape, has been immeasurable.
As part of this year's Day of Caring, much needed tree trimming was done as well as many hours of landscape work. Both the Centre Furnace Mansion and Boogersburg School look splendid and ready for visitors!
VIEW PHOTOS
Oh behalf of the Board of Governors of the Centre County Historical Society, we extend our warmest appreciation to Centre County United Way and to all [outlined below] who have graciously donated materials and/or took time from your busy schedules to join us on the Day of Caring and make it a highly productive day!
With gratitude,
Mary Sorensen
Executive Director
Centre County Historical Society
SPECIAL THANKS TO OUR BUSINESS AND ORGANIZATIONAL PARTNERS
Our special thanks to all whose leadership, community spirit and contributions have made the day's activities productive and memorable:
CONTRIBUTORS OF MATERIALS AND IN-KIND SERVICES
Penn State Office of Physical Plant
Nature's Cover
PENN STATE OFFICE OF PHYSICAL PLANT, ARBORCULTURE
Brian Phiel, Supervisor, Grounds Maintenance, Ornamental Horticulture/Arboriculture
Drew Beben
Corby Fetterolf
Norm Parks
Nate Potter
Jared Stake
Chad Smith
Hunter Johnstonbaugh
VOLUNTEERING ORGANIZATIONS
Centre County Historical Society Volunteers
Reliance Bank
Penn State Intercollegiate Athletics Staff
Penn State Women's Lacrosse
Penn State Women's Softball
Just Serve
PENN STATE ATHLETICS
Penn State Intercollegiate Athletics Staff
Sandy Barbour
Christina Diaz
Christina Gatehouse
Lynn Holleran
Jenn James
Rick Kaluza
Rob Kristiniak
Lauren Rhodes
Scott Sidwell
Penn State Women's Softball
Lilia Crouthamel
Maggie Finnegan
Emily Maddock
Kaitlyn Morrison
Bailey Parshall
Kathryn Rex
Penn State Women's Lacrosse
Kay Abernathy
Brooke Barger
Ashley Bowen
Alex Bruno
Kate Doughterty
Sloane Dowgiallo
Sammy Dupack
Cameron Evitts
Alaina Hamood
Brooke Hoss
Cayden Jarvis
Ally Limpkin
Mary Muldoon
Meghan Murray
Regan Nealon
Kristin O'Neil
Stephanie Petulla
Rachel Spilker
Kathryn Toohey
Erin Triandafils
Haley Urgo
Sydney Wolfington
RELIANCE BANK
Christine Douds
Kelly Felix
Sureni Ranasinghe
WHINE AND WENCHES BOOK CLUB
Darlene Clark
Laura Hackett
Cathy Savereno
Lisa Vanderlinden
TEAM BRISTOL II
Maralee Krisch
Ida O'Donald
Jennifer Panasiti
Rachel Tressler
JUST SERVE
Sister Flexhaug
Sister Muirbrook
Sister Udy
Sister Boyle
INDIVIDUALS
Mary Carbonara
Tina Meyers
Alice Vaynblat
CENTRE COUNTY HISTORICAL SOCIETY VOLUNTEERS AND CONTRIBUTORS:
Mike Canich
Joyce Christini
Becky Dreese
Katie Frieden
Steve Gentry
Judy Heberling
Mike Husband
Chris Igo
Beverly Lipski
Lou Mayer
Jo Merrell
Ann Moellenbrock
Sharon Phillips
Geri Reeve
Ford Risley
Lynn Royse
Ann Hamilton Taylor
Floyd Todd
Jan Villastrigo
Linda Witmer
Food Donations:
Joyce Christini
Becky Dreese
Elizabeth Dutton
Katie Frieden
Carol Gouty
Judy Heberling & Mike Husband
Chris Igo
Sue Kellerman
Beverly Lipski
Jo Merrell & Floyd Todd
Ann Moellenbrock
Gloria Nieweg
Ruth Merritt
Fran Nufer
Carol Phillips
Mary Sorensen
Ann Hamilton Taylor
Jan Villastrigo
Nancy Wolf
CCHS Staff Members
Mary Sorensen
Johanna Sedgwick