The inspiration for the Henszey-Pyle Fund include the interest that Anne and Kenneth have in the history of the community in which they grew up and their belief in the value of the study of history. Anne is the great-great-grand daughter of Moses and Mary Irvin Thompson and great-grand daughter of John Hamilton all of whose contributions to regional history are honored at the Centre Furnace Mansion and within the Centre County Historical Society. Kenneth, who acquired a love of the study of history growing up in State College, is the Henry M. Jackson Professor of History and International Studies Emeritus at the University of Washington where he has taught history for over fifty years.
History is an interpretive art, based on available evidence. Accordingly, the interpretations are, at times, controversial and contested. The Centre County Historical Society strongly supports freedom of speech and the First Amendment rights of our speakers, authors, and writers. The Society does not necessarily endorse or support all views, conclusions, and opinions expressed, yet believes they merit entry into the marketplace of ideas and the scrutiny it affords.
The Henszey-Pyle Distinguished Author Series is underwritten by the Anne Hamilton Henszey Pyle and Kenneth B. Pyle Educational Fund for Regional Heritage Preservation (Henszey-Pyle Fund.) The Series is coordinated by CCHS Board of Governors member Dr. Ford Risley.
Past programs that have been held by Zoom may be found on the CCHS YouTube Channel.
---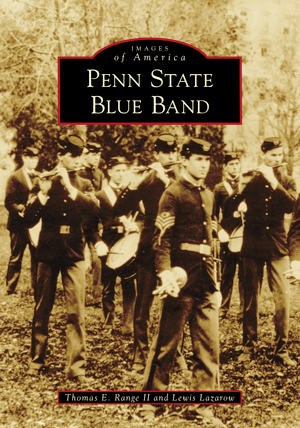 Penn State Blue Band
Sunday, October 23, at 2:00 p.m.
By Thomas E. Range II and Lewis Lazarow
In-person at Centre LifeLink EMS Building, 125 Puddintown Road in State College
RSVP Required. Click on the button below, or call 814-234-4779.
Just in time for Homecoming Weekend, an illustrated talk by authors Thomas E. Range II and Lewis Lazarow will feature the Penn State Blue Band that has been performing for enthusiastic fans for over 120 years.
According to the book by the same name, "Since its founding in 1899, the Blue Band has become a beloved part of the history and tradition of Pennsylvania State University. Respected by students and alumni, faculty and administrators, the Blue Band is one of the most visible representations of the dedication, pride, and honor in the hearts of all who are associated with "Dear Old State." From its humble beginnings as a six-member all-male drum and bugle corps to its current membership of over 300 instrumentalists, silks, and majorettes, the Blue Band has provided the soundtrack to the Penn State experience."
Copies of Penn State Blue Band are available for purchase at the program, the Centre Furnace Mansion museum store, or online at CentreHistory.org. If you pre order a book, we will bring it to the program for you.
Purchase books online or at the event.
---