Do you have an interest in volunteering? Are you a local history buff, interested in working with archival or object collections, love to garden? Consider volunteering with the Historical Society and go back in time while contributing time!
The Centre County Historical Society (CCHS) is a non-profit organization that relies heavily on the generous gifts of time and talents by volunteers. There are many opportunities to get involved in CCHS and fulfill your individual interests.
Below are brief descriptions of areas that may interest you. To view or hide more information about volunteer opportunities, please click on the plus/minus (+/-) signs below. If interested, please complete and submit a volunteer application:
We always need extra hands on and around our Plant Celebration held this year on May 13. If you are interested, visit the Plant Celebration page!
And Stocking Stuffer Holiday Market will be coming up the first weekend in December. Visit the Stocking Stuffer page for more information.
We welcome individuals as well as service groups. To schedule your service group, please contact Mary Sorensen at the number below.
For more information about volunteering call or email Mary Sorensen at 814-234-4779 or msorensen@centrefurnace.org.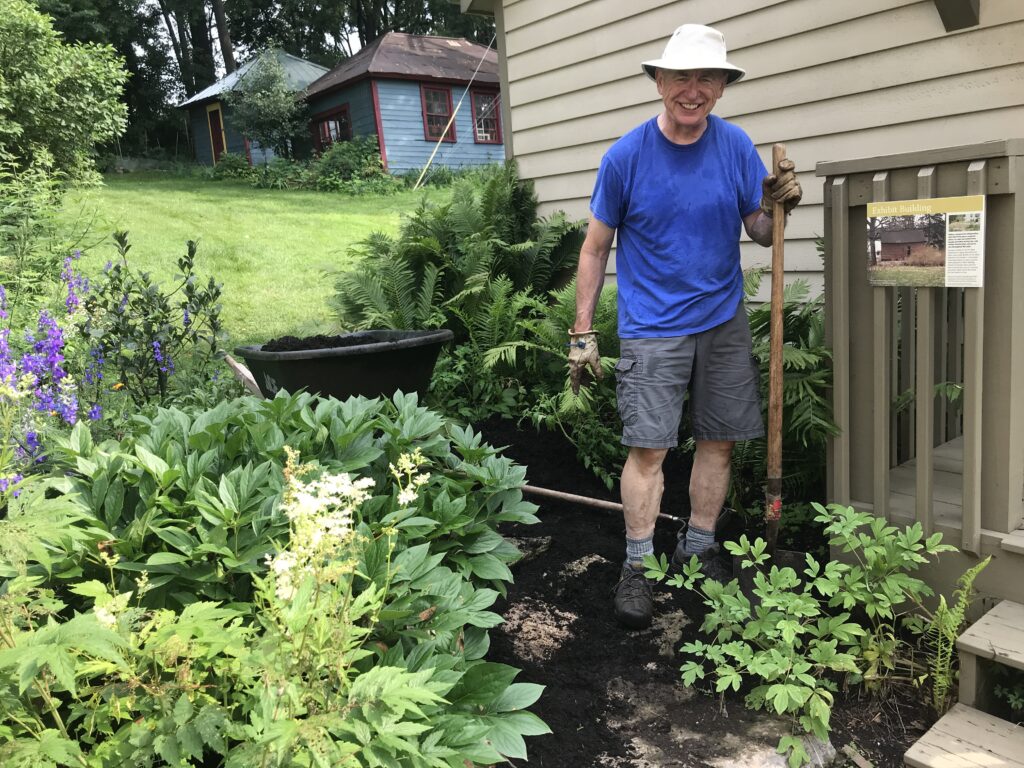 Archival & Administrative Work
Data entry, image scanning, file organization, collection care, research requests, and library management are some of our on-going needs relating to our archives and collections. Volunteers are also needed to help organize, inventory, and price items in our museum store. Volunteers can work as many hours as they wish. Every bit helps!
Docent & Greeting
Greeters welcome our visitors and oversee the Museum Store at the Centre Furnace Mansion. Docents provide visitors an overview of iron industry history, and take visitors on a guided tour of three floors of the historic house museum. Regular tour hours are Sunday, Wednesday, and Friday afternoons from 1:00 – 4:00 p.m., and by appointment for school and special group tours. On average, docents work 2 afternoons each month. Docent workshops, educational materials, and docent-shadowing are provided to prepare docents for leading tours.
Docent opportunities are also available at the Boogersburg School. This one-room schoolhouse is open by appointment for school tours, group tours, and special events. Most school tours occur in the spring months between March and May.
Program Planning
CCHS offers a series of on-going history talk programs and educational activities. There is always a need for fresh ideas for historical program subjects, guest speakers, or demonstrations. The Historical Society schedules regular programs, varying in topic or tied to a single theme, and at times include programs at off-site locations. Sometimes programs are offered in conjunction with a current exhibit at the Centre Furnace Mansion or coincide with research.
Gardening
The Mansion's gardens and grounds require gardening activities essential to keeping this the Mansion and Boogersburg School beautiful for visitors. Thanks to the Centre Furnace Mansion Garden Committee and a cadre of community and student service groups, there are many ongoing garden-related projects, as well as regularly scheduled gardening times (typically Thursday mornings or afternoons).
Internships
Internships at the Centre County Historical Society provide students with a hands-on experience in various fields associated with non-profit management, museum programming, and preservation. Specific experience can be gained in history and preservation, architecture, electronic and social media marketing, public relations, tourism marketing and interpretation, archival record-keeping, collections care and management, museum education, and a number of design fields (exhibit, graphic, interior, landscape, museum).
Special Events
Many volunteers are needed for events to help with preparations, decorations, registration, parking, and clean-up, as well as bakers, greeters, cashiers, and more. Several special events are held each year. The Stocking Stuffer Magical Holiday Market is the Society's largest annual fundraiser event (generally the first weekend in December). The Plant Celebration garden sale is our second largest fundraiser ( in May). Other events include the Open House at Boogersburg School (in early fall), and the Historic Preservation Awards (in January). Let us know if you would like to volunteer to assist with any of these events.