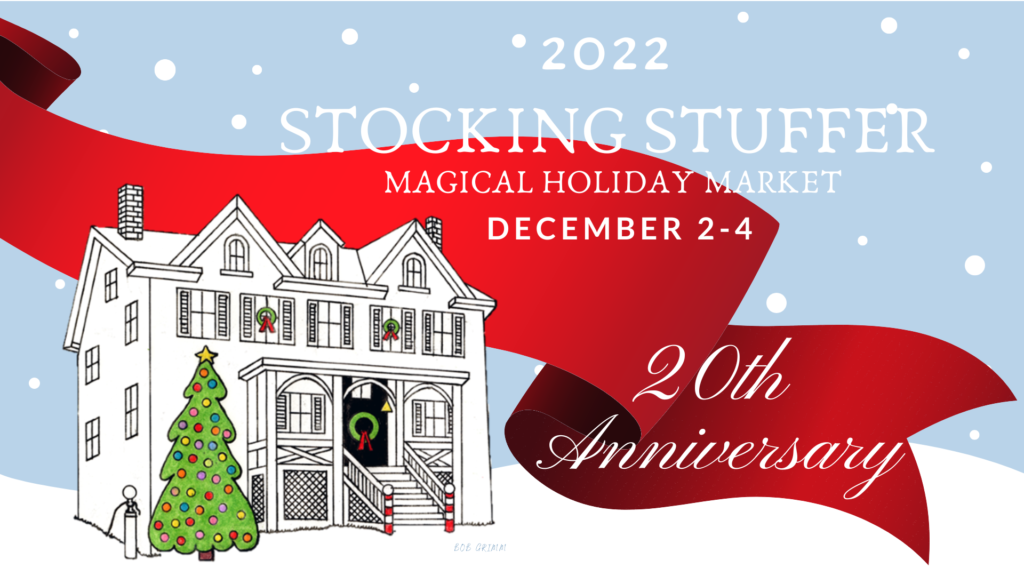 20th Annual Stocking Stuffer
A Magical Holiday Market at the Centre Furnace Mansion
Event Sponsor: Mimi Barash Coppersmith
Friday-Saturday, December 3 & 4, 9:00 a.m. – 4:00 p.m., Sunday, December 5, Noon – 4:00 p.m.
$5.00 Admission
Check back for updates!
---
Ring in the holiday season with a treasured local tradition that showcases the Centre Furnace Mansion beautifully decorated for the holiday season! Over 50 talented regional fine artists, antique dealers, crafters and dedicated Historical Society volunteers work year-round planning and preparing for this festive event.
Proceeds from the Stocking Stuffer benefit the Centre County Historical Society to support its public programming and preservation efforts. By attending and doing some of your holiday shopping at the Stocking Stuffer, you support these efforts and, in turn, support the work of area artists and businesses.
The Stocking Stuffer is the Historical Society's largest fundraiser and is critical to providing nearly 20% of CCHS's annual budget. As this event has grown, sponsorship is even more important to provide an event of this scale. Join Mimi Barash Coppersmith in supporting the Stocking Stuffer this year through being a sponsor or supporter. Supporting in this way will help offset expenses associated with the event and allocate a larger percentage of the profit to the programs and services that the Historical Society provides.
Here are a few options:
Stocking Supporter – @ $50-100 – Your name [and logo if business] will go on the event website page and in the CCHS newsletter.
Stocking Stuffer Room Sponsor @ $200 – Supporter benefits plus your name/logo on a panel in a period room for the duration of the Stocking Stuffer as hundreds of guests stroll through.
Event co-sponsor @ $1,000 – Your name [and logo if business] will go in all promotion and paid advertising, and will be prominently displayed in a recognition poster on-site.
Volunteer! We have over 200 time slots that we need to fill to set up, carry out and clean up during the Stocking Stuffer!
For more information, contact:
Mary Sorensen: msorensen@centrefurnace.org
Johanna Sedgwick: jsedgwick@centrefurnace.org
Or call 814-234-4779.
Thank you to our 2022 Stocking Stuffer Supporters!
Stocking Stuffer Event Sponsor
Mimi Barash Coppersmith
Stocking Stuffer Room Sponsors
Ann Taylor and Betsy Taylor
Mary Watson
Stocking Stuffer Event Supporters
William and Deborah Asbury
Rebecca Elman – The Hidden Hostess
Jean Slear
2022 Vendors
Use the Search box to easy find your favorite vendor or type in something that you are looking for. Click on an image to visit the vendor's website/Facebook if provided.