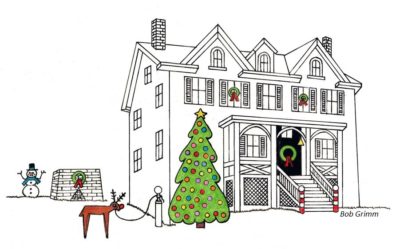 19th Annual Stocking Stuffer, A Magical Holiday Market at the Centre Furnace Mansion
FRI & SAT, December 3 & 4, 9:00 a.m. – 4:00 p.m.
and SUN, December 5, Noon – 4:00 p.m.
$5.00 Admission / Masks Required
Stocking Stuffer Event Sponsor: Mimi Barash Coppersmith
---
We are pleased to ring in the holiday season once again with a local tradition at the Centre Furnace Mansion! Regional fine artists, antique dealers, crafters and dedicated Historical Society volunteers have been hard at work planning and preparing for this year's Stocking Stuffer. Proceeds from this annual fundraiser benefit the Centre County Historical Society to support its preservation and public programming efforts.
By attending and doing some of your holiday shopping at the Stocking Stuffer sale, you support these efforts this holiday season and, in turn, support the work of area artists and businesses. Whether a new or returning shopper, our vendors provide a variety of new and exciting items each year!
Just in time for the Stocking Stuffer, Centre Furnace Mansion's dining room and grand front hall will be festively decorated for the holiday season through the generosity of some of Centre County's finest florists: Avant Garden, Daniel Vaughn Design. Boughs, berries, bulbs and bows will bedeck the Mansion's exterior and Hearth Room contributed by our talented Centre Furnace Mansion Gardeners.
This time of year, we always remember Honey Jaffe and her small committee who had an idea in 2002 to start a holiday fundraising tradition at the Centre Furnace Mansion. The Stocking Stuffer fundraiser has grown to provide over 15% of the CCHS operating budget.
Love the Stocking Stuffer? Consider volunteering! For more information visit:
https://www.signupgenius.com/go/20f0f49a9aa23a1f49-20211
COVID-19 Protocol:
While we are currently planning to hold the Stocking Stuffer, adjustments are in place to make the sale as safe as possible for our volunteers, guests and vendors.
Masks will be required to enter. This year we will be monitoring occupancy and providing increased space for our guests to move through the Mansion to provide more room for physical distancing. Touch surfaces will be disinfected regularly. We will continue to monitor the level of community transmission of Covid-19 in Centre County and will adjust our Covid-19 protocols accordingly. As the sale date gets closer, we will update this message as necessary.
The Centre Furnace Mansion is located at 1001 E. College Avenue., State College, PA.
Parking is available in the Mansion's parking lot off of Porter Road and on the grass parking area in front of the Mansion off of College Ave. Please do not park in the lot designated for Frye's/Moyer's Sew & Vac.
Thank you to our Stocking Stuffer Supporters!
2021 Stocking Stuffer Event Sponsor
Mimi Barash Coppersmith
Holiday Décor
Avant Garden
Daniel Vaughn Designs
Centre Furnace Mansion Gardeners
Business Supporters:
Thrive HR Management, Becky Dreese
beth richards I sandy stover group Kissinger Bigatel & Brower Realtors
Tadpole Crossing, Cathy Horner
Way's Fruit Farm
Woodrings Floral Gardens
Organizational Volunteers
JustServe
Penn State Circle K
Harris Township Lions Club
Individual Stocking Stuffer Supporters
Bonnie Walter
Mary Harrigan
Antiques and Treasures Donations
Lisa Coggins
Joyce Christini
Katie Frieden
Karen Hazel
Judy Heberling
Deb McManus
Ruth Merritt
Stocking Stuffer Co-Chairs
Deb McManus
Becky Dreese
Stocking Stuffer Volunteer Contributors
Judy Albrecht
Chuck Allen
Mattias Anderson
Keith Barry
Susan Bowser
Sally Butts
Sally Butts
Pam Calkins
Frank Carbalon
Dave Chisnell
Johanna Chisnell
Joyce Christini
Rachel Corp
Connie Cousins
Doreen Diehl
Connie DiNunzio
Becky Dreese
David Dreese
Jerry Duck
Elizabeth Dutton
Susan Edwards
Larry Edwards
Jackie Esposito
Marti Franklin Duffy
Katie Frieden
Steve Gentry
Carol Gentry
Claire Gray
Dee Hall
Karen Hazel
Bob Hazelton
Judy Heberling
Rich Hersch
Pete High
Michael Husband
Sue Hutchison
Chris Igo
Rebecca Inlow
Jerry Jackson
Jennifer Janacek
Emily Kostanecki
Beverly Lipski
Claire Lorts
Callie Luke
Harvey Manbeck
Louis Mayer
Paul McMonigle
Jo Merrell
Kealy Meyers
MaKealy Meyers
Tina Meyers
JustServe Missionaries
Ann Moellenbrock
Fran Nuhfer
Rachel Palmer
Sharon Phillips
Lizette Reed
Geri Reeve
Ford Risley
Lynn Royse
Pete Schempf
Joy Schon
Ann Shallcross
Judy Speedy
Sam Sumner
Dee Stout
Maggie Taquey
Annie Taylor
Suzanne Thompson
Cynthia Van Druff
Jessica Varca
Deanna Vincenzi
Sasha Walls
Max Wandel
Marty Warner
Roger Williams
Linda Witmer
Pam Zimmerman
CCHS Staff:
Mary Sorensen, Executive Director
Johanna Sedgwick, Marketing and
Events Coordinator
2021 Vendors
Use the Search box to easy find your favorite vendor or type in something that you are looking for. Click on an image to visit the vendor's website/Facebook if provided.