The program for the 2023 Awards Ceremony will be held at the Pennsylvania Match Factory in Bellefonte on Sunday, January 21, 2024.
---
2022 John H. Ziegler Historic Preservation Awards Recipients: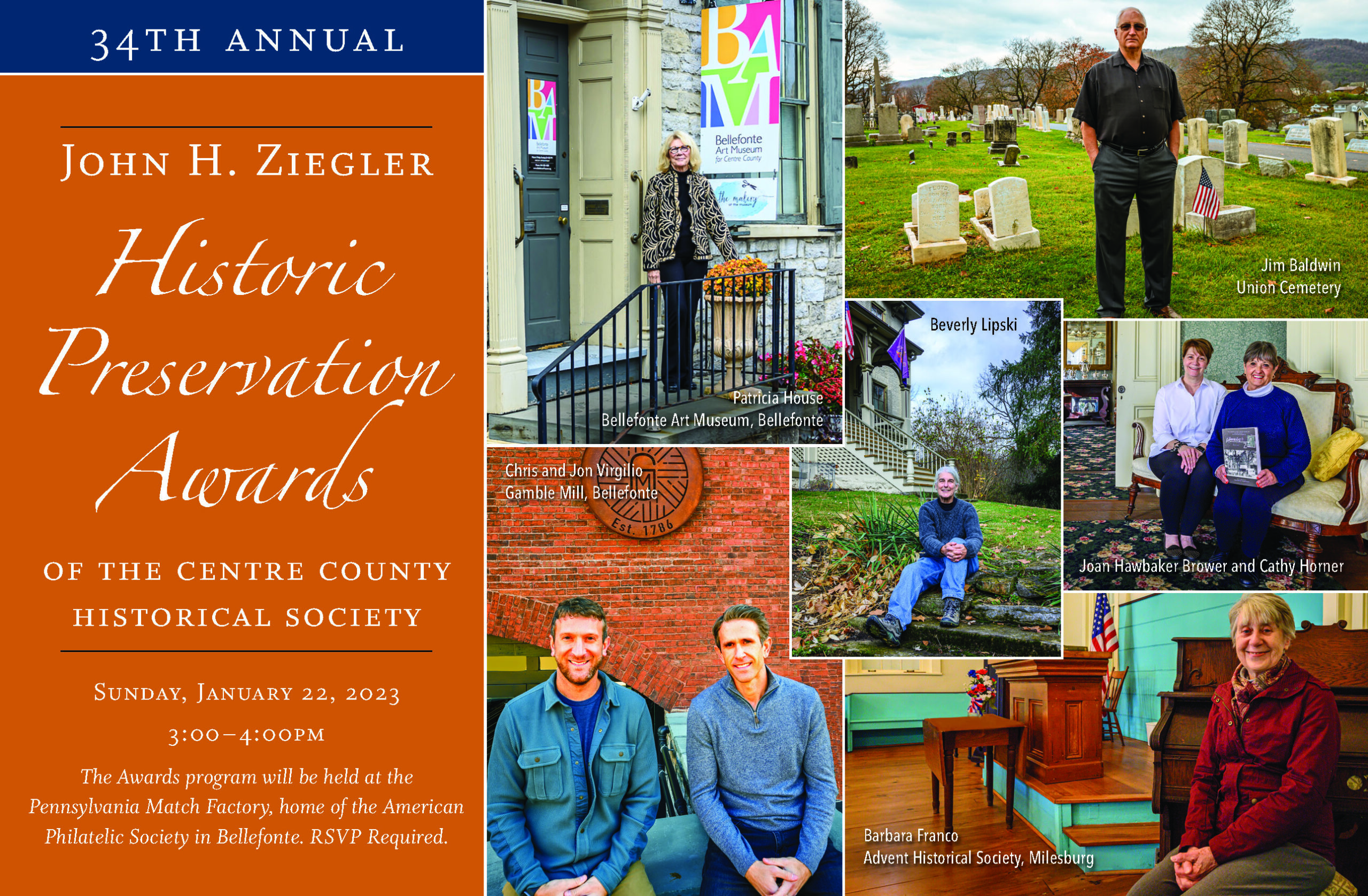 Thank you to this year's Award recipients and contributors to the John H. Ziegler Historic Preservation Awards of the Centre County Historical Society!
This year's Award Ceremony was held on Sunday, January 22, 2023, 3:00 p.m. at the Pennsylvania Match Factory, home of the American Philatelic Society in Bellefonte, PA.
With special thanks:
C-NET Sponsor: Centre County Government
Photography: R. Thomas Berner • Graphic Design: David Lembeck • Venue: American Philatelic Society
Awards Program Committee • Co-chairs: Katie O'Toole and Ford Risley
Awards Program Committee Members: Rebecca Inlow, Matt Maris, Sue Hannegan, Jackie Melander, Bob Hazelton and Dick Pencek, Mary Sorensen, Executive Director and Johanna Sedgwick, Marketing and Events Coordinator

Thank you to Event Supporters:
Ted and Carla Conklin
Elizabeth Dutton
Chris Igo
Linda Kao
Lynn Moore
Beth Raney
Beth Richards
Heather Ricker Gilbert
Lee and Dee Stout
Thank you to all who assisted with the event, and baked delicious cookies:
Susan Bowser
Joyce Christini
Elizabeth Dutton
Katie Frieden
Carol Phillips
Jackie Esposito
Steve and Carol Gentry
Chris Igo
Deb McManus
Ann Mollenbrock
Gloria Nieweg
Bob Potter
Lynn Royse
Johanna Sedgwick
Maddie Shaffer
Annie Taylor
Suzanne Thompson
Roger Williams
C-Net Recording of the 2022 John H. Ziegler Historic Preservation Awards Ceremony:
Since 1988, the Centre County Historical Society has annually recognized individuals and organizations for their outstanding work in preserving and interpreting Centre County history.

We congratulate this year's lineup of dedicated Award recipients:
Education and Advocacy
Patricia House ~ Bellefonte Art Museum
For efforts to preserve the Linn House in Bellefonte while repurposing it into a cultural treasure in Centre County. It now stands as an engaging showcase of art, history and education through programs and exhibitions. The Henry S. Linn House is listed on the Historic American Buildings Survey
Preservation and Restoration
Jonathan and Chris Virgilio ~ Gamble Mill in Bellefonte
For restoration and rehabilitation of the historic Gamble Mill in Bellefonte and for contributing to community revitalization through preservation. Gamble Mill was listed on the National Register of Historic Places in 1975.
History and Heritage
Barbara Franco ~ The Advent Historical Society in Milesburg
For decades of commitment to local history through advocacy, research, documentation and preservation of the Marsh Creek Advent Church and its history. The Church was recently added to the National Register of Historic Places in November 2022 thanks to Barbara Franco and the Advent Historical Society.
Support and Volunteerism
Jim Baldwin ~ Union Cemetery
For three decades of volunteerism and dedication to maintaining the historic Bellefonte Union Cemetery and documenting the rich history that it contains.
CCHS President's Award
Beverly Lipski
For long-term and outstanding service to the Centre County Historical Society since 2000 through her dedicated weekly work as the Society's Garden Committee Chair, as a long-time Centre Furnace Mansion Gardener, and more recently, as the CCHS Treasurer.
Jacqueline J. Melander Award
Joan Hawbaker Brower and Cathy Horner
Aaronsburg to Zion: The Amazing Centre County Postcard Collection of Joan Hawbaker Brower
For outstanding and long-term advocacy of and commitment to historic preservation in Centre County through Joan Brower's decades of collecting and curating her postcard collection. She collaborated with co-author Cathy Horner to write a visual history of Centre County making the history of communities in every corner of Centre County come to life through the postcards.
---
---
Historic preservation and advocacy projects from around the county are featured in Recordings of past Award Ceremonies by C-Net sponsored by the Centre County Government:
2021:
2020:
Nomination Information
Have you noticed people that are preserving history or historic sites in Centre County? Let us know! Nominations for 2023 are currently closed, but 2024 nominations will be due by May 1, 2024. Start looking around! For more information about the John H. Ziegler Historic Preservation Awards and to submit a nomination, click on the button below:
You may also download the nomination form below and send by May 1 to the
Historic Preservation Awards Committee
Centre County Historical Society
1001 E. College Avenue . State College, PA 16801
Or email to info@centrecountyhistory.org with HP Award Nomination in the subject line.
See past recipients of the John H. Ziegler Historic Preservation Awards and Award Nomination Form:
---