The Penn State Blue Band is the university's marching band that performs at football games and other major events. The band, which is comprised of more than 300 members, is open to all students at the University Park campus.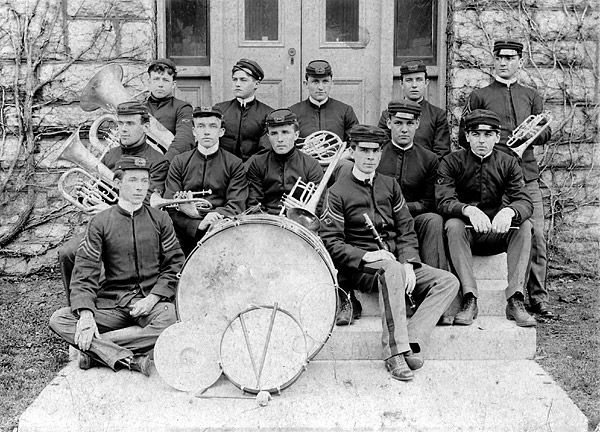 The Blue Band began as the Cadet Bugle Corps in 1899. First-year student George Herbert Deike, who served as a regimental bugler during the Spanish-American War, was appointed by Penn State's commandant of cadets as chief musician. Deike formed a six-member drum and bugle corps that performed for battalion drills and other college events.
Although there was agreement about the value of a band to Penn State, the college at the time did not have funding to pay for musical instruments. An appeal to Board of Trustees member and steel magnate Andrew Carnegie garnered an $800 donation, allowing the formation of a brass band in 1901.
Soon after, President George W. Atherton made the Cadet Band a permanent part of the college. By 1901, the 24-member band was practicing regularly and performed publicly at military and social occasions, including football games.
In 1923, Penn State purchased 50 new blue uniforms to replace the existing khaki outfits worn by band members. Because the band totaled more than 125 musicians, the blue uniforms were issued based on talent and rank. The core group traveled to away games and became known as the "Blue Band."
The band's trademark "Floating Lions" drill — where members spell "LIONS" while marching downfield from a block formation and switch the spelling for the other side of the stadium when changing direction — was created by the band's assistant director, Ned Deihl, and debuted at Forbes Field against the University of Pittsburgh on November 20, 1965. The drill is performed before the start of every home football game.
Originally, the Blue Band was comprised entirely of men — except during World War II when women were temporarily allowed to perform because of a lack of members. That changed in 1973 when, after months of campus debate, women were permitted to audition and join.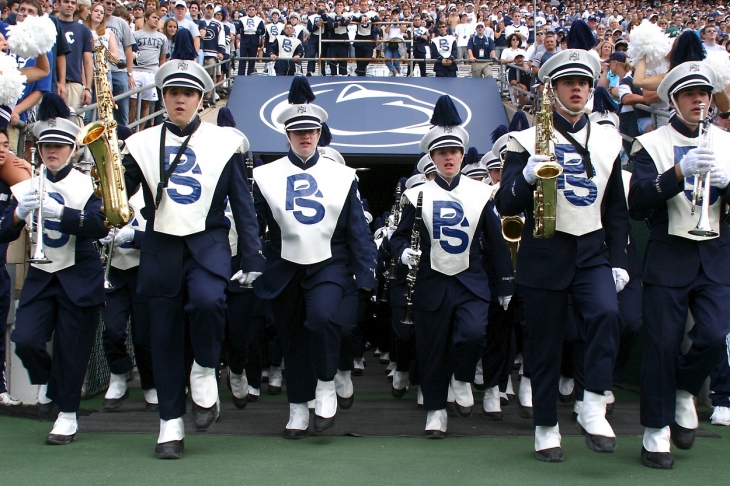 In 2004, the band moved into a new $5 million building adjacent to its practice field on Beaver Avenue. The facility consolidated the band's offices and equipment and uniform storage under a single roof. It features a 6,000-square-foot rehearsal room, archival space to display historic Blue Band memorabilia, locker rooms, and staff offices. In 2015, the building was named in honor of O. Richard Bundy, who served as band director from 1996 to 2015.
Since its inception, the Blue Band has appeared in more than 40 bowl games, including in five of the "New Year's Six" major bowls — Rose, Sugar, Orange, Cotton and Fiesta. The band's notable awards and accomplishments include the 2005 Sudler Trophy from the John Philip Sousa Foundation; the first college marching band to perform at a major fashion show when 100 members marched down the catwalk of the 2005 Marc Jacobs event during New York Fashion Week; and appearances in photo spreads in Vogue and W magazines in 2005.
Today's Blue Band includes more than 320 members, including 270 instrumentalists, 32 silks, 14 majorettes — known as the "Touch of Blue" — a feature twirler, and a drum major.
Curtis Chan
---
Sources:
Blue Band. https://blueband.psu.edu/about (Accessed September 30, 2021).
Penn State dedicates Blue Band Building. Penn State News. October 26, 2004. https://news.psu.edu/story/213835/2004/10/26/penn-state-dedicates-blue-band-building (Accessed September 9, 2021).
Bush, Alex. O. Richard Bundy Blue Band Building Dedication. Penn State News. October 13, 2015. https://news.psu.edu/gallery/374933/2015/10/13/arts-and-entertainment/o-richard-bundy-blue-band-building-dedication (Accessed September 9, 2021).
Range II, Thomas E. and Sean Patrick Smith. The Penn State Blue Band: A Century of Pride and Precision. University Park, PA: Penn State University Press, 1999.
---
First Published: August 17, 2021
Last Modified: November 3, 2021