Ralph Dorn Hetzel lead Penn State from 1926 to 1947, a period of exceptional growth in enrollment and campus construction, despite the twin crises of the Great Depression and World War II.  During his tenure, enrollment grew from about 4,000 to more than 12,000, including a several new satellite campuses. The university also embarked on major building programs, which included three campus landmarks: the current Old Main, Rec Hall, and the Nittany Lion Inn.
A native of Wisconsin, Hetzel received his undergraduate degree from the University of Wisconsin in 1906 and his law degree two years later. He taught at Oregon State College and later became director of the school's extension service. In 1917, he became president of the New Hampshire College of Agricultural and Mechanical Arts. The school's enrollment tripled under his leadership, and before he left it was renamed the University of New Hampshire.
Hetzel wanted a new challenge and he faced one at Penn State. When he arrived in 1926 to succeed John Thomas, Hetzel inherited similar budget challenges that former presidents had dealt with. Demand for instructional and research programs exceeded the facilities, resources, and operating funds. "I became convinced that here was the greatest opportunity for constructive educational work that could be found in all of the United States," he said at the time. "I felt that I had one more good scrap in my system and that here was an opportunity to work it out."
Fortunately, soon after Hetzel arrived, the Pennsylvania General Assembly, with the support of Governor John S. Fisher, gave the college $1 million for new buildings. In the first phase, construction began on several badly needed structures, including a new engineering building, recreation building, infirmary, and dormitories.
During the next stage of the program, construction began on a mineral industries building, a new campus power plant, agricultural barns, and the Nittany Lion Inn. University leaders also decided that Old Main was not in a condition to be renovated. A "new" Old Main was built on the site of its predecessor and opened in 1930 as a student union and administration building. In all, it was an unprecedented period of construction for the university.
Hetzel's leadership during the Great Depression included reaching more Pennsylvanians closer to their homes in order that they could live at home and not have to move to Centre County. In 1933, experimental "freshmen centers" were created in four locations: Bradford, Sayre, Towanda, and Warren. (The Sayre-Towanda center was not successful and was replaced by a center in Dubois.) The next year, two-year undergraduate centers were established in Pottsville and Hazleton. The Commonwealth Campuses, as they came to be known, permitted students to live at home and reduce the expense of a Penn State education. Today, the twenty campuses enroll about 30,000 students
Driver's education also emerged during Hetzel's tenure. A partnership between Penn State, the State College Area School District, and the borough of State College led to the development of the first course in 1935. Under the leadership of Professor Amos Neyhart and Penn State's Institute for Public Safety, the driver's education concept became the model for similar programs across the United States.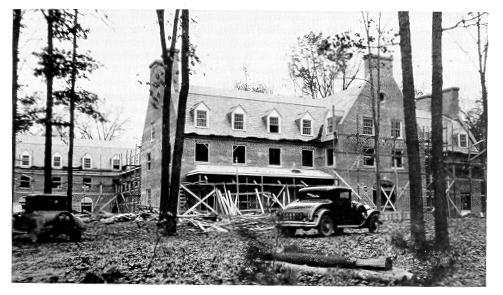 World War II presented Penn State and State College with numerous challenges and opportunities. During the war enrollment declined from about 7,000 to slightly more than 3,000 as many young people joined the military. Many faculty members shifted their focus to research projects to aid the war effort. Under Hetzel's leadership, no faculty were dismissed and salaries were not reduced.
When the war ended, the school confronted growth challenges when former soldiers and others returned the campus. Penn State's enrollment increased dramatically from about 3,000 in 1944 to more than 10,000 in 1946 because of the GI Bill and other federal programs. Hetzel and university leaders implemented numerous approaches to cope with the situation. To provide housing for the thousands of new students, Penn State acquired hundreds of trailers and prefabricated housing units.
Hetzel also started Penn State down a path of research preeminence for the first time. He valued connections between teaching and research and was sensitive to the research needs of government, business, and industry. He also advocated for departments to deliver graduate instruction.
In 1945, the U.S. Navy requested that Penn State create an underwater weapons technology laboratory to support submarine and anti-submarine warfare. Led by Dr. Eric A. Walker, who had been recruited to serve as head of the Department of Electrical Engineering, the Ordinance Research Laboratory opened in 1946. It eventually grew into the sprawling Applied Research Laboratory (ARL).
Hetzel died suddenly of of a massive cerebral hemorrhage on October 3, 1947. He was 64. The Hetzel Union Building (HUB) – Robeson Center and Hetzel Street in State College are named for him. The Ralph Dorn Hetzel Memorial Award honors Penn State seniors who have demonstrated outstanding academic achievement and leadership.
Blannie E. Bowen
---
Bezilla, Michael. Penn State: An Illustrated History. University Park: Penn State University Press, 1985.
Ralph Dorn Hetzel, Penn State Libraries, https://libraries.psu.edu/about/collections/penn-state-university-park-campus-history-collection/ralph-dorn-hetzel (Accessed May 20, 2021).
---
First Published: September 9, 2021
Last Modified: October 3, 2021