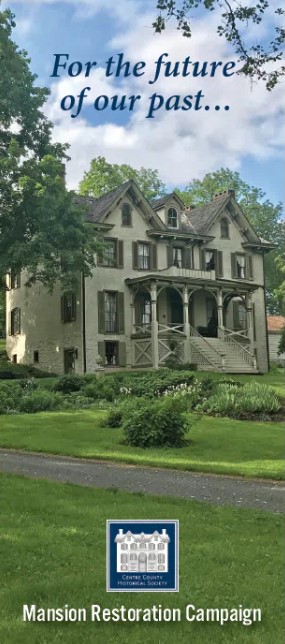 Many of you know the Centre Furnace Mansion as a place you have supported as a member, donor, volunteer, student intern, or visitor. Perhaps you attended a talk or event, done research on site, or toured the Mansion as an elementary school student. Maybe you were among the supporters for the first restoration of the Mansion in the 1980s after it was saved from demolition by a community that knew its significance to Centre County.
The nearly 200-year-old Mansion is a beautiful historic treasure and community resource that has attracted many people for many reasons. Now, we need your support to help preserve it for the future.
The Mansion is currently undergoing a once-in-a generation restoration. Phase I of this project totaled nearly $320,000 and has been completed. During April and May of 2021, the 33-year-old roof with red cedar shingles and copper flashing and rain collection system were replaced. Also completed was the major repair of the balconied porch and back ground level porch with standing seam copper roof and rain collection system. The Mansion's eaves and corbels were painted and detailed during the summer. Meanwhile, fundraising for this phase has gone well thanks to the generosity of private donors and grant funding. Private gifts have provided $196,450. An additional $176,000 through grant funding includes $100,000 from the Pennsylvania Historical and Museum Commission's (PHMC) Keystone Historic Preservation Grant; $50,000 from the Hamer Foundation; $20,000 from the Palmer Foundation and $6,000 from the Happy Valley Adventure Bureau. With sharp increases in construction materials and supplies over the last two years, this funding was critical.
Learn more about this exciting project by clicking on the tabs below:
Historical Perspective
The Centre Furnace Mansion dates to about 1830 when the simple log home of Centre Furnace ironmaster Col. John Patton was replaced by a five-bay Georgian mansion. Moses and Mary Irvin Thompson moved into the home in 1842 and added an ell in 1846. The Thompsons continued to update the Mansion by adding Victorian features in the 1860s including a two-story covered porch added to the ell.
In 1920 the Mansion and grounds were purchased by Penn State professor Madison Garver for his son, David B. Garver, who later capitalized on the post WWII housing shortage by turning a portion of the Mansion into apartments. When the Centre County Historical Society accepted the Centre Furnace Mansion in 1978 as a bequest from Mr. Garver, it assumed an enormous obligation to preserve this historic site. The Mansion was listed in 1979 on the Register of Historic Places. The Society began its work in the early 1980s to restore and rehabilitate it.
About Us
The Centre County Historical Society was an all volunteer organization in 1978 when the small group was entrusted with owning, restoring and managing a grand building and expansive grounds in great need of repair. The site of Centre County's pioneering iron furnace settlement, dating from 1791, would have been lost to the 322 Bypass transportation project had it not been for an ambitious community effort to preserve the site and see to its inclusion on the National Register of Historic Places. Discussion about planning for future uses of the site and how its restoration would be funded and executed would feature largely in CCHS Board and community meetings for years to follow. We now are honored to carry the torch of preserving this historic treasure for future generations.
Why it Matters
The Centre Furnace Mansion and grounds now stand as a testament to two of the most important economic and developmental milestones in Centre County history: the 18th century origins of the iron making industry and the 19th century founding of the Pennsylvania State University. It serves the community as a historic house museum that is free and open to the public, provides educational programs, and has hosted hundreds of elementary age student tours annually. The Mansion also houses the archives and collections of the CCHS. With its location along the traditional eastern gateway to State College and Penn State, the Centre Furnace Mansion and Furnace Stack are two of the most important structures of the early Industrial Revolution in Centre County. The wealth generated by this substantial ironmaking operation enabled ironmaster Gen. James Irvin to make a gift of 200 acres in 1855 to site the Farmers' High School, now Penn State.
Challenge and Opportunity
Now, nearly 40 years and 170,000 visitors later, major repairs are needed to secure the Mansion for the future and Phase I restoration projects are well under way. The Mansion's roof has been replaced with treated Certigrade No. 1 top-quality red cedar shingles by Mid-State Roofing and Coatings, Inc., along with copper flashing and rain collection systems. Andrew Jones of Tug Hollow Honey removed an abandoned honeybee colony with more than 100 pounds of old comb honey between roof rafters. Also completed during Phase I was the restoration of three porches and painting of the Mansion's eaves and corbels.
The current restoration doesn't stop there, however. Looking ahead to Phase II, the brick exterior of the Mansion will need to be repainted. The Mansion's nine doors, 47 windows and shutters will require repair, painting and varying levels of restoration as well. The Centre County Historical Society has established the Mansion Restoration Fund to support both phases of restoration, as well as future cyclical maintenance of the Mansion.
We invite you to play a part in preserving the Centre Furnace Mansion. Donations may be mailed to the Centre County Historical Society at 1001 E. College Ave., State College, PA 16801 or contributed online via the "Donate Now" button at the top of this page.
Professional Support
Alan Popovich, AIA, at APA Architects, LLC, a CCHS Board of Governors member since 2015, is the project's restoration architect. He has an extensive background in historic preservation and preservation technology and has worked on numerous historic sites in Centre County and beyond. Mr. Popovich was instrumental in preparing and completing the overall project evaluation as well as creating construction documents and securing construction approvals and permits. He continues to provide project construction administration and has contributed professional services to this project..
Roofing consultant, William Marcum — Vice-President, Martech Associates, Inc. also brings decades of experience in working with roof projects on historic structures. Mr.Marcum has contributed professional services to prepare the conditions assessments of the Mansion's roof and prepare repair and replacement documents accordingly. His firm, as a consultant to APArchitects, will finalize roof drawings. Mr.Marcum was instrumental in securing a donation from Sunbelt Rentals, Inc. who contributed the use of a lift during the planning stage.
The restoration team also includes:
• Veronesi Building and Remodeling, Inc., State College
General Contractor
• Mid-State Roofing and Coating, Inc., Belleville
Subcontractor
• Homewrights Construction, LLC, State College
Painting Subcontractor
• Tug Hollow Honey, Huntingdon
• Alex's Proscape, LLC, Lemont
Special thanks to Michael Immel for contributing drone photography of the roof.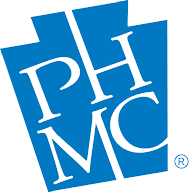 This project is supported by a grant from the Pennsylvania Historical and Museum Commission's Keystone Historic Preservation Grant, a program funded by the Commonwealth of Pennsylvania.
Grant funding provided by:
The Hamer Foundation
The Palmer Foundation

Funding provided in part through a grant provided by the Centre County Board of Commissioners and Happy Valley Adventure Bureau.
Click on any photo to view full size photo gallery.
View additional photos in our album on Facebook.
---
Support the Mansion Restoration Project