Her Stories: Documenting the Role of Women in Local History
Alice Irvin Thompson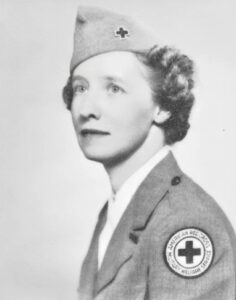 "Hers was a great, full, unselfish, noble, and rich life. She is one of the World War II casualties…many of us less worthy should always keep her example before us. It was a high privilege to know her." This statement, expressed by a Mr. Burns of the National Education Association of the United States upon discovering the death of the heroic Alice Irvin Thompson, best expresses her life mission and courageous accomplishments. Alice Thompson, of Centre Furnace, State College, was born September 18, 1898, and was the daughter of James I. and Janie Shaw Thompson. Miss Thompson attended the Penn State College after attending the Boston Art School for two and a half years, served as the assistant executive secretary of the Pennsylvania State College Alumni Association, and was the assistant editor of the Penn State Alumni Newsletter. However, Alice Thompson found her calling and began to shine as an exemplary and courageous woman when she joined the Red Cross in May of 1943.
Alice Irvin Thompson left State College in April of 1943 to forge a new destiny for herself, and answered the call of duty to join the Red Cross in order to help the war effort in any way she could. She was sent to Washington, D.C. for training for one month, and was then quickly put in charge of a group of Red Cross girls and sent to Australia. Alice Thompson had her headquarters with this group outside of Brisbane, Australia, where she tended to the sick and wounded during the evacuation of war victims there. These war victims, who were retreating from the Japanese invaders in the islands, were rescued by United States submarines at the height of the fighting in November of 1943. These victims were taken to the northern shores of Australia where a Red Cross Center was established and operated by Alice Thompson and one other worker. Miss Thompson reported about her time at Caloundra that "we just fed them, clothed them, gave them plenty of rest, and prepared them for their return to the United States." Among some of the victims Miss Thompson tended at Caloundra included Dr. A.L. Carson, a 1919 graduate of Penn State, and at that time the President of Sillman University in the Philippines, and his entire faculty. About his time at Caloundra, Dr. Carson expressed that "the American men, women, and children who arrive here so mysteriously…enter as a shabby and weary procession. Within a few weeks, good food, rest and play, puts color into haggard faces and a new sparkle into haunted eyes." This is part of the miracle that Alice Thompson and her team of Red Cross workers provided to these war-torn victims of the Pacific Southwest Theater. After this unit closed in November of 1944, Alice assumed a new and more involved responsibility, as she was moved into Brisbane and put in charge of all personnel, both civilian and red cross, in that area. She served in the Pacific Theater of the war from May of 1943 through January 1946 in all.
The truly heroic and dangerous experience of her career with the Red Cross came when Alice Thompson was transferred to The Red Cross Civilian War Aid Branch and was one of the first three women to be rushed into Manila to aid Americans released from the internment camps. On February 7, Alice Thompson flew from Tacloban, Leyte to an airstrip on the Luzon coast, and stopped off a day to deliver messages to Americans just released from the Cabantuan prison camp. She was then was rushed into a jeep transporting her into Manila, right into the thick of the fighting and the enemy occupation. She arrived in Manila at 11 o'clock at night on February 7 at the Santo Tomas Concentration Camp, where 3677 civilian internees had been living for three years. Here, Miss Thompson counseled hundreds of prisoners to whom the past three years were a blur, and she was also responsible for readjusting and assorting the overcrowded rooms and setting up a clothing supply dump from which civilians could benefit. Thompson helped to bring Filipino refugees from across the Pasig river, exchange their tattered rags for the pieces of clothing she was able to gather, and tend to their health and needs. General Walter Kreuger, who commanded the U.S. Sixth Army in the Southwest Pacific Theater, sited the hard work of the Red Cross Workers in this theater, and mentions Alice Thompson of State College, PA, for her courage and dedication to the internees in Manila.
In addition to Alice Thompson's incredible career in Manila, she also served in Hollandia, Dutch New Guinea, and Tacloban, Leyte. She also worked with the American Red Cross Civilian Relief efforts in Czechoslovakia. After 53 months of service overseas, she came back to Pennsylvania in September of 1947 and served as the Executive Secretary of the Lycoming County Chapter of the American Red Cross. In October of 1949, Alice Thompson returned to State College to resume her work at the Penn State College. Alice Thompson died January 18, 1950.