The Penn State barbershop boycott, organized by the NAACP, was a campaign of nonviolent action against the discriminatory practices of six barbershops in downtown State College. With the support of hundreds of Black and White students, the event was the first major civil rights protest at Penn State.
In the 1940s, haircut options for Black Penn State students were limited. State College barbers refused to serve Blacks, so students were forced to drive 30 miles to Tyrone to get service at a barbershop. In September 1948, a Penn State chapter of the NAACP was established and through correspondence with Bucknell College's NAACP chapter, the group learned that similar discriminatory barbershop practices were occurring in Lewisburg. Noting the widespread nature of the problem, the Penn State NAACP chapter resolved to protest at the local and state level.
On December 9, 1948, Penn State NAACP President William Meek announced a community-wide boycott of six downtown barbershops after track star Mitchell Williams was denied service. The following day, 150 students, many of whom were White, began picketing. This first week culminated in a rally at Old Main where about 500 students gathered to hear speeches from NAACP leadership and Penn State faculty members, followed by a march downtown.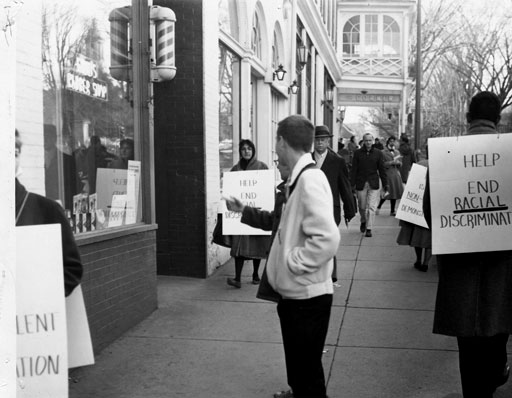 After the demonstration, a local radio station gave the NAACP time to air a 15-minute broadcast encouraging community members to participate in the boycott and picketing. In addition to organizing demonstrations, the NAACP also pursued state-wide reform. National Youth Secretary Ruby Hurley wrote to state representative Homer S. Brown asking him to introduce legislation which would add barbershops to Pennsylvania's civil rights statutes.
The legislation did not come to pass and State College barbers refused to relent even after several weeks of picketing. Meek had stated, "[The NAACP]'s fight is not primarily with the barbers. It is, however against the racial discrimination, which in case of State College, is evident in the barbershops."
Nonetheless, the barbers refused to negotiate, claiming that the picketing had done little to hurt their businesses. University administration remained neutral throughout the boycott. By the next year, students and community members had raised $1,800 to open a barber shop that served Blacks.
Although the addition of a new shop solved the immediate issue of access for African Americans, the NAACP feared that it would serve as a "relief agent" for the discriminating shops. Ultimately, the group felt that this measure was an inadequate solution to the broader problem of discriminatory barbershop practices in State College.
Eleven years later, in March of 1960, a multiracial coordinating group known as Direct Action for Racial Equality (DARE) investigated the extent to which the discriminatory practices still took place. The organization found that while most barbershops in State College had changed their policies to allow Black patrons, barbershop owner Kenneth Bunn continued to deny service to them.
This prompted the group to organize the "Barbershop Poster-Walks," in which DARE members picketed outside of Bunn's Barbershop for more than a month. Bunn refused to relent and DARE shifted its focus towards tackling discriminatory housing practices. The group also collaborated with the Student Christian Association to allocate legal defense funds for students who had been arrested during nonviolent civil rights protests across the nation.
Taken altogether, these efforts reflected the legacy of grassroots civil rights activism pioneered by the NAACP during the Barbershop Boycott of 1948.
Grey Rochon
---
Sources:
Daisey, Darryl B. "African American Chronicles." WPSU Penn State, 2008, http://www.blackhistory.psu.edu/
Gladfelter, Dean L. "Barbers Refuse Comment on Pickets' Effect; First Attempt at Intimidation Reported; NAACP Satisfied With Results; Claims Slowdown." Daily Collegian. December 15, 1948.
Hoecker, Robin E. "The Black and White Behind the Blue and White: A History of Black Protests at Penn State." Bachelor's Thesis. Pennsylvania State University, 2002.
Pennsylvania State Conference, 1948-1949, Jan 01, 1948 – Dec 01, 1949, NAACP Papers: Branch Department, Branch Files, and Youth Department Files, Library of Congress. https://congressional.proquest.com/histvault?q=001495-011-0466&accountid=13158
---
First Published: October 27, 2022
Last Modified: January 7, 2023