The Centre County Library, founded in 1939, serves readers with four locations and a bookmobile that crisscrosses the county.
The creation of what is now a county library system began with the generosity of Bellefonte resident, Ann Elmira Humes. She agreed to donate her home, the historic Miles-Humes House, for a public library, provided that the community financially support the venture. The Georgian-style house, built by ironmaster Joseph Miles in 1814, was a familiar landmark on the edge of the borough's business district.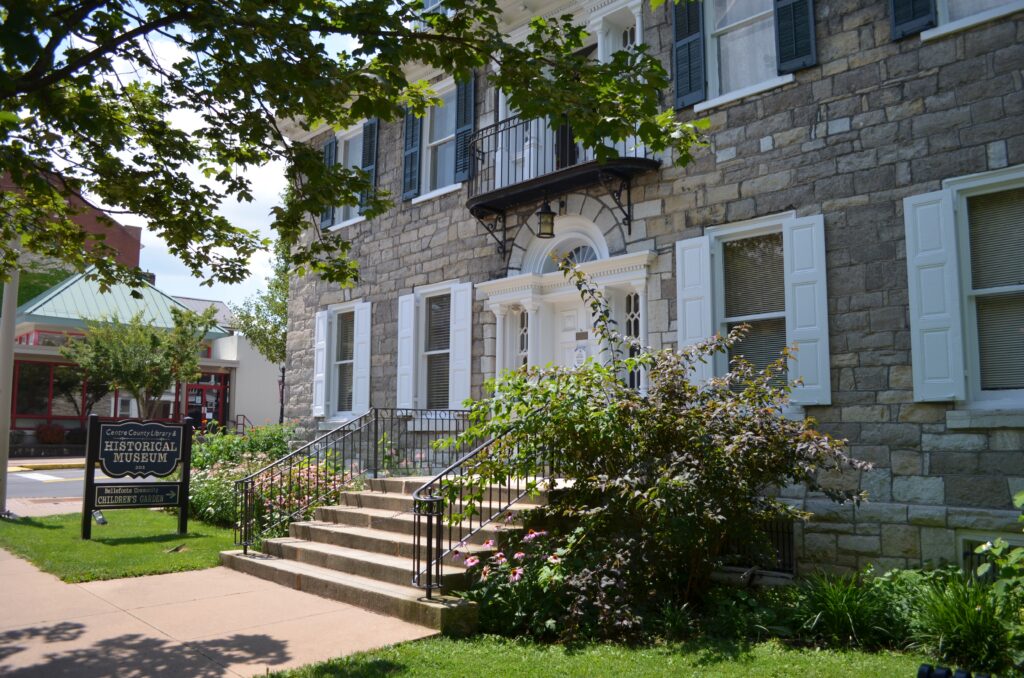 Led by the Bellefonte Woman's Club, residents raised money, and in 1938 the state and county began to contribute funds. The new Library and Historical Corporation of Bellefonte opened its doors on October 25, 1939, in the Miles-Humes House on the corner of Allegheny and Howard streets. The name was changed to the Centre County Library and Historical Museum in 1956.
In December 1941, a bookmobile began motoring around the county, providing books to residents who could not travel to the library. The current vehicle, which is the system's sixth bookmobile, serves more than twenty-five municipalities in the county, focusing on those that lack branch libraries.
In 1977, the library renovated what had been the A&P Supermarket on the corner of Allegheny and Howard streets in Bellefonte, and the primary circulating collection was moved there. The Miles-Humes House now is devoted to research space where users can mine a variety of historical information contained in collections of maps, documents, genealogical data, and other county history. Museum display rooms and library administrative offices are housed in the building as well.
Holt Memorial Library, originally Philipsburg Public Library, joined the Centre County Library system in 1963. An Aaronsburg branch library joined in 1968, but in 2010, it was moved to Millheim, where it became East Penns Valley Area Branch Library. In 1997, the Centre Hall Branch Library joined the system. The Millheim branch closed in 2013 when state funding was cut.
The Schlow Centre Region Library, which opened in 1857, separately serves the county from its location in State College. The library is an agency of the Centre Region Council of Governments, composed of the State College borough and College, Ferguson, Halfmoon, Harris, and Patton townships.
Sally Heffentreyer
---
Sources:
Centre County Library & Historical Museum. www.centrecountylibrary.org/home (Accessed July 1, 2021).
Historic Buildings of Centre County Pennsylvania. The Historic Registration Project of Centre County. Gregory Ramsey, Coordinator. University Park: Keystone Books, 1980.
---
First Published: August 18, 2021
Last Modified: May 9, 2022