ClearWater Conservancy of Central PA is a nonprofit corporation dedicated to conserving and restoring natural resources across central Pennsylvania, notably the Spring Creek watershed. Since its founding in 1980, the State College-based organization has evolved from a largely volunteer group to a nationally accredited land trust organization.
Local environmentalists James McClure and Barbara Fisher founded the organization to protect water resources in the Centre Region. McClure, who served as the first president, liked to say in reference to the Spring Creek watershed, "We're all in the same bathtub."
A watershed is an area of land that drains into a particular body of water and may include both surface and underground sources. The Spring Creek watershed includes the Scotia Barrens on its western edge, Nittany Mountain to the east, Tussey Mountain to the south, and Purdue Mountain to the north. Bellefonte's Big Spring is fed by groundwater originating in the Barrens whereas most surface waters in the Barrens flow south into Spruce Creek.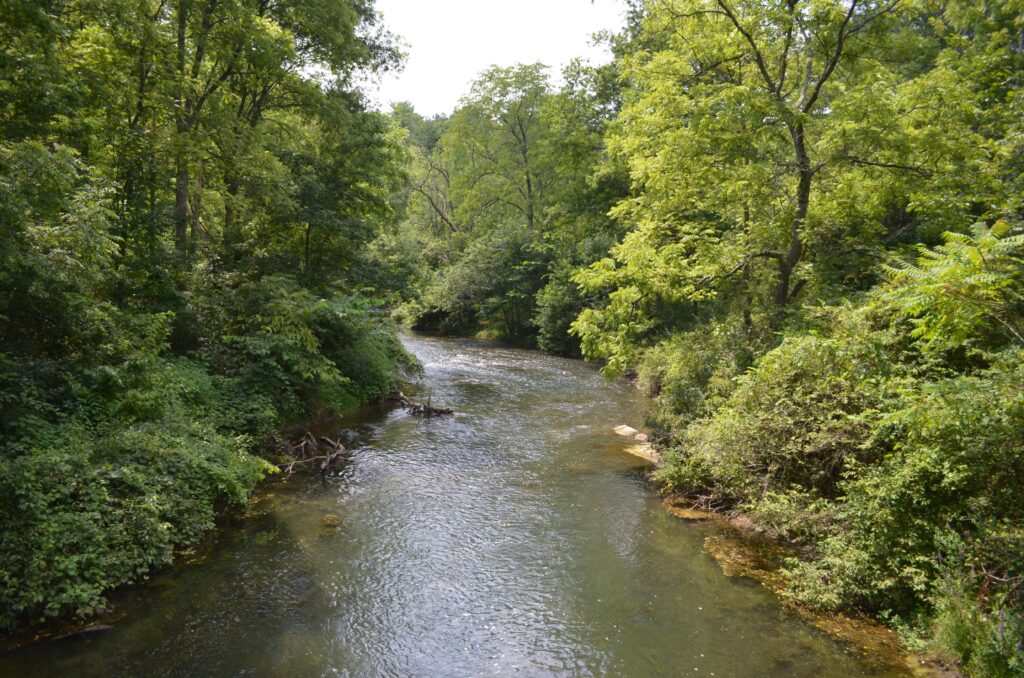 Five smaller watersheds with tributaries feed into Spring Creek, including Buffalo Run, Cedar Run, Logan Branch, Slab Cabin Run, and Big Hollow. Large springs also are a vital component as are other features such as sinkholes. The total surface drainage area of the watershed is 146 square miles, but the groundwater basin covers 175 square miles. Most of the region's drinking water comes from these critical underground sources.
During its initial years, ClearWater was involved with cleanup from the former Ruetgers-Nease Chemical Co. plant at Dale Summit. Kepone and other potentially cancerous organic chemicals had entered the groundwater under the plant and a nearby spring. McClure and others were successful in urging vigorous action by the state's Department of Environmental Resources.
ClearWater's first conservation easement was finalized with Rhoneymeade Farm near Centre Hall in 1986. The easement ensured that use of the farm's 183 acres is restricted to agricultural uses.
Conservation education was also an early focus with public meetings, field trips, and an annual Spring Creek Day at Fisherman's Paradise and other sites. Penn State professors donated their time as speakers and trip leaders.
In 1989, the organization contributed to Centre County's first natural resource inventory (updated in 2002). A proposal for a 22-mile greenway along Spring Creek remains a long-term goal of the organization.
In 1993, ClearWater funded a Penn State study of the Spring Creek corridor and, in 1996, it sponsored a seven-member team of international experts who studied the watershed as part of a weeklong project. Their report emphasized the need to plan for regional growth and development.
A new umbrella organization emerged—the Spring Creek Watershed Commission—made up of Centre County commissioners and representatives from the 12 municipalities.
ClearWater received grants in 1997 to develop a conservation plan for Spring Creek tributaries and to carry out the recommendations of the expert team. It began its riparian buffer zone project using lands near the Pennsylvania Military Museum and assisted with establishing the Millbrook Marsh Nature Center through a conservation easement with Penn State. It also obtained a large grant to study the impact of Interstate 99 on Bald Eagle Creek
ClearWater moved to its current headquarters on North Atherton Street in 1998 and hired its first executive director. The professional staff includes individuals with backgrounds in ecology, biology, and communication. Deborah Nardone joined the organization in 2015 as its fourth executive director. The board of directors is composed of individuals from the county with a variety of backgrounds.
ClearWater is a member of the Pennsylvania Land Trust Association (aka WeConservePA) and the Land Trust Alliance. The organization is nationally accredited with the Land Trust Accreditation Commission.
Beginning in 2000, ClearWater's holdings expanded substantially. Today, its conserved or protected lands total more than 10,000 acres, including 6,500 acres acquired and transferred to public agencies such as the state Bureau of Forestry, which oversees Rothrock State Forest.
Protecting this area, especially the groundwater resource, requires more than simply controlling stormwater runoff. ClearWater obtained and transferred 423 acres at Musser Gap in 2007 at a cost of $2 million. The Musser Gap purchase protected surrounding forest lands and the groundwater from a proposed residential housing development.
In 2017, it finalized preservation of Meyer Dairy and Everhart Farms as part of its $2.75 million Slab Cabin Initiative. These farmlands border the Harter-Thomas well fields that supply State College with most of its drinking water.
Jon Nelson
---
Sources:
ClearWater Conservancy et al. "Spring Creek Watershed: Surface Water & Groundwater Boundary Map." October 2009. http://www.ms4partners.org/about-the-watershed.html (Accessed November 15, 2022).
ClearWater Conservancy. "Land Conservation." 2018. https://www.clearwaterconservancy.org/land-conservation (Accessed November 15, 2022).
"Lunch with Mimi: ClearWater Conservancy's Deborah Nardone." StateCollege.com. February 14, 2017. https://www.statecollege.com/lunch-with-mimi-clearwater-conservancys-deborah-nardone/ (Accessed November 15, 2022).
Sarafz, Sarah. "More than 300 acres of land in Centre Region to be conserved." Centre Daily Times, September 20, 2017.
Spring Creek Watershed Commission. "The Spring Creek Watershed Atlas." 2021. https://www.springcreekwatershedatlas.org/ (Accessed November 15, 2022).
Western Pennsylvania Conservancy. Centre County Natural Heritage Inventory. December 31, 2002. https://centrecountypa.gov/620/Annual-Reports (Accessed November 15, 2022).
---
First Published: December 31, 2022
Last Modified: January 8, 2023