Davey Lewis, a native of Centre County, was a scourge of central and southern Pennsylvania in the early 19th century, notorious for highway robbery, counterfeiting, and prison escapes.
Lewis was a handsome charmer who changed identities like a chameleon. He was so well known that his pardoning by Gov. William Findlay in 1819 was used as a political weapon against the governor by a Carlisle newspaperman who published a pamphlet falsely linking the robber with Findlay.
Despite a life lived outside the law, Lewis had the reputation of a Robin Hood character. He was said to have relieved a tax man of money he had just collected from a widow and returned it to her.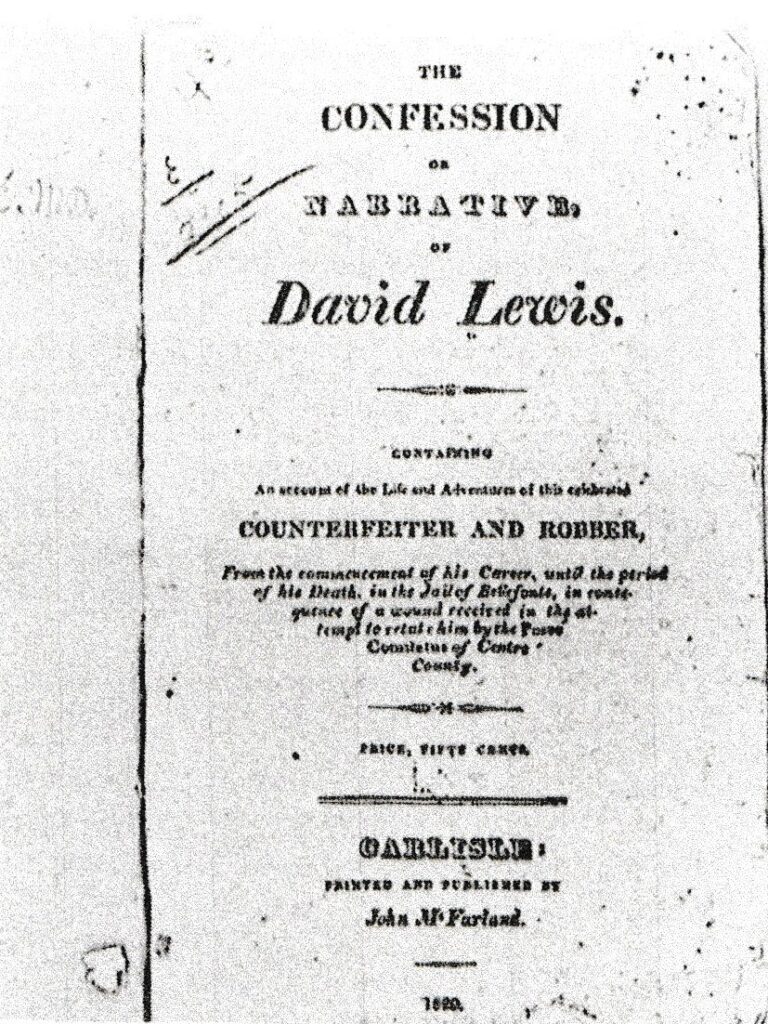 The first record of Lewis is in the 1813 Centre County prison committal papers of Philander Noble, a War of 1812-era spy with whom Lewis later joined in a massive counterfeiting ring. Lewis' longtime partner was Lewis Connelly, described as a hulking brute.
Born in 1788, Davey Lewis was a son of Lewis Lewis and Jane Dill, who lived prosperously on a 300-acre tract near present-day Milesburg. An Oxford-educated Welsh immigrant, Lewis Lewis was a surveyor who laid out properties in areas drained by the Susquehanna and Juniata rivers and Bald Eagle Creek. Jane Dill was from Dillsburg, Pennsylvania.
Lewis Lewis died around 1790 of injuries suffered in a fall, and Jane remarried soon afterward to Frederick Leathers, an elderly widower. After Leathers died in 1796, Jane lived in Roopsburg and then relocated to near today's Clearfield. She died in the early 1840s and is believed to be buried near Benezette, in Elk County.
Little is known of Davey Lewis' boyhood, but by 1815 he was part of a counterfeiting ring that stretched from Ohio to New Jersey and from Virginia to Canada with its headquarters near Bedford, Involving as many as 100 people, the gang employed wagoners to pass the phony currency.
In the early 1800s, counterfeiting was relatively easy, since there was no common currency and banks issued their own notes. According to one expert, there were about as many counterfeits in circulation as bills from real banks.
Authorities caught up with Lewis at an inn along Bloody Run at Everett, Pennsylvania. Escaping jail in Bedford, he was recaptured and imprisoned in Philadelphia, starting a six-year sentence in June 1816. After serving a little more than half that term, he was pardoned by Gov. Findlay at the recommendation of Philadelphia prison officials who said Lewis had informed about a jailbreak plot.
Within days, Lewis reunited with his partner Connelly and began a nine-month spree of strong-armed robberies and theft. In one case, Lewis and his associates waylaid a businessman alone on horseback and stole $1,500 (more than $30,000 today). While his henchmen wanted to kill the man, Lewis released him with his watch and $30.
In 1820 at Potters Mills, Lewis and Connelly plundered a wagonload of goods bound for Bellefonte merchants Hammond & Page. Not content with that loot, the thieves moved on Potter's store, but were driven off. A posse chased them, and on June 30 Lewis and Connelly were wounded in a fusillade of bullets on June 30, near the Cameron County hamlet of Huntley.
After the shootout, Lewis and Connelly were taken by canoe to Lock Haven, where Connelly died of his injuries.
Lewis died in the Centre County jail in Bellefonte on July 12, 1820, having refused treatment for gangrene. He was reportedly buried in the Milesburg Cemetery, although the exact location is unknown.
Charles DuBois
---
Sources:
Barrick, Mac E. "Who was Lewis the Robber?" Cumberland County History. Vol. VI, No. 2, Winter 1989.
Barrick, Mac E. "Lewis the Robber: A Pennsylvania Folk Hero in Life and Legend." Midwestern Folklore: Journal of the Hoosier Folklore Society. (Special Edition) Vol. 20, No. 2, Fall 1994.
Glasser, Lynn. Counterfeiting in America: The History of an American Way to Wealth. C.N. Potter, 1968.
Linn, John Blair. History of Centre and Clinton Counties, Pennsylvania. Louis H. Everts, 1883.
Macneal, W. Douglas. Centre County Heritage. (Special Edition) Vol. 24, No. 2, Fall 1987.
Macneal, W. Douglas. "Amplification: David Lewis in Centre County in 1813." Vol. 26, No. 1, Spring 1989.
---
First Published: May 17, 2023
Last Modified: May 19, 2023