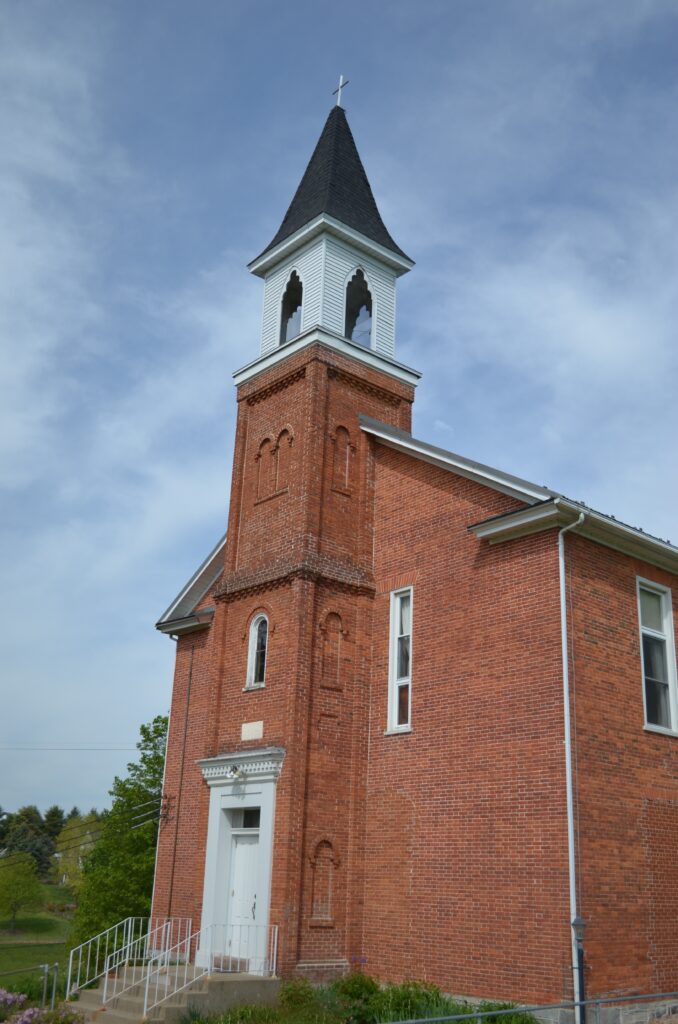 Emmanuel Union Church in Tusseyville, founded in 1810, is one of the oldest churches in Centre County and for many years was one of the last remaining "union" churches, serving both Lutheran and United Church of Christ congregations.
A small log church was built around 1805 for Lutheran and Reformed congregations. The land was donated by William Earley and his wife, Barbara. An itinerant minister led services from time to time, but many Sundays the congregations gathered on their own at the church to worship.
In 1810, the German Lutheran congregation was formally organized and the Rev. Ludwig Albrecht Wilhelm Ilgen, the first Lutheran pastor in the area, added it to his charge. He also served Lutheran congregations in Aaronsburg and Rebersburg.
Two years later, the Reformed congregation was formed with Henry Rossman, a school teacher who had just been ordained, serving as minister. Rossman, who is buried in the church's graveyard, also held services in the Brush, Nittany, and Penns valleys. The church was known by various names in its early years, including Loop Church and Tusseyville Church.
A new red brick church was built in 1837 and it became known as Emmanuel Union Church. The original church building was two stories high and consisted only of the sanctuary. The log structure was converted for use as a schoolhouse. It later was moved and used as a blacksmith shop.
The church was extensively renovated in 1879. The lower floor became a Sunday School room. A vestibule was built on the front; a spire and bell also were added. "The church presents a handsome exterior, and does not disappoint one when entering it," said a story in the Centre Reporter about the renovation. "It was simply impossible to be comfortable in it previous to the remodeling. Now there is a good basement for Sabbath School and other services and a cheerful and very agreeable audience chamber upstairs."
A new entrance with a porch was built in 1932. Electric lights were installed in 1939. For many years, the church was heated by two stoves in the sanctuary. An oil furnace was installed in 1955. The church was renovated again in 1966.
The Reformed Church of the United States and the Evangelical Synod of North America merged in 1934 to become the Evangelical and Reformed Church with the Emmanuel congregation becoming part of the new denomination. In 1957, the Evangelical and Reformed Church and the Congregational Christian denominations merged to form the United Church of Christ. The Emmanuel congregation joined the new denomination. Since 2012, Emanuel Union has been strictly a United Church of Christ congregation.
Ford Risley
---
Sources:
"175th Anniversary Emmanuel Church," October 20, 1985.
"Church Rededication," The Centre Reporter, October 30, 1879.
---
First Published: July 30, 2021
Last Modified: June 25, 2022