Fisherman's Paradise is a popular recreation area on Spring Creek in Benner Township, originally designed as a fisheries management facility and habitat improvement project.
In 1932, during a period in which stream restoration was a primary concern for state officials, the Pennsylvania Fish Commission (now known as the Fish and Boat Commission) purchased 90 acres of land stretching alongside about one mile of Spring Creek. The site has since been expanded to 195 acres.
The Bellefonte Fish Hatchery was built on the left bank of the creek, and the creek itself was altered to create straight channels and deep pools. Each spring, this stretch of the creek was stocked with trout from the hatchery as a demonstration of population management techniques.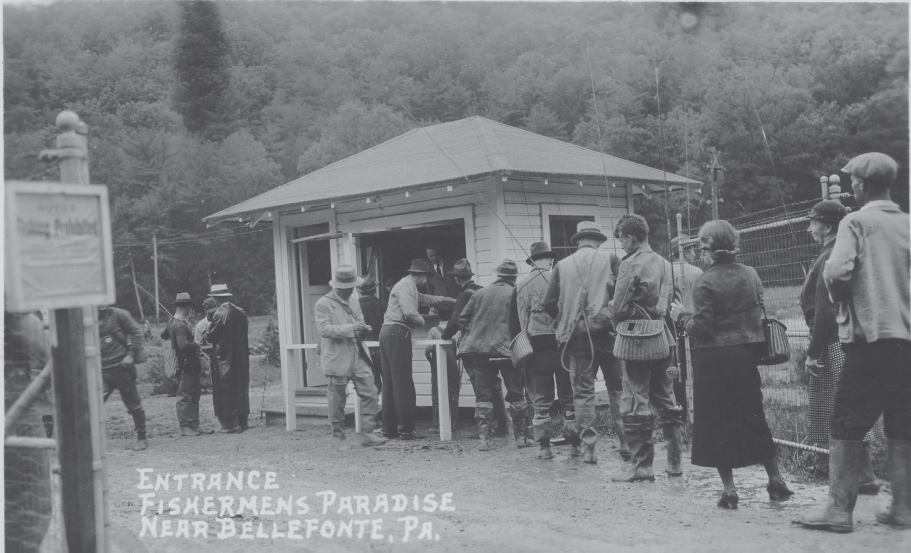 Fishermen were invited to partake of the managed fish population, and by the early 1940s the facility attracted tens of thousands of anglers every year. For a time, there was a "ladies only" section of creek bank.
The area's popularity and relatively easy fishing inspired the popular nickname "Fisherman's Paradise," which was later made official by the Commonwealth. Today, the site is recognized as one of the most accessible fishing spots in the U.S. for handicapped enthusiasts.
By the 1960s, the fishing experience had been damaged by polluted water believed to originate at the Rockview Correctional Institute upstream. That problem was cleaned up, but the Commonwealth adjusted its management techniques and considerably fewer annual fishing permits have been issued in the decades since.
As opposed to large quantities of trophy fish in the early years, the creek is now stocked with native species and in sustainable numbers, in the interests of maintaining the local ecosystem and watershed. The site allows no-kill, catch-and-release fishing from the bank, with no wading allowed.
Fisherman's Paradise also includes a large lawn for picnicking, and it provides access to the Spring Creek Canyon trail. Intended for biking and walking, the trail follows an abandoned dirt road southwest along the creek for about 4.5 miles, ending at Rock Road behind Benner Cemetery.
During periods of high water, Fisherman's Paradise is a popular put-in point for canoeing and kayaking on Spring Creek. The grounds include numerous interpretive exhibits describing the site's history and current issues in ecosystem management, with the control of invasive species being a particular recent concern.
Fisherman's Paradise also sports a chateau-style building that houses the H.R. Stackhouse School of Fisheries Conservation and Watercraft Safety, which trains officers and managers for the Fish and Boat Commission. The area is currently part of a regional conservation effort to preserve Spring Creek Canyon, once a heavily industrialized area with iron furnaces and logging mills, for most of its length between Bellefonte and State College. Some portions of the extensive undeveloped grounds of Rockview Correctional Institution are included in the effort.
The Fisherman's Paradise recreational area is open all hours. The Bellefonte Fish Hatchery, which is accessible via two different pedestrian bridges, can be visited during business hours.
Ben Cramer
---
Sources:
Carline, Robert F. et al. "Fisherman's Paradise – An Historic Reach of Spring Creek." The Spring Creek Watershed Atlas, August 20, 2021, https://www.springcreekwatershedatlas.org/post/fisherman-s-paradise-an-historic-reach-of-spring-creek (Accessed September 4, 2023).
Pennsylvania Fish and Boat Commission. "Bellefonte State Fish Hatchery." https://www.fishandboat.com/About-Us/Hatcheries/Pages/BellefonteStateFishHatchery.aspx (Accessed September 4, 2023).
Schneck, Marcus. "Nature's Navigator: Fisherman's Paradise." Penn Live, November 16, 2008, (Accessed September 4, 2023).
---
First Published: October 29, 2023
Last Modified: October 31, 2023