Gene Wettstone established the Penn State men's gymnastics team and guided it to nine national championships, the most by a collegiate coach. He also served twice as head coach of the U.S. Olympic men's team.
Wettstone coached the Penn State gymnastics team from 1939 to 1976. During that time, his teams won NCAA championships in 1948, 1953, 1954, 1957, 1959, 1960, 1961, 1965, and 1976. His teams also won thirteen Eastern Intercollegiate Gymnastic League titles. They had twelve undefeated seasons and more than 200 dual meet victories.
Wettstone coached thirty-five individual national champions and thirteen Olympic participants. Three of his gymnasts, Steve Cohen (1967), Gene Whelan (1976), and Bob Emery (1979), won the Nissen-Emery Award, as the top men's collegiate gymnast. Four went on to coach national championship teams.
Wettstone was the head coach of the U.S. Olympic men's gymnastics team in 1948 and 1956. He also served on the U.S. Olympic committee for twenty years and was a judge for the 1952 and 1968 Olympic Games. Wettstone was head coach of the U.S. National Team from 1970-76. He also served as president of the National Association of Collegiate Gymnastics Coaches.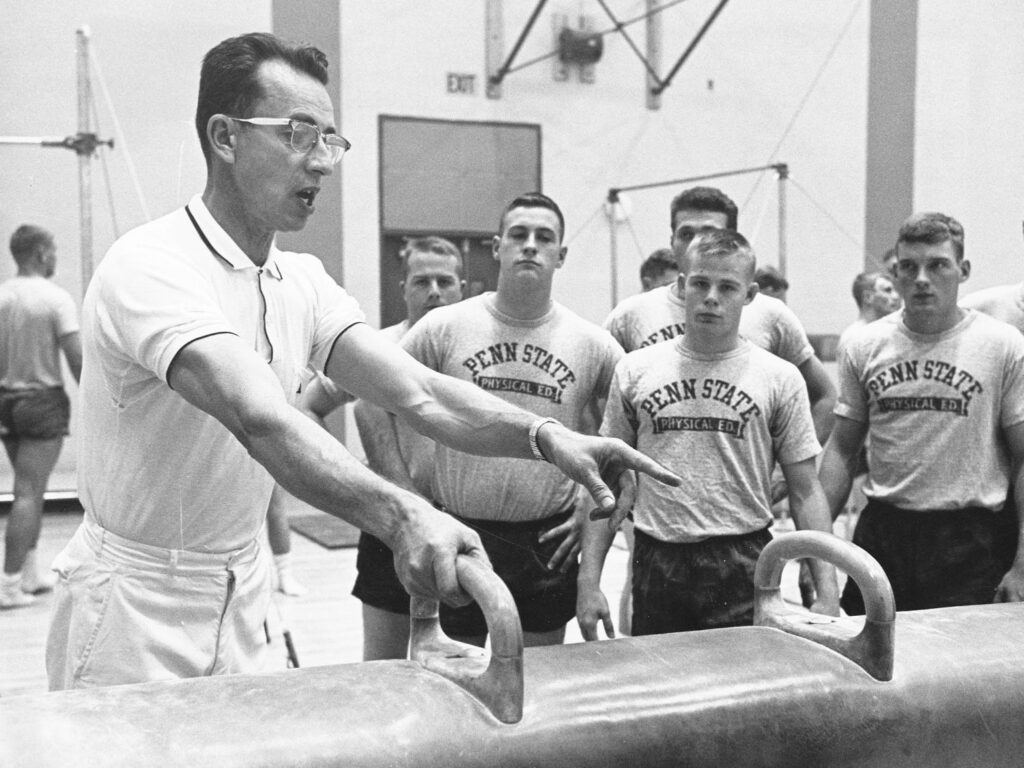 He was born Eugene Wettstein on July 15, 1913, in West Hoboken, New Jersey. His parents were Swiss immigrants who Americanized their surname to Wettstone because they thought having a Jewish-sounding name — even though they were not Jewish — would make finding a job more difficult at a time when anti-Semitism was common.
Wettstone learned gymnastics at a Swiss social club. He graduated from the University of Iowa in 1937, where he won Big Ten championships on the pommel horse, high bar, and all-around as a senior.
Prior to his arrival, Penn State had no gymnastics team; the closest thing was a student circus that featured acrobatics and tumbling. Wettstone was a showman who was involved in every aspect of gymnastics meets at Rec Hall, including the music selection and equipment layout. The meets regularly drew crowds of more than 7,000 fans.
He oversaw three NCAA men's gymnastics championships and four Olympic Trials that were held at Rec Hall. He also helped coordinate international competitions, bringing gymnastic teams from Sweden, Switzerland, Japan, and the Soviet Union to Penn State for exhibition meets.
Wettstone had a great love for Penn State. He revived the Nittany Lion mascot in 1939 after a twelve-year hiatus, donning the costume himself for one season before turning it over to a student.
He was inducted into the United States Gymnastics Hall of Fame in 1963. The Gene Wettstone Award has been presented to the top Penn State gymnast each year since 1976.
Wettstone died in 2013 in State College, two weeks after his 100th birthday.
Jeff Rice
---
Sources:
"Gymnastics coaching legend Wettstone passes away at age 100," USA Gymnastics, July 31, 2013.
"Gymnastics coaching legend Gene Wettstone dies," Penn State News, July 31, 2013.
"Gene Wettstone, 100, Record-Setting Gymnastics Coach," New York Times, August 2, 2013.
---
First Published: July 6, 2022
Last Modified: September 13, 2022