The Glennland Building was State College's tallest building for more than forty years, known for its popular apartments and indoor pool. The building is now a boutique hotel.
Located at the corner of Beaver Avenue and Pugh Street, the Glennland was built in 1933 by local businessman O.W. Houts and physician Grover Glenn, for whom it was named. The five-story, orange brick building was a landmark in a borough that for decades had no tall residential or commercial structures.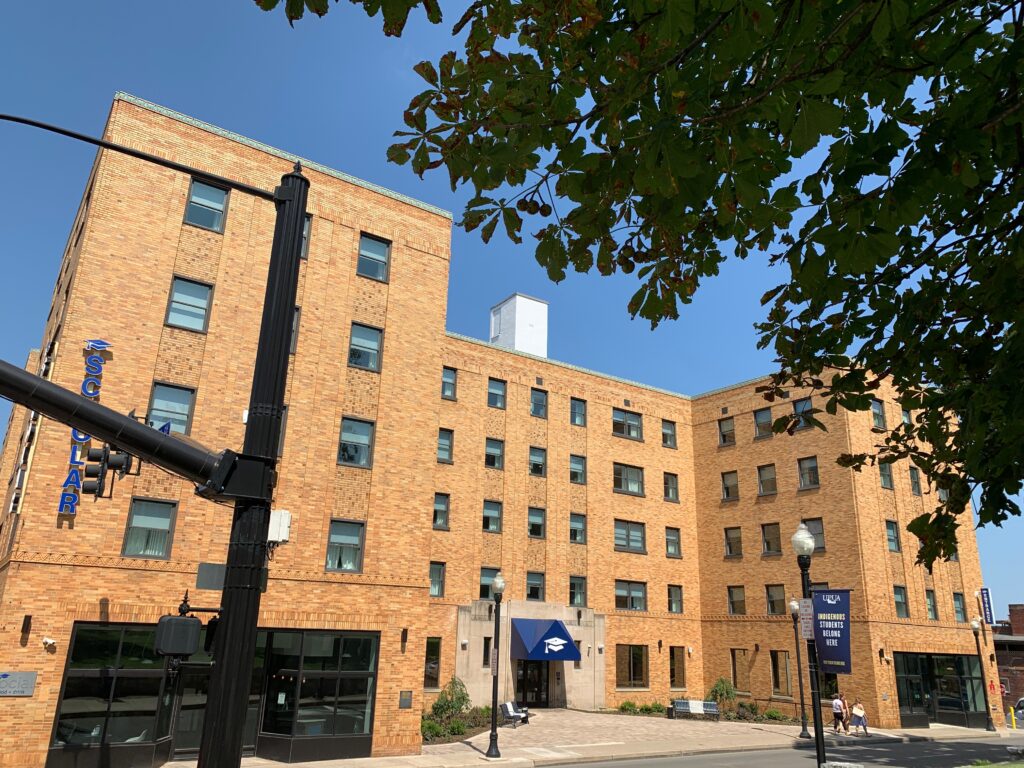 The mixed-use building was designed for businesses at street level with apartments above. It had the first residential elevator in State College.
It also included the region's first indoor pool, used by residents as well as the public. Many children took swimming lessons and the pool had "family nights" with open swimming. Penn State also rented the pool for what was, at first, men-only swimming classes.
Centre County Judge R. Paul Campbell and a partner purchased the Glennland Building several years after it was built with the Campbell family taking full ownership in 1950. The building housed a variety of businesses including physician and dentist offices, insurance agencies, and a district magistrate's office. One of the businesses for many years was WMAJ.
Facing costly repairs and maintenance, the Campbells sold the property in 2019 to a hotel group that renovated and reopened it as the Scholar Hotel in 2021. The hotel, which has 72 rooms and is part of the Hilton Tapestry Collection, features artwork throughout the building, reflecting its history and features, including the original mosaic tile pool.
The Glennland Building is located in the Holmes-Foster Historic/Highlands District, which was added to the National Register of Historic Places in 1995. 
Patricia Kleban
---
Sources:
Koffman, Nadine. "The Glennland, State College's first 'high-rise' apartment building, will live on as a hotel. StateCollege.com, May 21, 2018.
Paez, Sarah. "Protecting and preserving; Glennland Building sold, will become boutique hotel." Centre Daily Times, September 12, 2019.
Penn State University Libraries; Digital Collections. https://digital.libraries.psu.edu/digital/collection/cpalac/id/1115/rec/2
---
First Published: August 10, 2021
Last Modified: March 17, 2023