Harold Altman was an internationally known artist who lived and worked in Centre County for more than forty years. He is best known for his lithographs, which include scenes of the county.
Altman was a prolific artist who produced thousands of lithographs, etchings, drawings, and paintings. His subjects included Central Park in New York City, the parks of Paris, and rural Pennsylvania. Among the local subjects were Lemont, Linden Hall, and Mount Nittany.
Born in New York City in 1924, Altman studied at the Art Students League and Cooper Union in New York and at the Académie de la Grande Chaumière in Paris.
Altman moved to the area in 1961 to teach at Penn State's School of Visual Arts after stints on the faculty of the University of Wisconsin, Milwaukee and the University of North Carolina, Charlotte.
He established his art studio in a converted 19th century church in Lemont. For many years, he spent several months in Paris, where his lithographs were printed.
Lithography is a printmaking process in which the art is etched onto a flat surface and affixed to paper via a chemical reaction. It is a highly challenging form of art, as it is done in specific and precise layers in order to transfer one of four colors (black, red, yellow, and blue).
Altman's art can be found in galleries and museums across the world, including the Museum of Modern Art, Whitney Museum, National Gallery of Art, Boston Museum of Fine Art, San Francisco Museum of Art, Art Institute of Chicago, Victoria and Albert Museum of London, Bibliotheque Nationale of Paris, and Museum of the University of Glasgow. He won many awards, including two Guggenheim Fellowships, a Fulbright-Hayes Senior Research Fellowship, and a National Endowment for the Arts Grant.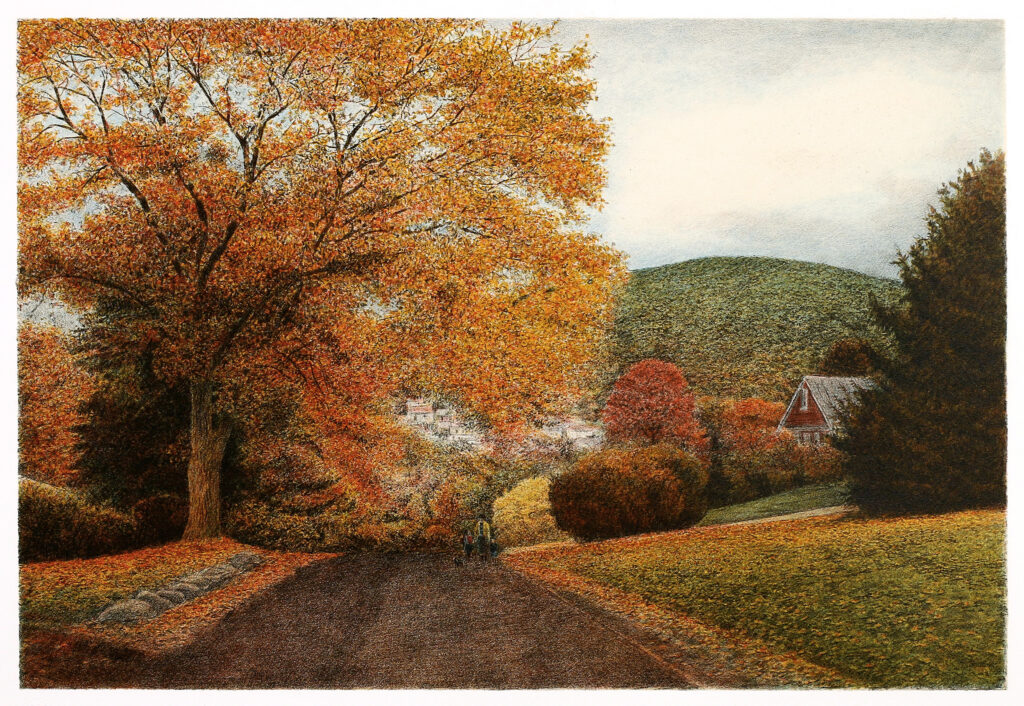 Altman gave back to the community with donations to the Palmer Museum of Art, which holds several of his pieces. Although he lived for years in New York City and Paris, his daughter, Jessie Beers-Atlman, said he "loved the small-town feel of State College, combined with all that came here because of the university. He liked the cultured feeling of the town, but he was also really drawn to the natural beauty of the region."
Altman died in 2003 at the age of 79. He was survived by five children. Jessie Beers-Altman of State College oversees the marketing and sale of his work.
Megan Gilchrist
---
Sources:
Harold Altman. www.haroldaltman.com (Accessed June 7, 2022).
"Harold Altman, 79, Printmaker, Painter and Professor of Art," The New York Times, August 16, 2003.
Domenico, Lu Ann, "Interpretations of Beauty: Renowned Local Artist Harold Altman's Work Finds Renewed Exposure, 17 Years after His Death," StateCollege.com, December 30, 2020.
Garcia, Gisela. "Lemont mourns loss of world-renowned artist, friendly neighbor," Centre Daily Times, July 29, 2003.
---
First Published: July 29, 2022
Last Modified: February 22, 2023