The Hotel State College is a State College landmark, known as the home of the popular Corner Room restaurant.
In 1855, James Jack of Philadelphia opened "Jack's Road House" at the corner of College Avenue and Allen Street. At the time, the hotel was a stage stop and a resting place for travelers waiting for trains across the street.
The hotel was sold in 1880 to John W. Stuart, who renamed it the College Hotel. In 1885, State College's first pay phone and telegraph were installed in the building.
In 1904, the Nittany Real Estate Company purchased the property and it was renamed again to the Nittany Inn. The building underwent significant renovations, including encasing the frame structure in brick, redecorating the first-floor lobby, and installing a bowling alleys and barber shop in the basement. The building also was enlarged by two stories and a large porch was added to the front.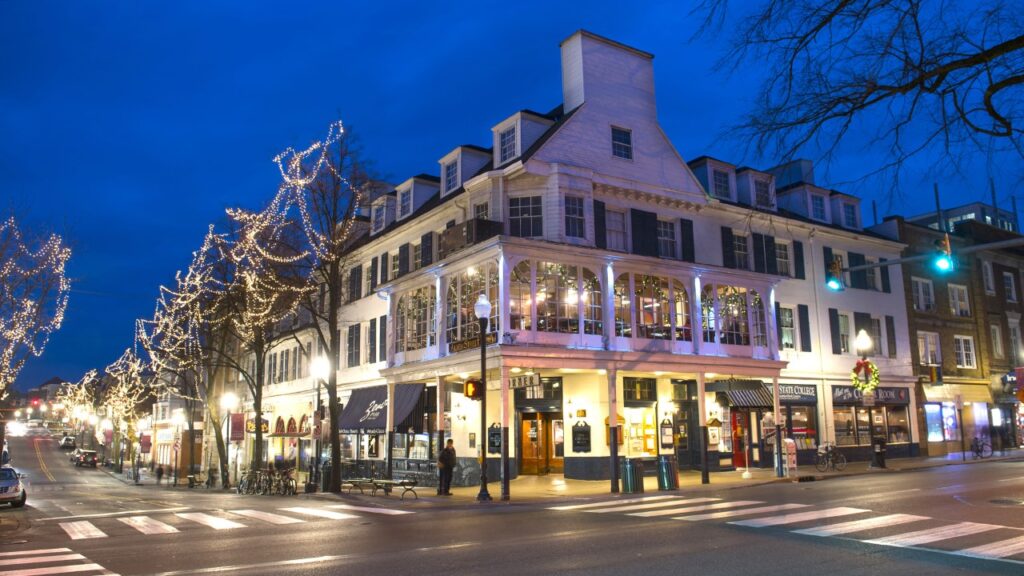 In 1925, the property was purchased by Claude Aikens, R.J. Kennard and, Marlin "Matty" Mateer. The new owners made the Corner Room restaurant a prominent part of the first floor.
Through the years its booths along College Avenue and Allen Street have provided diners and passersby a glimpse of each other. A revolving door also was installed, a rarity in the small borough.
At one time, the hotel included 70 guest rooms, but that total diminished to just over a dozen by the 1980s as other businesses took over spaces that were previously hotel rooms. Along with the hotel and restaurant, the property has been home to numerous businesses through the years. A local radio station broadcast its weekday morning show from the first booth near the door on the Allen Street side of the building for years.
State College developer Sidney Friedman purchased the hotel in the early 1970s, and it was managed by brothers Chris and Zeno Pappas. Co-owners Michael Desmond and John Cocolin took over in 1986, conducting business as the Hotel State College & Co.
By 2019, along with the Corner Room, the property included the Allen Street Grill, Chumley's, Bill Pickle's Taproom, Zeno's and the Basement Nightspot. That same year, the business changed hands again as Pat Croce & Co., led by Penn State alumni Michael Croce and Jeff Sorg, purchased the property. They renovated the property, most notably reinstalling a 1930s-era breakfast bar in the Corner Room as a homage to the property's history.
Steve Sampsell
---
Sources:
Hench, Vivian Doty. The History of State College 1896-1946. State College: Centre Daily Times Publications, 1948.
Rushton, Geoff. "Corner Room Renovations Aim to Maintain Familiar Atmosphere While Providing 'Much Needed Upgrades," StateCollege.com, July 15, 2021.
---
First Published: September 10, 2021
Last Modified: June 7, 2022