The Mid State Trail is a 327-mile hiking trail that runs from the border of Maryland in Bedford County to the border of New York in Tioga County. Marked with rectangular orange blazes, many miles of the trail pass through the southern and eastern parts of Centre County.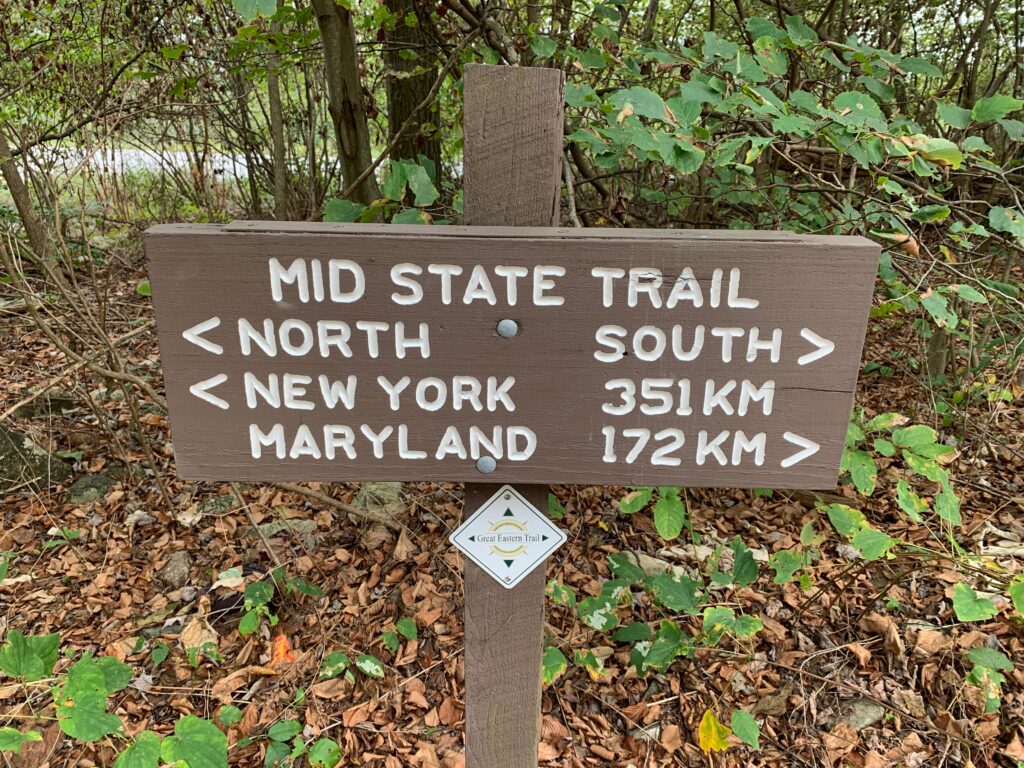 The trail originated in the late 1960s, and trail blazing was first conducted near Boalsburg in 1971. Initially, the trail was called the "Central Allegheny Trail," but as more mileage was added and the trail became more interconnected, it took the current name.
The Penn State Outing Club, under the leadership of physics professor Thomas Thwaites, blazed the first portions of the trail from southern Centre County through Rothrock State Forest. Thwaites, the Outing Club, and other organizations continued to blaze and connect the trail throughout the 1970s. In 1982, the Mid State Trail Association was formed to protect and maintain the new project.
At 527 kilometers, the Mid State Trail is the longest hiking trail in Pennsylvania. (On all maps since the trail's inception, distances are measured in kilometers.) For the purposes of maintenance, it is divided into four regions. From south to north they are: Everett, State College, Woolrich, and Tioga. Notably, the trail is measured in metric units.
Much of the trail runs through public lands, including state forests, state parks, and state game lands, although smaller portions rest on private property. The southern half of the trail consists largely of ridgetop hiking on rockier terrain, while north of Centre County, it features many connections with older trails and mainly wooded areas. Numerous branch trails also emerge from the Mid State Trail, which are marked by white blazes.
A stone monument with a plaque sits on the trail near the location of the first blaze marked in 1969. It is dedicated to Thwaites, who has been described as "the father of the Mid State Trail." The longtime professor died in 2014 at the age of 83.
A portion of the Mid State Trail is part of the Great Eastern Trail, a 1,600-mile route currently in development. Once complete and fully connected, the massive project will run west of the famed Appalachian Trail from Florida to New York.
James Engel
---
Sources:
Mid State Trail. http://www.hike-mst.org (Accessed August 17, 2021).
"A History of the Mid State Trail," PAHikes. pahikes.com/blogs/news/a-history-of-the-mid-state-trail (Accessed August 17, 2021).
"Mid State Trail," Keystone Trails Association. www.kta-hike.org/mid-state-trail.html (Accessed August 17, 2021).
---
First Published: August 22, 2021
Last Modified: February 10, 2022