St. John the Evangelist Catholic Church in Bellefonte, established in 1828, is the oldest Roman Catholic church in Centre County.
Catholics began settling in the county in the early 1800s. By 1824, the number had grown large enough to warrant a priest from Bedford visiting Bellefonte regularly on mission stops. Mass was said at a private home on High Street.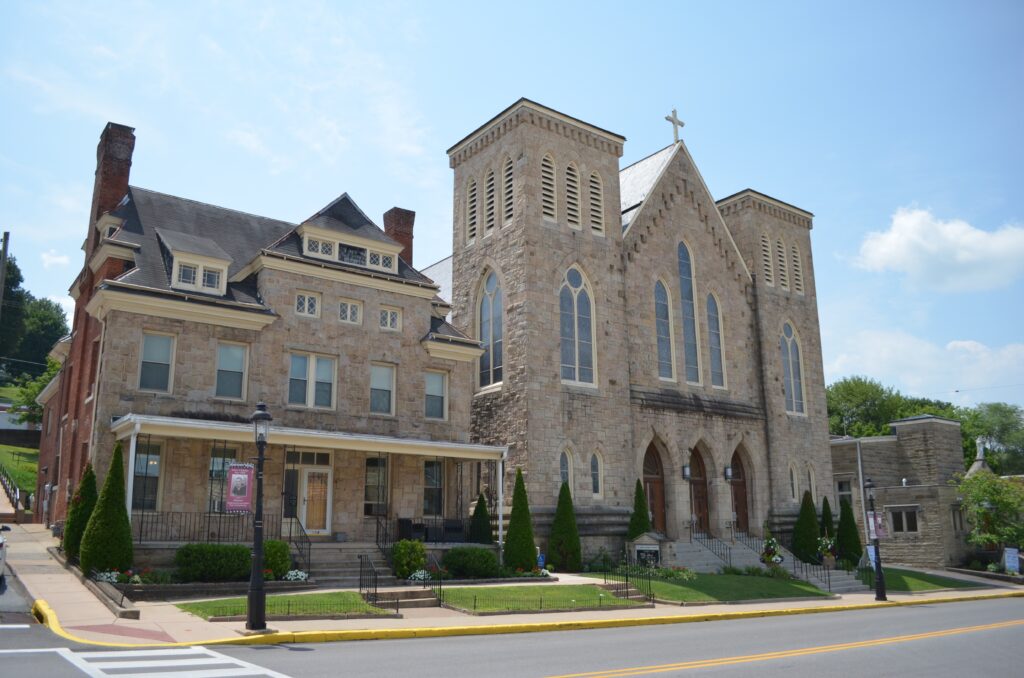 The first permanent priest was assigned in 1828. St. John shared the pastor with churches in Clearfield and Huntington. Property on Bishop Street was purchased and the first church was completed in 1831.
The church occupied the site of the present school auditorium. There was no rectory and the early pastors lived in the sacristy.
During the next five decades, the congregation grew to the point where a larger church was needed. A cornerstone was laid in 1884 and the present church, designed in an English Gothic style and built of white sandstone, was consecrated on October 13, 1889. A neighboring house was purchased and expanded into a rectory.
With assistance from the sisters of the Servants of the Immaculate Heart of Mary in Scranton, the St. John Parochial School was started in 1890 using the first church building. In 1905, a convent was built to house the sisters. The Diocese Altoona was founded in 1905 and St. John became part of the new diocese. (The diocese was renamed the Altoona-Johnstown Diocese in 1957.)
The first church, still serving as a school, was razed. A new school and auditorium were built in 1952. A new convent was built in 1960. When the sisters left the diocese, the convent was renovated for a pre-school and later for the school's expanded seventh and eighth grades. The two grades later were closed and a kindergarten started.
Following the Second Vatican Council, the church's altar and interior were renovated in the 1960s. The interior has been updated several times since then, most recently in 2019.
Ford Risley
---
Source:
St. John the Evangelist Catholic Church: 175 Years of Faith, 1828-2003.
---
First Published: August 3, 2021
Last Modified: January 21, 2023