The American Legion & Auxiliary Junior Drum and Bugle Corps was a popular activity for Centre County youth for about twenty-five years in the mid-20th century. The State College corps won several state championships and, in 1941, a national championship.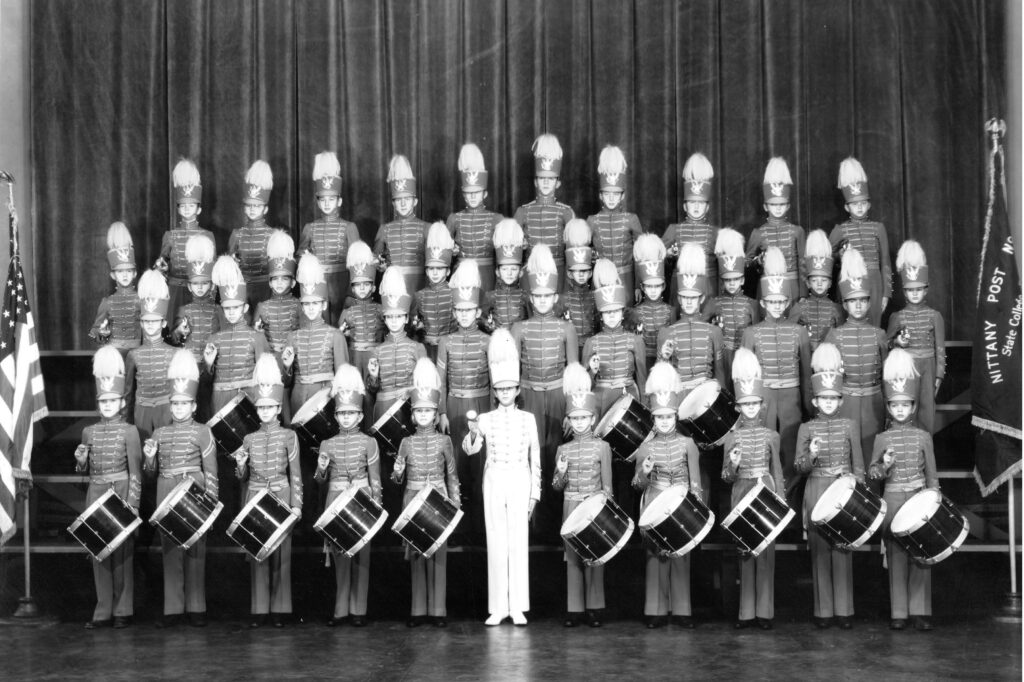 After World War I, veterans organizations in the United States formed drum and bugle units for their members and families. The activity spread to scout troops, churches, schools, and police and fire departments. The groups were sometimes arranged by age (senior corps were for those over 21), by sex (there were all-female units), or by ethnicity (there were corps for African Americans and Asian Americans).
Both parade and field competitions were held, and national contests attracted more than 100 corps. In parade competitions, corps march in lines while playing music. In field competitions, corps split into smaller squads that interweave with one another while playing music. Instruments varied by corps and the era. The State College corps included only drums (snare, tenor, and bass) and bugles of different sizes.
Through the 1970s, junior drum corps was a popular youth activity, giving young people a chance to play musical instruments, travel, and compete as a group. In the 1920s and '30s, Bellefonte's Brooks-Doll American Legion Post #33 fielded a senior corps.
The State College corps was founded in 1935 by a group of local businessmen led by C.W. "Buck" Taylor, who operated a music store. Instructors were often music majors at Penn State. The sponsor was Nittany Post #245, and its official title was the American Legion & Auxiliary Junior Drum and Bugle Corps. Auxiliary or "sponsored corps" included both male and female members.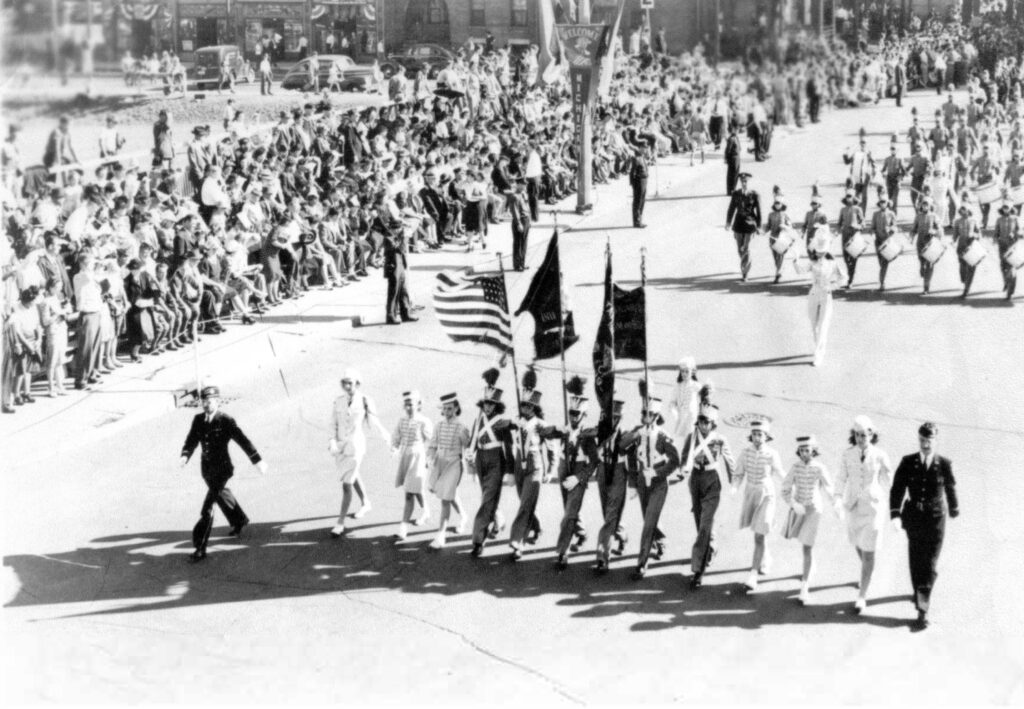 The first public appearance in State College was on Decoration Day (more commonly known today as Memorial Day) in 1936. In July 1937, the corps held its first week-long training camp at Whipple Dam State Park.
The State College corps won the state title for four straight years, from 1936 to 1939. The group lost in 1940 but the next year, at the Pennsylvania American Legion contest in Altoona, the State College corps regained the state championship. A month later, it won second place in the American Legion National Championship held at the Polo Grounds in New York City. The convention parade was fifty-two blocks long, took eighteen hours to complete, and included more than 500 bands and drum corps.
In September 1941, the corps traveled by train to Milwaukee for the national championship. The corps, with its orange and blue uniforms, had forty-nine members ranging in age from 10 to 21, split evenly between boys and girls. Nittany Post #245 won first place among the sixteen corps in the sponsored-division, with a score of 93.2 out of a possible 100.
The corps returned to competition in 1945 and quickly resumed its winning ways. The State College corps disbanded around 1953, ending the unit's proud story.
Jon Nelson
---
Sources:
American Legion Parades and Field Drills:
1937 New York City Parade ‒ https://www.youtube.com/watch?v=BMHFCves8iY
1940 Senior Corps Drill ‒ https://www.youtube.com/watch?v=3Wn4PzOypBU&t=129s
Nelson, Jon P. "History of the State College American Legion Drum and Bugle Corps, 1935-1953." https://sites.psu.edu/jpn2016/files/2017/02/State-College-AL-Drum-Corps-1gp84lu.pdf (Accessed July 15, 2021).
Osheroff, Raphael and Robert Zinko, "The big parade: The veterans organizations and the drum and bugle corps movement," in Stephen Vickers (ed.), A History of Drum & Bugle Corps, vol. 1, pp. 1-62, 2002. Madison, WI: Sights and Sounds, Inc.
Stengel, Jeff. "Drum & bugle corps pioneers: Attaining the heights," Town & Gown, August 1972, 8-15.
---
First Published: February 3, 2022
Last Modified: March 6, 2022