The Penn State All-Sports Museum honors the achievements of the young men and women who built Penn State's rich tradition in intercollegiate athletics. Located in the southwest corner of Beaver Stadium, the museum has approximately 10,000 square feet of exhibit space spread across two floors.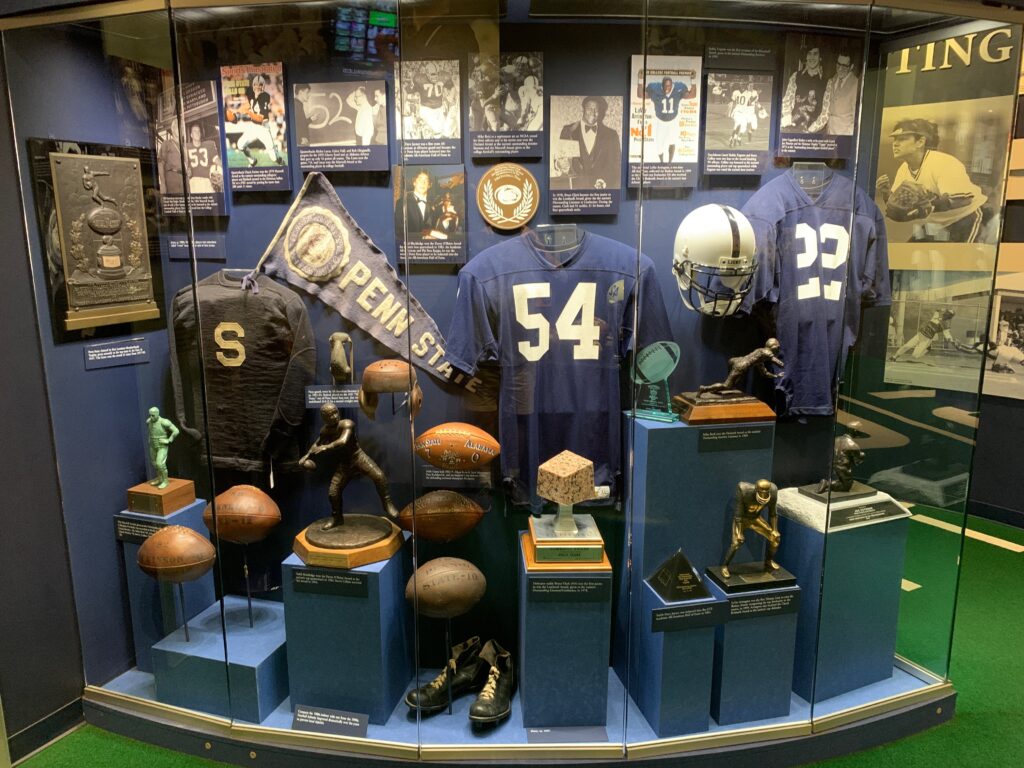 The museum, which opened in 2002, has its roots in the former football trophy room that was housed at the Greenberg Sports Complex. Former Athletic Director Tim Curley and former Head Football Coach Joe Paterno thought that a new facility was needed to showcase the history and achievements of Nittany Lion student-athletes.
Permanent exhibitions at the museum feature an overview of the university's athletic philosophy as well as separate areas for each men's and women's varsity program. There are also areas for varsity sports that have been discontinued such as rifle, boxing, and bowling.
A timeline displays when each sports program started and the national championships won. As Penn State's varsity programs compete annually in NCAA Division I, the museum's exhibits are updated to reflect the latest achievements.
The museum also offers a variety of changing exhibitions. Past special exhibitions have included Field to Front: Nittany Lions at War, 1917-1919, Dens of the Lions: Football Facilities Through the Years, and Unbeaten & Uncrowned: 11 Undefeated Seasons without a Title.
In addition to exhibits, the museum offers a variety of educational and public programming. These include guided tours of the galleries, tours of Beaver Stadium, as well as speaker events, film series, and pre-game activities at Penn State home football games. The museum has also been an active participant in regional events such as the Central Pennsylvania Festival of the Arts and Central Pennsylvania 4th Fest.
Ken Hickman
---
Source:
Penn State All-Sports Museum. https://gopsusports.com (Accessed April 30, 2021).
---
First Published: August 9, 2021
Last Modified: September 25, 2022