In Joe Paterno's extraordinary career as Penn State's head football coach from 1966 to 2011, Paterno was the most recognizable Penn Stater and citizen of Centre County. Not only was the longevity of his career at one institution exceptional in the world of intercollegiate football, but his success was unequaled as well: No other NCAA Division I football coach won more games than Paterno's 409.
Paterno initially signed on in 1950 to spend one year helping Rip Engle, his coach at Brown University, who had just become the head coach at Penn State. He intended to move on to law school the following year. On the surface, the 23-year-old Paterno seemed to be out of his element.
Joseph Vincent Paterno was the son of an Italian immigrant and raised on the boisterous, crowded streets of Brooklyn. Yet his Ivy League education gave him something in common with Penn State's academic community, and his outgoing personality enabled him to make friends easily.
Paterno fell in love with football and Penn State, and law school was soon forgotten. As the years passed by, he became Engle's top assistant. During his 16 years on Engle's staff, the college grew from an 11,000-plus student body in 1950 to 22,500. In 1958, he met Suzanne Pohland, a freshman, and they were married in 1962, the year she graduated. The couple had five children, Diana, Joseph Jr. "Jay", Mary Kay, David, and Scott.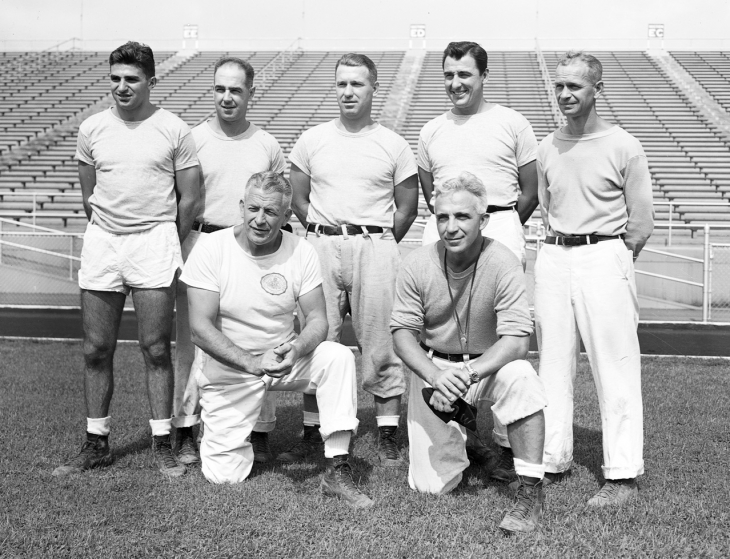 Engle had rejuvenated Penn State football. When he retired and Paterno succeeded him in 1966, Penn State was one of the best teams in the East, a potential national power with a winning intersectional schedule. Between the 1959 and 1960 seasons, Beaver Field, in the heart of campus was dismantled and reconstructed in a one-time cow pasture on the eastern edge of the campus, with seating expanded from 28,000 to 46,284.
Despite a mediocre 5-5 debut season, Paterno believed he could build an elite college football program with superior athletes who were also superior students. Honing a philosophy of academic integrity instilled in him by Engle and the athletic director, Ernest McCoy, Paterno sought to turn the sons of working-class families into players who would go on to be respected citizens in law, medicine, finance, and other professions. A sportswriter gave Paterno's vision a name: "The Grand Experiment." Penn State players consistently showed above-average academic success and graduation rates compared to other Division 1 schools.
In his second season, 1967, Paterno began to take Penn State to the pinnacle of college football. The team had undefeated seasons in 1968, 1969, and 1973 and finished thirteen years in the top 10 of the polls, led by All-America players like Mike Reid, Lydell Mitchell, Jack Ham, John Cappelletti, Charlie Pittman, John Hufnagel, and Randy Crowder. Cappelletti won the Heisman Trophy in 1973. During these years, the fan base exploded, and Beaver Stadium expanded to seat more than 85,000. Paterno became beloved for his gameday image that included coat and tie, rolled-up khaki slacks, white socks, and black athletic shoes.
Paterno also served as Penn State athletic director from 1980 to 1982. During this time Paterno succeeded in changing the way the university handles the finances of intercollegiate athletics. All control of athletics was moved from the College of Health, Physical Education and Recreation to the senior vice president for business and finance. Significantly, the change allows athletics to control all its revenue for its own purposes.
The school won its first national championship after defeating the University of Georgia in the Sugar Bowl on New Year's Day 1983. Invited later in the month to speak to the Penn State Board of Trustees, Paterno urged the trustees to use the championship as a stimulus for a fundraising campaign to make Penn State a world-class academic institution. Instead of perfunctory remarks about football, Paterno called for hiring distinguished professors, providing more scholarships to students, constructing new academic facilities, and renovating the library.
Paterno's football team went on to win another national title in 1986 after defeating the University of Miami in the the Fiesta Bowl. After Penn State joined the Big Ten Conference in 1993, Penn State won the conference championship three times (1994, 2005, 2008). Among the notable players Paterno coached in this era were D.J. Dozier, Kerry Collins, Shane Conlan, LaVar Arrington, Michael Robinson, and Steve Wisniewski. At the same time, Penn State became an internationally respected university with enrollment on its main, branch, and online campuses surpassing 90,000 by the first quarter of the 21st century.
In Centre County, the Paterno family was known for its philanthropy. Most prominent is the Joseph V. and Suzanne P. Paterno Library, and the couple's more than thirty years of leadership in giving to the University Libraries. The family endowed faculty positions in classics and the humanities in the College of Liberal Arts. The Paternos also made major contributions to the construction of the Pasquerilla Spiritual Center and the Penn State All-Sports Museum.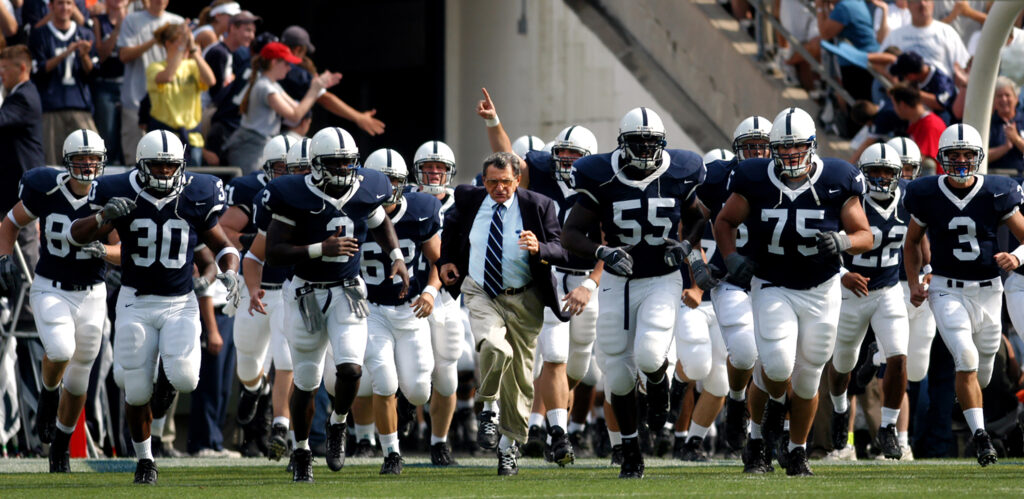 In the autumn of 2011, Paterno's sterling reputation was severely damaged in the controversial sexual abuse scandal involving his former assistant coach and defensive coordinator, Jerry Sandusky. Paterno had planned privately to retire at the end of the 2011 season, but when the Sandusky scandal broke in early November, he was forced out by the university's board of trustees. Fans were outraged at his sudden dismissal, and on the night of the board's announcement, hundreds of students rioted in downtown State College.
At his sudden death from lung cancer in January of 2012, Paterno was the winningest coach in major college football. His teams had five undefeated seasons and had won two national championships. His teams also won twenty-four of thirty-seven bowl games. He was the only college football coach to be named Sports Illustrated Sportsman of the Year (1986) and was inducted into the College Football Hall of Fame in 2006.
After Paterno's death, the Louis Freeh investigation, sponsored by the university, inflated, in the opinion of many, Paterno's role in the Sandusky scandal. It accused university leaders, including Paterno, of hiding allegations against Sandusky to avoid "bad publicity." A Paterno family-sponsored report, authored in part by former U.S. Attorney General Dick Thornburgh, countered many of those charges, and a U.S. court case brought by the Commonwealth of Pennsylvania resulted in the disclosure of improper cooperation by Freeh's staff with the NCAA in their sanctions applied to Penn State, including to Paterno's football record.
The court case resulted in the restoration of all Paterno's wins which had been removed by the NCAA, and the restoration of his official standing in college football record books.
Lou Prato
---
Sources:
Paterno, Joe and Bernard Asbell. Paterno by The Book. New York: Random House, 1989.
Paterno. George. Joe Paterno: The Coach from Byzantium. Champaign, Ill.: Sports Publishing, 1997.
Posnanski, Joe. Paterno. Simon & Schuster. 2012.
Prato, Lou. The Penn State Football Encyclopedia. Champaign, Ill.: Sports Publishing Inc., 1998.
"Penn State Sanctions: Timeline of Sandusky Scandal That Brought NCAA Penalties," by Randy Chambers, Bleacher Report, July 23, 2012.
"NCAA Decides to Roll Back Sanctions Against Penn State," by Steve Eder and Marc Tracy, New York Times, September 8, 2014.
---
First Published: September 20, 2021
Last Modified: June 6, 2022