The Pattee and Paterno Libraries are one of the nation's largest research libraries and serve as the headquarters of a statewide library system that encompasses Penn State's twenty-four campuses. The building complex, totaling more than 500,000 square feet of floor space, was built in stages and has been periodically renovated over the years.
The central wing at the head of the Allen Street mall was constructed in 1940. A stack tower was added to the rear in 1952 and a west wing in 1966. Today, these sections constitute the Pattee Library, named in 1950 for Professor Fred Lewis Pattee. He was the first person to have the title of Professor of American Literature in any college and was Penn State's first distinguished humanities scholar.
The east wing, built in two segments in 1972 and 1993, is named the Paterno Library in honor of the renowned football coach Joe Paterno and his wife Suzanne. The Paternos co-chaired the fund-raising effort for the 1993 additions and renovations.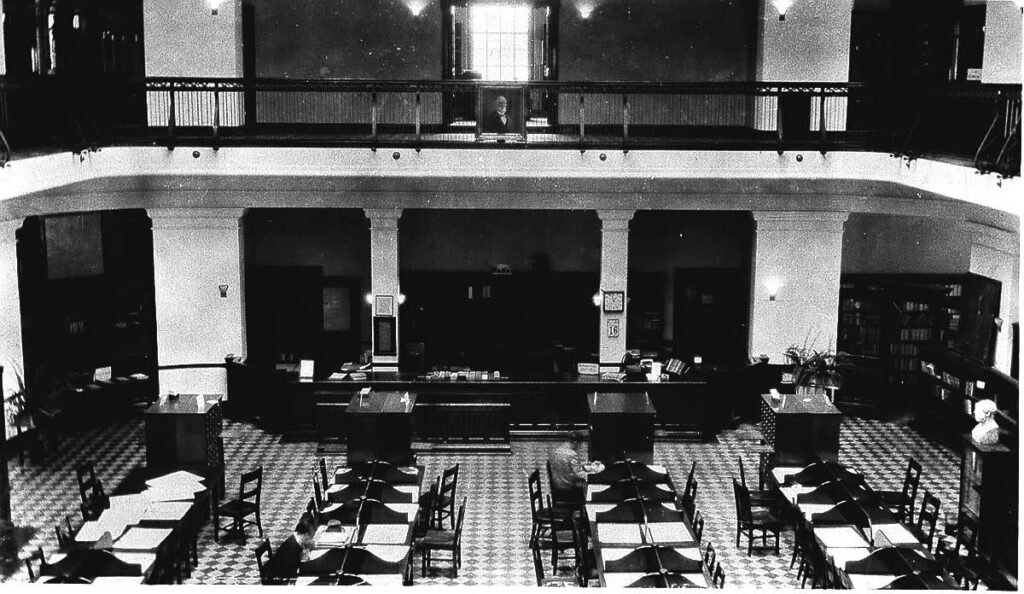 Since 1993, the Pattee and Paterno Libraries have been reconstructed, with open spaces filled in, older spaces remodeled, and modern technology installed. Today, it is a resource for Penn State faculty and students, as well as Centre County and – through its campus libraries – all Pennsylvanians.
Land-grant colleges were a new departure in American higher education in the mid-nineteenth century, and they wrestled with their curricular identity between the basic arts and sciences and the technology of agriculture and engineering. Thus, their libraries had to meet both needs.
Penn State's library was neglected for most of its first fifty years. It was housed in two rooms in Old Main, overseen part-time by a faculty member, with its small budget spent mostly on technical literature. Two student literary societies met the popular reading tastes of students by maintaining libraries with general books, newspapers, and magazines.
It was only with the construction of the Carnegie Library in 1904 (today, the home of the Bellisario College of Communications), that library services took a major step forward. Andrew Carnegie's term as a Penn State trustee began in 1886, the same year he began to donate public libraries to communities across the United States.
However, it was not until the turn of the century that this philanthropy included college libraries. By then the great universities had well equipped libraries, and so he focused on smaller struggling colleges, educating the children of farmers and the working class. That description certainly fit Penn State at the time.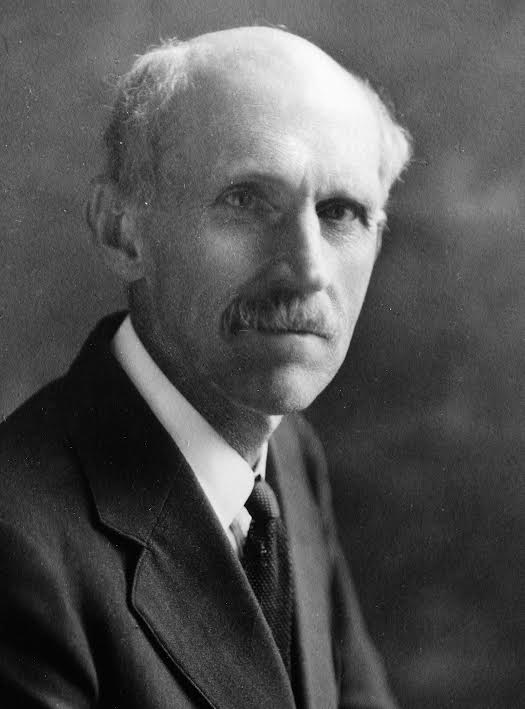 In 1899, Carnegie offered to build a library for Penn State if the legislature would establish a continuing appropriation for books. This proved impossible to secure and by 1903, Carnegie agreed to a promise from then-President George W. Atherton of a guaranteed annual book budget instead.
The three-story building opened in 1904. It had a capacity of 50,000 volumes, and its stacks and seminar rooms surrounded a central sky-lit reading room. The president felt such an imposing new library needed the supervision of a man and he appointed philosophy department head Erwin Runkle as head librarian. The previous librarian, Helen Bradley, became Runkle's assistant.
This promising start could not be sustained. Budgets remained anemic over the next thirty years while enrollments grew, and a graduate school was added. By 1930, 120,000 volumes were jammed in, and growth was absorbed by the four subject branch libraries. A campus of 4,400 students had a library with seating for only 160.
A new main library was finally authorized in 1938, and it was constructed along with ten other buildings using state and federal Depression-agency funding. But the $900,000 budget was cut in half which meant that the new library, with half the shelving originally planned, was already full when it opened. A new six-story stack tower did not relieve the pressure until 1953.
Still, the chronic underfunding of the library continued through the 1950s. This was a period marked by growing graduate programs and by the reorganization of the Commonwealth Campus system that would soon draw thousands of new students. Penn State was spending only one percent of its budget on libraries for University Park and eighteen campuses. In 1956, the university was turned down for membership in the Association for Research Libraries (ARL).
By the late 1960s, Penn State shifted its priorities and there were dramatic changes as a result. Library budgets skyrocketed and Penn State joined ARL in 1962. Five years later, it ranked third in ARL in expenditures for library materials.
The new west wing was added in 1966, and six years later the east wing (the first half of what would become the Paterno Library) was built. In addition, the rare books and archives collections massively expanded, offering new opportunities for scholarship in the humanities and social sciences, and there were significant additions in other subject areas.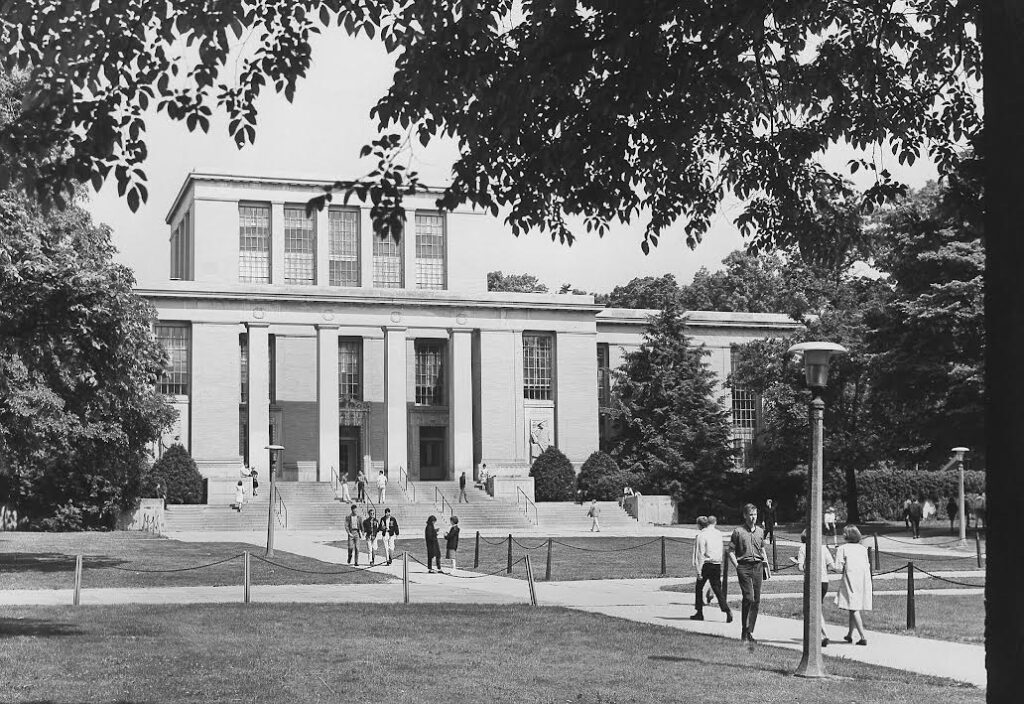 Since the 1970s, the libraries have continued to advance in a variety of ways. Collections have grown steadily, now exceeding five million volumes (not including vast collections in other formats) and requiring off-campus storage facilities for less-frequently used materials. Penn State has been a leader in library automation since the late 1960s through many generations of electronic systems to manage the collections and offer access to library materials in digital formats.
Today, predictions that information technology and electronic resources would eliminate the need for physical libraries have been completely disproven; there are more students and faculty using the libraries than ever before, and information technology staff work side-by-side with library staff to help patrons make maximum use of all library resources.
At the same time, the libraries' resource needs and philanthropic efforts have made amazing progress since Libraries Dean Stuart Forth proposed the first Paterno Libaries Endowment to the football coach in 1984. Paterno had used an invitation to address the Penn State Board of Trustees after winning the 1982 National Championship to strongly advocate for a major fundraising campaign for the university saying, in part, that a great university needed a great library.
From that time to the present, the Paternos have been constant champions for library development at Penn State, raising millions of dollars. The Suzanne P. and Joseph V. Paterno Library is their monument.
Lee Stout
---
Sources:
Bezilla, Michael. Penn State: An Illustrated History. University Park: Penn State Press, 1985.
Forth, Stuart. "Pennsylvania State University Libraries," in Encyclopedia of Library and Information Science, ed. By Allen Kent and Harold Lancour, v. 21. New York: Marcel Dekker, 1977.
Stout, Lee. "Pennsylvania State University Libraries," International Dictionary of Library Histories, ed. by David H. Stam, v. 2. Chicago: Fitzroy Dearborn Publishers, 2001
---
First Published: June 6, 2022
Last Modified: July 7, 2022