Jerry Sandusky was convicted in 2012 of sexually assaulting multiple boys both during and after his career as an assistant coach for Penn State's football team. The scandal led to the firing of head football coach Joe Paterno and the criminal convictions of three top university officials, including President Graham Spanier. Penn State paid more than $100 million to Sandusky's victims and its reputation was tarnished.
Gerald Arthur Sandusky, better known as Jerry, started at defensive end for Penn State's football team from 1963-65 and worked as an assistant coach under Paterno from 1969-99. In his twenty-three years as defensive coordinator, he was largely credited with making Penn State football into "Linebacker U."
In 1977, Sandusky founded a Centre County-based charity for youth from troubled families called The Second Mile. It was recognized by President George H.W. Bush as among his "Thousand Points of Light" highlighting volunteerism in America, and by 2011 the charity worked with more than 100,000 young people across Pennsylvania and had an annual budget of $2.4 million. However, when a Pennsylvania grand jury indicted Sandusky in 2011 after a two-year investigation, prosecutors said Sandusky used The Second Mile to groom his victims.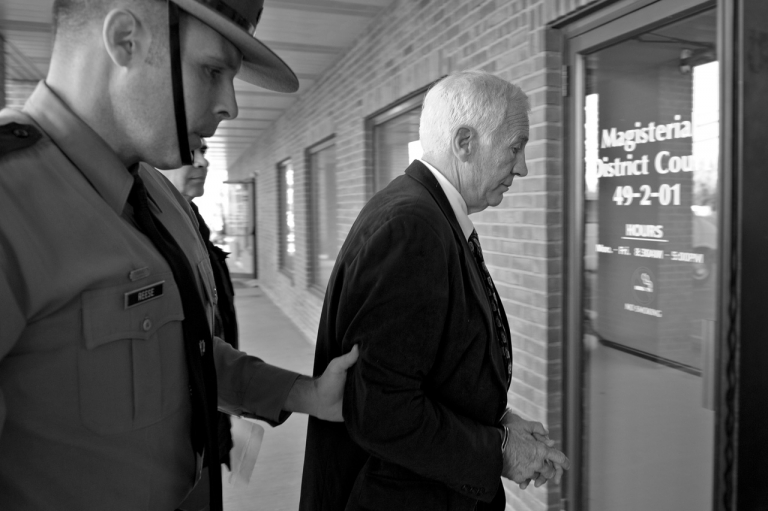 In June 2012, Sandusky was convicted on 45 of 48counts related to serial sex abuse of children and sentenced to 30 years to 60 years in state prison. His appeals to date have failed, and he is currently serving his sentence at the state prison at Laurel Highlands in Somerset County. In the years since the scandal broke, Penn State has paid more than $109 million to thirty-five people who claim to have been victims of Sandusky dating as far back as 1971. Penn State has also paid out many millions of dollars more in fines and attorneys' fees, among other costs.
Allegations against Sandusky were raised several times over the years before a Clinton County case in 2008 resulted in the grand jury investigation that ultimately led to his downfall. The most explosive charge in terms of public reaction was a 2001 incident in which graduate assistant Mike McQueary said he walked in on Sandusky and a boy showering in the football building, heard "rhythmic, slapping sounds," and believed he was witnessing sexual activity, according to the grand jury presentment in the case.
McQueary told Paterno the next day a version of what he had seen, and Paterno in turn notified Athletic Director Tim Curley, his supervisor. Curley and Vice President Gary Schultz interviewed McQueary a week later. They later outlined the allegation to Spanier, who said the incident was characterized to him as horseplay. Curley and Schultz were charged at the time of Sandusky's indictment for failing to report child abuse and perjury.
Paterno, the winningest coach in major college football history, expressed regret and said he would retire at the end of the 2011 football season, but the Penn State Board of Trustees fired him on the night of November 9, 2011. Spanier resigned as president but remained a tenured faculty member. Curley and Schultz had already resigned.
Paterno was diagnosed with lung cancer soon after he was fired and died in January 2012; the Attorney General's office stated that he had cooperated fully and found it had no grounds to charge him. Spanier insisted he was innocent of any crime, but was charged in November 2012 with several counts, including perjury and child endangerment. He stood trial in 2017 and, through appeals, most of the charges against him, as well as Curley and Schultz, were dismissed. The Disciplinary Board of the state Supreme Court later ruled that Cynthia Baldwin, the University's legal counsel, had violated the rights of the three Penn State administrators by testifying against them, which made it impossible to prosecute them on charges of obstruction of justice, related conspiracy, and perjury.
Curley and Schultz each later pleaded guilty to a single count of child endangerment and served brief jail terms.Spanier was convicted on a single misdemeanor count of child endangerment and acquitted of conspiracy and a second count of child endangerment. The conviction was initially overturned on appeal but then reinstated and he was ordered on May 26, 2021, to serve two months in the Centre County jail.
Beyond the anguish suffered by the victims, the Sandusky scandal was wrenching for Penn State and the State College community. The borough was overrun by national media the week after Sandusky was indicted, and some students rioted downtown when Paterno was fired, while others gathered outside Paterno's house in support of the longtime coach. A student-organized vigil against sexual abuse was held outside Old Main the following night and an estimated 10,000 people attended.
National pundits attacked Penn State and Paterno's reputation. Long regarded as a bastion of clean play and a school that struck a balance between athletics and academics, Penn State was seen as deaf to the victims' suffering.
A 267-page report commissioned by the university in the immediate aftermath of Sandusky's indictment — led by former FBI Director Louis Freeh — was released in July 2012. It accused university leaders of hiding allegations against Sandusky to avoid "bad publicity." The document also said Penn State had a "culture of reverence for the football program that is ingrained at all levels of the campus community." Ten days after the report's release, the iconic Joe Paterno statue and plaza was removed under threats of vandalism, further outraging alumni, students, and fans; the location of the statue remains undisclosed.
The NCAA followed up the Freeh report within two weeks by bypassing its own investigative process and imposing severe sanctions on Penn State football, including a four-year bowl ban, loss of up to 20 scholarships, a $60 million fine, and vacating 112 wins from the football program's record. Many alumni and residents were outraged by what they considered unfair and excessive penalties.
Within three years, the penalties were rolled back when NCAA emails released through a lawsuit showed officials at the college sports governing body essentially acknowledging they did not have the authority to impose the sanctions. A U.S. court case brought by the Commonwealth of Pennsylvania disclosed doubts about Freeh's cooperation with the NCAA in their sanctions applied to Penn State, including Paterno's football record. The coach's wins, which had been removed by the NCAA, were restored.
The Freeh Report made more than 100 recommendations on how Penn State should improve its policies to prevent sexual abuse in the future, and many of the recommendations were implemented. In response to the scandal, the university also created the Penn State Network for Child Well Being and Protection, comprised of numerous faculty members with interdisciplinary expertise, to advance research, education, and service in combatting child maltreatment.
Ultimately, the "Sandusky Scandal," as it came to be known, had many interwoven threads and actors. The Pennsylvania lawsuit against the NCAA sanctions revealed that applying the "death penalty" to Penn State football was a strong motivation on the part of the NCAA executives. Nevertheless, Penn State football players largely refused to abandon the program, enabling new head coach Bill O'Brien to manage an 8-4 season in 2012. In 2014, James Franklin took over as head coach and continued to build the program, including winning the Big Ten Conference Championship in 2016.
Relations between the Board of Trustees and Penn State alumni became strained in the aftermath of the scandal. All nine alumni trustees who served on the board in 2011 were replaced. The newly elected alumni trustees have pushed for more transparency, an open discussion, and rejection of the Freeh report's conclusions, as well as full honors for Coach Joe Paterno, including returning his statue to public display. Under the leadership of President Eric Barron, some movements in these directions have occurred, but many alumni still demand more.
Ultimately, what many thought at the time to be the worst catastrophe to ever befall Penn State has become a historic event of major dimensions, but perhaps not the disaster imagined in the months following November 2011. For the victims of sexual abuse, unfortunately, the effects will last indefinitely. The major actors suffered anguish, reputational damage and their lives have changed.
As an institution, Penn State has changed in many ways, but by and large, those changes have now become part of the fabric of the university. By most measures, Penn State continues to be a successful university. The scandal was not the catastrophe it appeared to be in 2011-2012; in retrospect, it was a much more complicated story.
John Affleck
---
Sources:
Mark Scolforo, "Ex-Penn State president convicted over child-sex scandal." The Associated Press. March 25, 2017.
Mark Scolforo, "Judge upholds Penn St. ex-president Spanier's jail sentence." The Associated Press. May 26, 2021.
Ronald A. Smith. Wounded Lions: Joe Paterno, Jerry Sandusky, and the Crises in Penn State Athletics. Urbana: IL: University of Illinois Press, 2016.
Mark Viera, "A Reputation in Tatters." The New York Times, November 7, 2011.
Ken Rappoport and Barry Wilner, Penn State Football: The Complete Illustrated History. MVP Books. 2009.
"Our Darkest Days," Penn Stater, January / February 2021.
Centre County, Pennsylvania, Grand Jury Presentment. November 2011.
The Freeh Report, published by The New York Times. July 12, 2012.
---
First Published: November 8, 2021