The First Presbyterian Church of Bellefonte was one of the oldest churches in Centre County until it closed in 2021. Its members included many of the early founders of Bellefonte and Centre County.
The church was organized in 1800, but did not have a regular pastor until 1806. Still, church members met regularly and the sacraments were administered occasionally. The Rev. Henry R. Wilson was appointed pastor in 1803 and he served until 1809.
The following year, the Rev. James Linn, the son of a clergyman, was invited to serve the congregations of Bellefonte and Lick Run. The congregation met at private homes and later the Centre County Courthouse.
In 1819, the first church building was erected on North Spring Street. Twenty-one years later, a new church building opened. In 1818, the congregation organized the first "Sunday School" in Bellefonte. The school was housed in temporary structures until a chapel was built in 1884.
In its early decades, the church's members included many of the founders of Bellefonte and Centre County, including James Dunlop, Robert Boggs, James Harris, Jonathan Walker, Andrew Curtin, Henry McAllister, and James Beaver.
Rev. Linn served both the Bellefonte and Lick Run churches until 1839 when he became the pastor in Bellefonte solely. He continued at the church until 1866. Rev. Linn died on February 23, 1868, at the age of 85. He is buried at the Union Cemetery.
The current building was dedicated in 1870. It featured a large steeple that was a landmark in Bellefonte until it was blown down during a storm in 1913. The steeple was never replaced.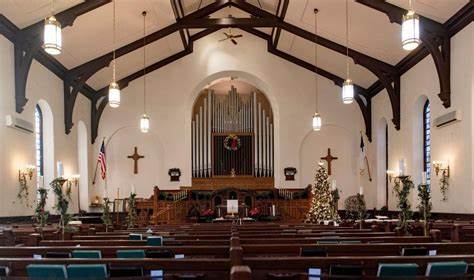 In the late 1800s and early 1900s, new Presbyterian churches opened elsewhere in the county. However, membership of First Presbyterian Church continued to grow. The church was extensively renovated in 1967. The project included new stained glass windows and new church towers.
Five years later, a fire badly damaged the sanctuary and destroyed the 76-year-old pipe organ. Services were held in the Fellowship Hall until the church reopened on December 2, 1973. Two years later, a new pipe organ was installed.
By the turn of the century, membership was steadily declining, and by 2021 church leaders made the difficult decision to close the church. The last service was held on Christmas Eve that year. No decision has been made about the future of the church buildings and property.
Ford Risley
---
Sources:
Church History and Some Church Records. First Presbyterian Church, Bellefonte, PA; Lick Run Presbyterian Church, Jacksonville, PA
Dalton, Terry C. "Fire Guts Historic Bellefonte Church," Centre Daily Times, September 26, 1972.
Manchester, Hugh T., Charles A. Mensch, Sr. and Charles A. Mensch, Jr. A Brief History of First Presbyterian Church of Bellefonte, 1800 to 1976.
Pallotto, Brett. "Bellefonte church with 221-year history will hold its last service on Christmas Eve." Centre Daily Times, December 24, 2021.
---
First Published: March 5, 2022
Last Modified: July 21, 2022