James Addams Beaver was a widely known attorney, a Civil War officer, and the governor of Pennsylvania from 1887-1891. He also played a leading role in Penn State's early decades and served as interim president for two years; today, the football stadium bears his name.
Beaver was born on October 21, 1837, in Millerstown, Perry County, to Jacob Beaver and Ann Eliza Addams. His father was a successful merchant of German ancestry, but he died shortly after Beaver's birth. S.H. McDonald, a Presbyterian minister, became his stepfather and tutor. Beaver spent much of his childhood in his native Millerstown and attended Pine Grove Academy in Centre County.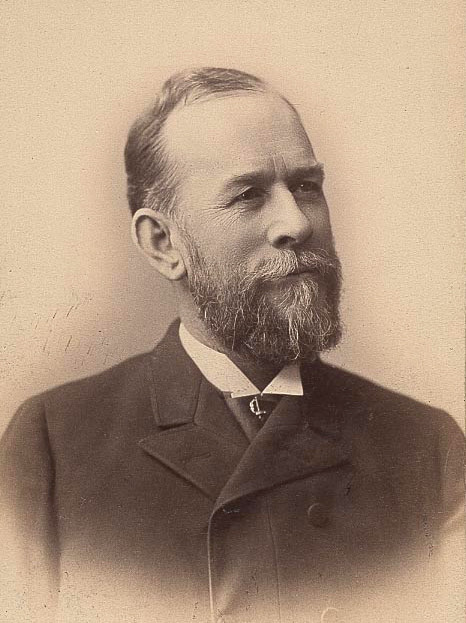 Beaver graduated from Jefferson College, now Washington & Jefferson College, in 1856. He relocated to Bellefonte where he practiced law with Hugh N. McAllister and was admitted to the bar in 1859. While in Bellefonte, Beaver joined the "Fencibles," the town's local militia.
At the outbreak of the Civil War, Beaver was appointed first lieutenant of a company made up of former Fencibles volunteers. He was later appointed lieutenant-colonel of Pennsylvania's 45th Regiment and colonel of the 148th Regiment, Pennsylvania Volunteers. The 148th fought in several of the most notable conflicts of the war, including the battles of Chancellorsville, Cold Harbor, and Spotsylvania.
Beaver was wounded four times during the war and his leg had to be amputated at Spotsylvania. Beaver was appointed brigadier-general by President Abraham Lincoln in 1864, although he did not serve in the final year of the war.
After the war, Beaver returned to his law practice in Bellefonte and married Mary McAllister, the daughter of his partner. The couple had five sons. Beaver campaigned for and supported Republican candidates while practicing law. He waged his first political campaign for governor unsuccessfully in 1881 but was elected the 20th governor of Pennsylvania in the 1886 race, taking office in 1887.  
During his term, Beaver improved Pennsylvania's infrastructure and education system. He also advocated for temperance and implemented conservation efforts for Pennsylvania's forests. His administration also responded quickly to the disastrous Johnstown flood of 1889. Beaver's term ended in 1891. (At the time, the state constitution prohibited a governor from succeeding himself.)
Beaver had joined Penn State's Board of Trustees in 1873. He was serving as president of the board when in 1905 he had to mediate a dispute between faculty and students over a new class absences policy. Students thought the policy was unfair and voted to stop attending classes until the faculty agreed to consider their demands. With Beaver taking an active role because President George W. Atherton was severely ill, a settlement was eventually reached ending the student strike.
After Atherton's death in 1906, Beaver was named acting president. He was already serving his second ten-year on the new Superior Court of Pennsylvania, having been first appointed in 1895. However, Beaver had always taken a great interest in Penn State and attended many campus events. The university was still in turmoil over the strike and the belief of some faculty that Beaver had sided with the students.
During his two-year interregnum, Beaver battled the faculty over various issues, including admitting students some believed were not properly prepared for college work. However, a more modern administrative structure was put in place, separating the academic and business functions of the president's office. Beaver also created the Student Board, the first official student government.
He died on January 31, 1914, and is buried in Union Cemetery in Bellefonte. Beaver Avenue in State College is named for him, as are Penn State's Beaver Stadium and Beaver Hall.
James Engel
---
Sources:
Bezilla, MIchael. Penn State: An Illustrated History. University Park: Penn State University Press, 1985.
Burr, Frank A. Life and Achievements of James Addams Beaver. Ferguson Bros. & Co., Printers, 1882.
Linn, John Blair. History of Centre and Clinton Counties, Pennsylvania. Philadelphia: Louis H. Everts, 1883.
---
First Published: August 22, 2021
Last Modified: September 20, 2021