Foxdale Village is a Quaker-inspired, non-profit continuing care retirement community in State College. When Foxdale opened in 1990, it fulfilled a vision shared by members of the State College Friends Meeting and supported by community members.
The Meeting had been largely run by Penn State students when the first meetinghouse on Atherton Street was built in the 1920s. By the 1980s many members were nearing an age when they were considering retiring to Quakers retirement communities hundreds of miles away. In 1985, a small group began meeting to consider creating a village locally in order to remain part of the larger community.
Ralph and Kamilla Way, who owned the land, had a construction company, and financed its construction, were leaders of the effort to build Foxdale, joined by Raymond and Christine Ayoub, Barton Jenks, and Elton Atwater. The community was named for Quaker founder George Fox and the Dale farm on which it was built. The Way family founded the Way Fruit Farm in Halfmoon Township in 1826.
The Foxdale Village campus was designed to encourage the Quaker value of shared community, with nine cottage neighborhood quadrangles leading to a central community center and connected health care facility.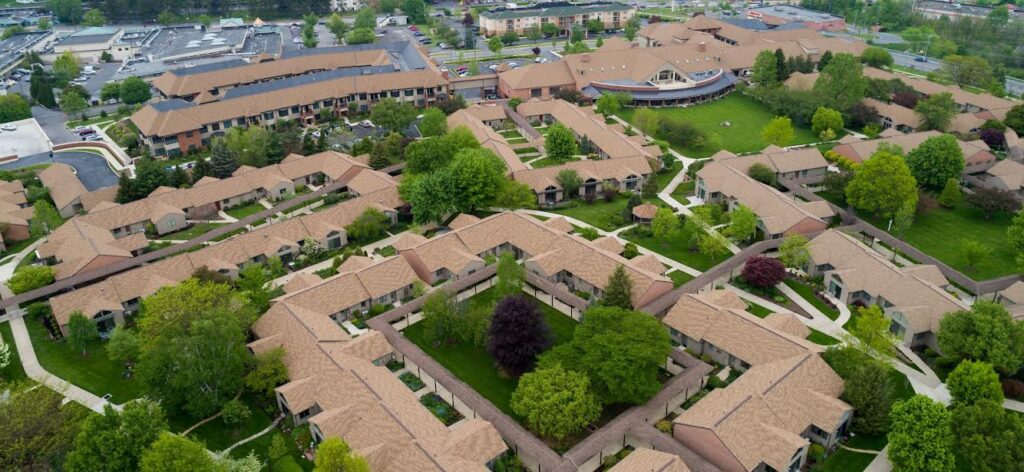 Foxdale's beginnings had everything to do with the sense of community it is known for. The people who chose to put their faith in the project as early as when the first neighborhood was completed, became a close-knit group.
As the population grew, newcomers were welcomed. Before the community center was built, the Ways allowed residents to use empty cottages for holding coffee hours and potluck dinners, as well as for a library and exercise facility—all organized and run by residents.
Although Foxdale did not officially open until 1990, residents began moving into the village in 1988. That year, the residents formed an association and established a weekly newsletter, The Foxdale Flyer. The association, made up of elected officers and representatives from each neighborhood, works closely with the administrative team, organizes committees, and raises money for resident-planned activities.
Today, there are more than 60 resident-run committees, interest groups, and service groups with healthy membership.
In 2011, a three-story apartment building, expanded wellness center, dining facilities, and healthcare facility were added and connected to the community center, which includes an auditorium, multiple dining areas, a library, staff offices, the medical office, and special purpose rooms.
By 2023, the village was home to about 350 residents. Darlington House provides personal care for its residents, and Anthony House's skilled nursing care includes a memory care neighborhood.
Foxdale's cottages and apartments range from studio to two-bedroom/two-bathroom. Although staff care for all campus landscaping needs, many residents choose to continue their gardening interests outside their homes or in raised beds along the campus's border.
Over the years, Foxdale has been home to more than 1,100 residents, who are joined by a staff of about 250 and a Board of Trustees, half of whom are Quakers and three of whom are residents. Foxdale residents represent a wide range of backgrounds and geographical origins, who value being a part of the shared welcoming community that its founders envisioned.
Douglas Miller, Laurie Jeffreys & Glen Blume
---
Sources:
Miller, D. Douglas. Voices from The Archives: A Foxdale Village 30th Anniversary Retrospective. State College, PA, 2020
Foxdale Heritage Archives, State College, PA.
---
First Published: January 25, 2023
Last Modified: March 26, 2023