Hugh Jesse Arnelle was a two-sport star at Penn State, a distinguished corporate lawyer, and the first Black trustee of the university.
The native of New Rochelle, New York, who went by his middle name, was recruited to Penn State in 1951 to play wide receiver for Coach Rip Engle's football team. But it was in basketball that the 6-foot, 5-inch Arnelle etched his name in Penn State sports records. The power forward led the Nittany Lions to their lone NCAA Final Four appearance in 1954 and finished his career as the program's leading scorer with 2,138 points. That record stood until Talor Battle scored 2,213 points in 2007-11.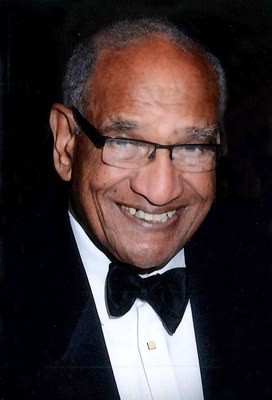 In 1954, Arnelle was elected Penn State's first Black student body president, drawing nearly 75 percent of the vote, and he worked to promote racial justice on campus. After graduating in 1955 with a degree in political science, he was selected in the tenth round of the National Football League draft by the Los Angeles Rams. He chose to pursue basketball professionally instead, spending a short stint with the Harlem Globetrotters before playing one season for the Fort Wayne (now Detroit) Pistons of the National Basketball Association.
Arnelle served in the Air Force and then attended the Dickinson School of Law, graduating in 1962. He was assigned to Peace Corps duties in Turkey and India by R. Sargent Shriver, the agency's director. After working on Robert Kennedy's presidential campaign in 1968, Arnelle entered private law practice.
With William Hastie in 1984, he founded Arnelle & Hastie, one of the country's first minority-owned corporate law firms. The firm represented such blue-chip companies as Ford Motor Co., Coca-Cola Co., and Levi Strauss & Co. and had more than 60 lawyers working in offices around the country. In 1984, the firm merged with another Black-owned firm, McGee Willis & Greene.
In 1968, soon after the assassination of Rev. Martin Luther King Jr., Arnelle was invited back to Penn State to receive an alumni achievement award at the football team's awards banquet. He surprised everyone by rejecting the award and sharply criticizing the university for its record on race relations.
In a speech titled "I Love This Penn State – But Freedom Is Dearer to Me," Arnelle said the university "must become a principal player on the field of social and educational change" by recruiting more Black students, faculty, and staff. He noted that the university had never had a Black dean, vice president, or staff member at the policy-making level. "Should the university's president call his immediate staff in conference, there wouldn't be a Black face in the room," he said. "When the Board of Trustees meets their deliberations have never been enriched by the contribution of a Black trustee member."
The next year, Arnelle joined Penn State's Board of Trustees as its first Black member, and in 1996 he was elected the first Black chair of the board. He served on the board for 45 years, becoming a trustee emeritus in 2014. Arnelle received Penn State's Distinguished Alumni Award in 2016. He died in 2020 at the age of 86.
Jeff Rice
---
Source:
"Penn State Mourns Death of Trustee Emeritus and Athlete Jesse Arnelle," Penn State News, October 25, 2020.
"H. Jesse Arnelle, Pathbreaker in Corporate Law, Dies at 86," The New York Times, November 3, 2020.
Daily Collegian, May 21, 1968.
---
First Published: June 10, 2021
Last Modified: February 22, 2023