The Land-Grant Frescoes in the foyer of Old Main are a Penn State landmark that commemorate the 1862 Morrill Land-Grant College Act and the promise of higher education.
Commissioned as a class gift from the Penn State Class of 1932, the fresco on the northern wall of Old Main pays tribute to the university's land-grant mission of teaching, research, and service. It was completed by the artist Henry Varnum Poor in 1940 and depicts a vast scene of agriculture, mining, and engineering.
At the fresco's center stands President Abraham Lincoln, who signed the Morrill Act, ceding public lands to finance state universities. At his side stands a Penn State student, who is planting a symbolic tree in front of the original Old Main.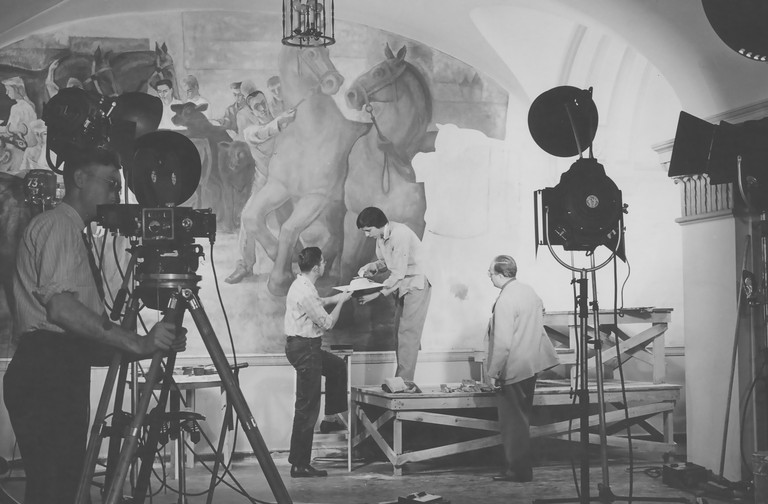 Poor painted directly onto fresh wet plaster, the traditional method used for frescoes, which made the work a permanent part of the wall. He was aided by his daughter, Anne, who often applied the fresh plaster.
The eastern and western frescoes were delayed during World War II while Poor served in the Army Corps of Engineers. These frescoes were commissioned by the Penn State Class of 1946, and various sections were completed throughout 1948 and 1949.
The western wall shows Penn State academics, athletics, and student life, emphasizing scenes of agricultural and chemical studies. The eastern wall depicts mineral and industrial sciences as well as early figures in the university's history.
Poor (1887-1970) was a noted American artist, architect, and author. He painted frescoes in other locations, including the Department of Justice and the Department of Interior in Washington, D.C. His work is held by many art museums, including the Whitney Museum of American Art, the Museum of Modern Art, and the Metropolitan Museum of Art, all in New York City.
Over time, some sections of the Old Main frescoes were damaged by the aging process and by fluctuations in temperature. In 2012, Penn State undertook a project to return the paintings as closely as possible to their original appearance. Conservators cleaned the images and delicately reinstated their lost pigment. At the project's end in 2014, state-of-the-art climate control and lighting were installed.
The project was directed by the Harrisburg-based Albert Michaels Conservation and aided by a $1.5 million donation from L. James Schmauch. In 2015, the Centre County Historical Society recognized the restoration with its Preservation and Restoration Award.
James Engel
---
Sources:
"Henry Varnum Poor." Henry Varnum Poor Foundation. www.henryvarnumpoor.org/bio-henry-varnum-poor (Accessed July 15, 2021).
"Historical Society Honors Restoration, Preservation of Land-Grant Frescoes," Penn State News, December 2, 2015.
"Old Main Frescoes Capture Penn State's History and Mission." Penn State News, May 20, 2019.
---
First Published: August 4, 2021
Last Modified: February 25, 2022