Memorial Field is the historic home of State College Area High School athletic programs and other community events. Once a farmer's field with a prominent sinkhole on the edge of the borough, the area around what is now Memorial Field became the home to State College schools starting with a two-story, four-room schoolhouse that opened in 1897.
In 1914, the State College School Board bought the sinkhole area between Foster and Nittany avenues adjacent to the Frazier Street School. A Penn State professor of landscape architect, John R. Bracken, drew up plans in the 1920s for an athletic facility to contain a football field and track in the "natural amphitheater." However, a lack of funds delayed construction.
During the Great Depression, the State College School Board applied for a Works Progress Administration grant to build a stadium in the sinkhole. Centre County received nearly $2 million in funds of which nearly $40,000 would be provided for the stadium by the WPA and $5,000 contributed by the school district. Additional federal funds eventually brought the cost of the project to nearly $100,000.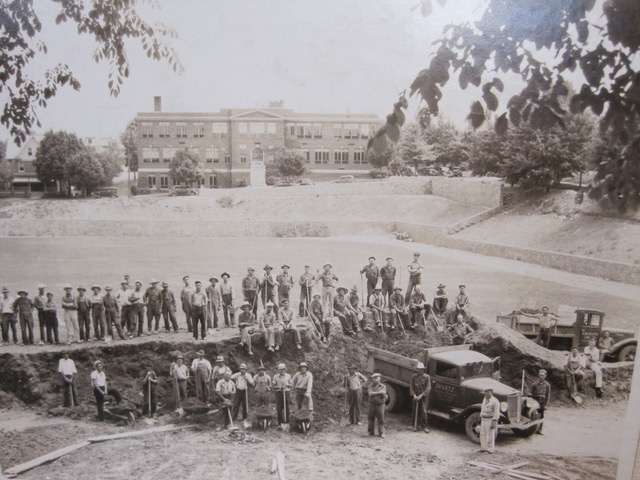 The field was built in 368 days by about two hundred workers earning fifty cents an hour. The stadium was constructed with limestone walls that provided a striking architectural feature to the field.
The first football game was played on September 25, 1937, with State College defeating Yeagertown 52-7 before 3,000 spectators. The night game was played under lights donated by the high school Board of Athletic Control.
After World War II, the hollow was dedicated as Memorial Field to honor State College High School graduates killed in both World Wars. In 1993, it was rededicated to include alumni lost in all U.S. wars.
The State College Area High School football team won the 1973 state championship on Memorial Field when the team defeated Pittsburgh's Central Catholic High School 37-20. Memorial Field has been the home of other State College High School sports, including track and field, soccer, lacrosse, and field hockey. During the 1940s and 1950s, it also hosted State College High School's commencement.
Because of its history as a sinkhole, Memorial Field has always been prone to flooding during heavy rainstorms. The borough of State College has spent more than $500,000 to improve the drainage system.
Artificial turf was installed on the field in 2003, and the next year the field lighting was replaced. A $10 million project in 2020 renovated the home bleachers, locker rooms, press box, restrooms, and concession stand.
Ronald A. Smith
---
Sources:
Clement, Priscilla A. "The Works Progress Administration in Pennsylvania, 1935-1940," Pennsylvania Magazine of History and Biography, 95 (April 1971), 244-260.
Hays, Jo and Margaret Riley. The Public Schools of the State College Area: A History: The First Forty-Four Years: 1896-1940 (State College: State College Area School District, 1984).
Smith, Ronald A. Memorial Field: From Farm Sinkhole to Classic Small City Stadium (Lemont, PA: Mt. Nittany Press, 2015).
Sneff, Michael. "$10 million renovation could shut Memorial Field down for more than a year," Centre Daily Times, February 6, 2019.
John R. Bracken Papers, Penn State University Archives.
State College School Board Minutes, 1898-1940, State College Area School District Archives.
State College Area School District. "A Brief History: 1940 to the Present." https://www.scasd.org/Page/810 (Accessed November 29, 2021).
---
First Published: November 30, 2021
Last Modified: January 7, 2023