Milton Stover Eisenhower came to Penn State in 1950 as its eleventh president after serving as a government administrator and seven years as president of Kansas State University. Eisenhower guided Penn State through a postwar transition of rapidly growing enrollment, academic programs, and research.
Eisenhower was born in Abilene, Kansas in 1899, the youngest of six brothers in a poor farm family that also produced a president of the United States, Dwight David Eisenhower. Milton worked his way through Kansas State College, earning a degree in journalism. He served in several positions in the federal government, including a lengthy career in the Department of Agriculture.
With the onset of World War II, he became director of the War Relocation Authority, which oversaw the internment of Japanese American citizens in remote camps. Eisenhower opposed the mass incarceration, and he resigned after only ninety days. He then served a year as associate director of the Office of War Information.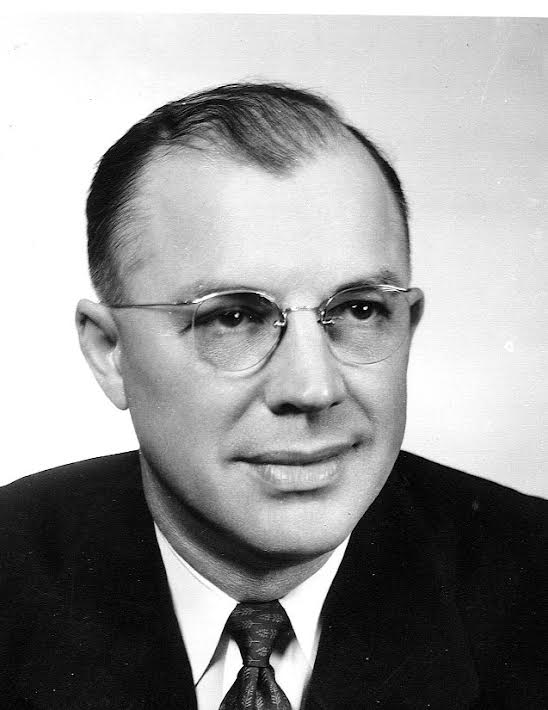 In May 1943, he became president of Kansas State. He sought to create more opportunities for African Americans at Kansas State and integrating the Big Seven Conference in 1949. He also served as the first chair of the U.S. National Commission for UNESCO. Eisenhower did not have an earned doctorate but received an honorary Doctorate of Humane Letters from the University of Nebraska in 1949.
In October 1947, Penn State's president, Ralph Dorn Hetzel, died unexpectedly after a stroke. The campus was stunned by the loss of the leader who had guided it through the Depression, war, and the dramatic events of the postwar period. It took the Board of Trustees nearly three years to identify and recruit Eisenhower as Hetzel's successor.
While Penn State's unprecedented growth had made it the twelfth largest school in the country, it lagged in staff, buildings, services, and funding. What was then officially named Pennsylvania State College needed dynamic leadership, and hopes were high for Eisenhower when he took office on July 1, 1950.
Although Eisenhower was familiar with the land-grant philosophy, he needed to find out what Pennsylvanians expected of their school. Traveling throughout the state in his first year, he realized that, while Penn State's costs were high compared to many other land-grant schools, competition for state dollars with other Pennsylvania colleges required a delicate political balance. He saw that Penn State needed to improve its relationships with the Commonwealth's citizens and government.
Eisenhower worked with legislators and governors to increase state support and new buildings in anticipation of the baby-boomer generation's arrival. New dormitories for women and the West Halls units were added, as well as new academic buildings. New campus centers at Ogontz and Scranton were opened, and a College of Business Administration was created.
In 1955 the new Hetzel Union Building (the HUB) opened with a broad array of services for students and offices for student organizations. Eisenhower also worked to build morale among faculty, raising salaries by fifty percent over his six-year tenure.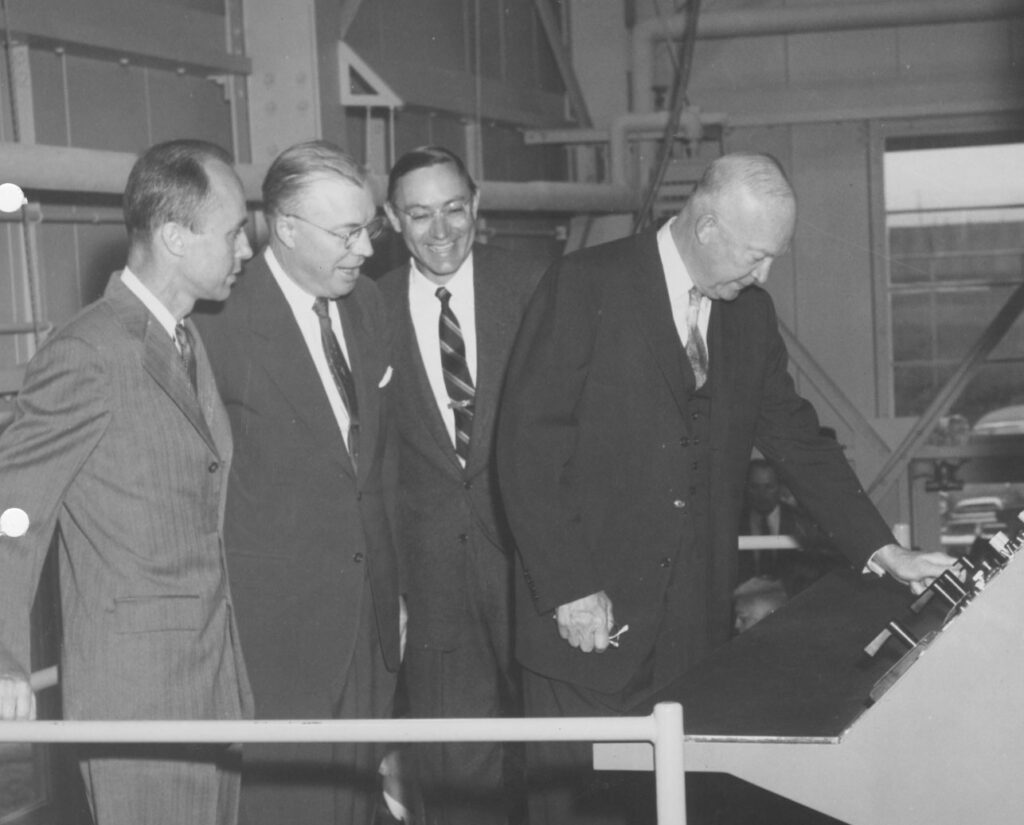 Eisenhower also recognized that research would become increasingly important in the postwar era. The Navy had already placed its Ordnance Research Laboratory at Penn State and in 1955, with the construction of a nuclear reactor building, the university assumed a leading role in nuclear energy research. Penn State became the first university licensed by the Atomic Energy Commission to operate a nuclear reactor.
Eisenhower also succeeded in achieving the overdue name change to Pennsylvania State University in 1953, which recognized the growth of graduate programs and research. However, Eisenhower was unable to persuade the institution's hometown to take the next step and change its name as well. A referendum to change the name from "State College" to "Mt. Nittany" failed, but soon the campus had its own "University Park" post office.
Since Dwight D. Eisenhower's election as president of the United States, Milton Eisenhower had been serving his brother as an unofficial adviser, making almost weekly trips to the White House. After the death of his wife, Helen Eakin Eisenhower, in July of 1954, and the departure of his children from campus, Milton Eisenhower made his arrangement with his brother official. He resigned the presidency of Penn State in May 1956.
He then became president of Johns Hopkins University in Baltimore, where his proximity to Washington made it easier for him to continue his role as an adviser to his brother. He died in Baltimore in 1985 and is buried at Centre County Memorial Park.
Two campus buildings bear the Eisenhower name. Eisenhower Auditorium is named in honor of Milton Eisenhower, and Eisenhower Memorial Chapel is named in honor of Helen Eisenhower.
Eisenhower's tenure at Penn State came at a critical time. He arrived when the school seemed poised for growth – students and faculty alike saw it as a "big-time" university – but it needed bold leadership. Eisenhower implanted in both the campus and the state a vision of a university with national and international aspirations.
Lee Stout
---
Sources:
Ambrose, Stephen E. and Richard H. Immerman. Milton S. Eisenhower: Educational Statesman. Baltimore MD: Johns Hopkins University Press, 1983.
Bezilla, Michael. Penn State: An Illustrated History. University Park: Penn State University Press, 1985.
---
First Published: September 7, 2022
Last Modified: December 15, 2022