Penn's Cave near Centre Hall is a natural limestone cave that has been a popular tourist attraction for more than 130 years.
Visitors tour the 1,300-foot-long, water-filled cave by flat-bottom boats. Some of the stalactites and stalagmites appear to resemble sculptures such as the Statue of Liberty and natural landmarks like the Rock of Gibraltar and Niagara Falls. The cave's temperature is 52 degrees year-round.
The cave was formed over millions of years by subterranean groundwater that dissolved limestone. The groundwater, which is the source of Penn's Creek, covers the bottom of the cave to depths of 35 feet.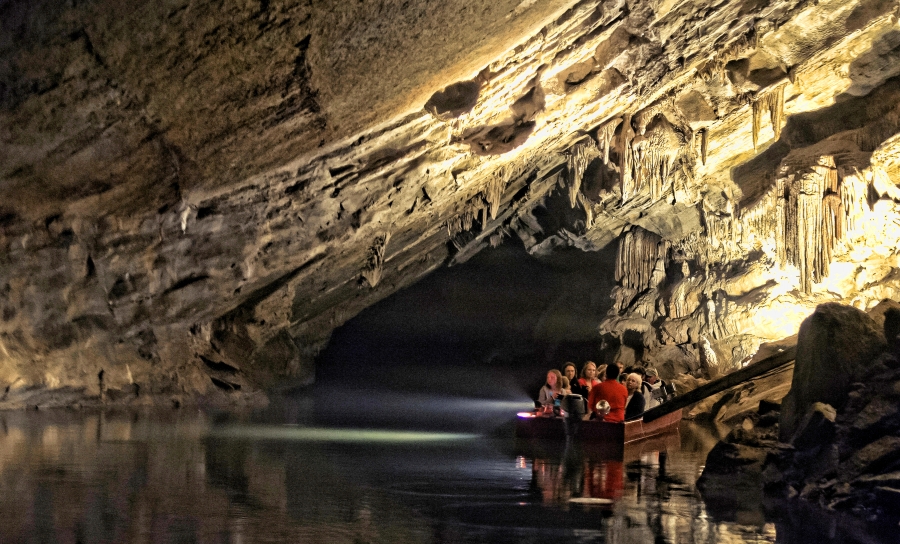 The Seneca Indians discovered the cave and used it for shelter. The earliest record of ownership is traced to James Poe in 1773. After Poe's death, his daughter Susanna M. Poe and her husband, Samuel Vantries, took over ownership and renamed the land Vantries Place. The Vantrieses sold the land to George Long in 1868.
Long's two sons, Jesse and Samuel, who took over the property in 1885 after the death of their father, were the first to promote the cave as a tourist attraction. They hired Daniel F. Luge, who owned a mill in Centre Hall, to build a thirty-room, L-shaped, three-story hotel, which the Longs named the Penn's Cave House. The white structure has a mansard roof, columns, and two large doorways — one meant for the public and the other as a private entrance to the owner's living quarters.
By 1985, Penn's Cave was floundering as a tourist site by 1895. The Longs sold the property to John A. Herman of Pleasant Gap who owned it from 1897 to 1908. Herman sold the property to Henry Clay and Robert Perly Campbell, whose descendants still partially own the property. Campbell and his family lived in the hotel, and they continued taking overnight guests until 1919.
In 1938, the Campbells made extensive renovations and removed the three-story rear wing, which contained a summer kitchen, two bedrooms, a bathroom, a stairway, and boarding rooms. A single-story addition was added in the 1960s, and it became a private residence. The house is now used for a gift shop, corporate offices, and special events.
For decades, Penn's Cave has advertised with billboards that are a familiar sight on roads throughout Pennsylvania. In addition to the guided 50-minute boat tours, visitors can go on on a nature and wildlife tour, navigate a miner's maze, and pan for gemstones.
Both Penn's Cave and Penn's Cave House are listed on the National Register of Historic Places. Penn's Cave is currently the only Pennsylvania cave on the registry.
Ashley Walter
---
Sources:
Maynard, D.S. Industries and Institutions of Centre County. Bellefonte: Richie and Maynard, 1877.
National Register of Historic Places Nomination Form. "Penn's Cave and Hotel."
Historic Penn's Cave & Wildlife Park. www.pennscave.com (Accessed June 29, 2021).
---
First Published: August 3, 2021
Last Modified: October 3, 2021