Robert Norman Fisher was an internationally known sculptor and designer who was a pioneer in the use of computer visualization in sculpture. He was a longtime resident of Bellefonte and, along with his wife, True Talley, was a leader in the historic preservation of the borough. His work can be seen in several Centre County buildings.
Fisher was born in Shaker Heights, Ohio, on May 28, 1939. His father was an inventor who held patents for various hair styling devices. Fisher graduated with degrees in humanities and engineering from the Massachusetts Institute of Technology in 1961. He later earned a master's degree in Industrial Design at Syracuse University. He co-wrote the book The Design Continuum: An Approach to Understanding Visual Forms with Stewart Kranz.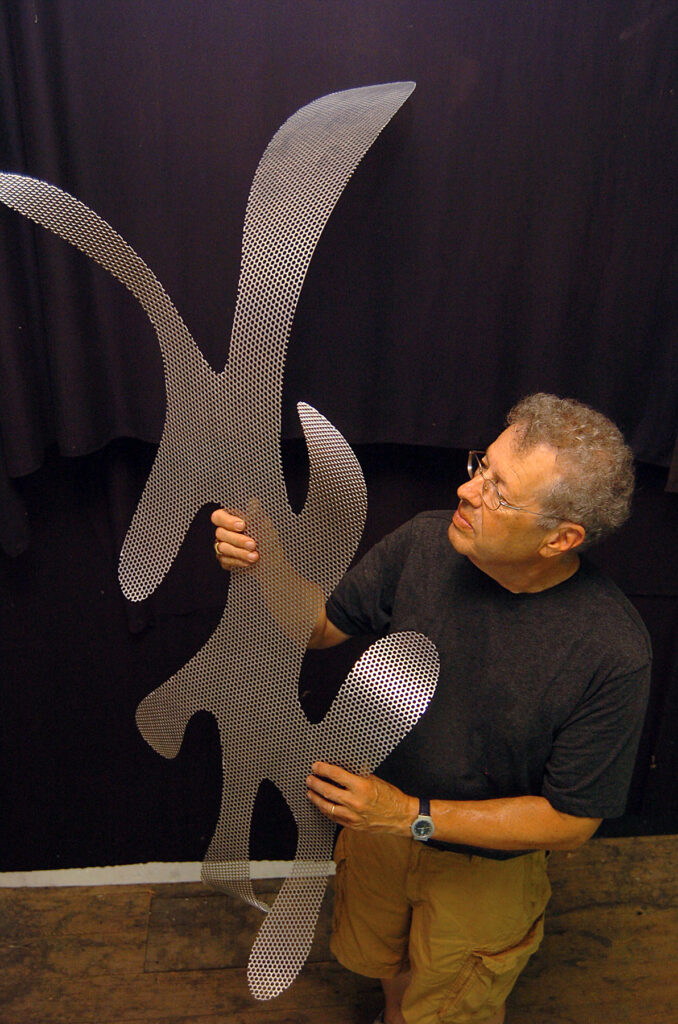 Fisher went on to teach at Colorado State University, University of Illinois, and Penn State, where in 1988 he became the first artist in residence in the College of Engineering. In 1993, he was named senior research artist and fellow at the Studio for Creative Inquiry at Carnegie Mellon University. In this position, Fisher helped develop two shows for the planetarium at the Carnegie Science Center in 1996 — Journey into the Living Cell and Gray Matters: The Brain Movie.
His work, which was often inspired by nature, is exhibited in Centre County and around the world. One of his early sculptures, which was designed using computer-assisted methods, was the 86-foot-high sculpture "Galaxy" in Quincy, Massachusetts, which was based on astronomical observations. For the 1996 Summer Olympics in Atlanta, Georgia, Fisher designed "Olympos," a lighting installation atop Atlanta's tallest building, NationsBank Plaza (later known as Bank of America Plaza).
In 2000, Fisher was selected to create a sculpture for the International Arrivals Hall of the Philadelphia International Airport. His piece, "The American Dream," features the words of the Declaration of Independence in large letters along with a copy of the historic document in stained glass. Among other sculptures by Fisher are the 40-foot-high kinetic sculpture "Dihedrals" at the Gateway Center in Columbia, Maryland, and "Slice of Life" for the AstraZeneca Pharmaceuticals Visitor Center in Wilmington, Delaware.
Fisher sculpted commissions for Centre County buildings, including the Allenway Building in State College, the Penn Stater Conference Center, and the American Philatelic Society headquarters in Bellefonte.
Fisher married True Talley in 1960 and they had two children. He and his family moved to Bellefonte in 1974. He was a member of the Bellefonte Historical and Cultural Association and, along with his wife, was active in the historic preservation of the borough, including the design of Talleyrand Park and its gazebo and pergola.
Fisher died suddenly on September 13, 2006, at the age of 67. After his death, his family completed and installed his works in progress. His daughter Talley, who worked closely with him, has continued his work in visual sculpture from a studio in Bellefonte.
Alex Schmidt
---
Sources:
Cowen, Mary S. "Have cosmos, will travel," Christian Science Monitor, April 5, 1983.
Higgins, D.K. "Passing the Torch: Talley Fisher Continues the Tradition of a Great American Sculptor — Her Father." State College Magazine, November 2009.
Hopkins, Margaret. "Sculpting history as art." Centre Daily Times, June 17, 2001.
"Robert Norman Fisher," Centre Daily Times. September 19, 2006.
---
First Published: November 2, 2021
Last Modified: March 8, 2022