Schlow Centre Region Library, established in State College in 1957, serves Centre County residents as an agency of the Centre Region Council of Governments.
The library was founded when local business owner Charles Schlow (1886-1981) donated a property with a two-room storefront on West College Avenue to house it. The library opened on January 17, 1957.
Over the years, the library changed locations and names several times. Its initial name, State College Community Library, was changed to Bella S. Schlow Memorial Library in 1958, in memory of Charles Schlow's spouse, Bella Silversmith Schlow, who died after battling cancer.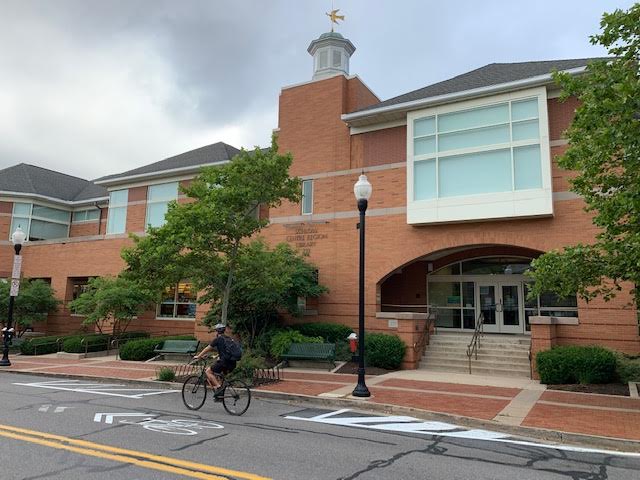 In 1966, the library moved to its current location at the corner of Beaver and Allen streets, occupying the former State College post office. The name was changed to Schlow Memorial Library in 1967 to honor the whole family.
In 2004, the library building was razed and construction of new library began. During construction, the library was temporarily relocated to the former State College Borough building on Fraser Street. The new library opened at the current South Allen Street location on October 3, 2005.
A proposed name change sparked controversy during this period when the library's board of trustees discussed updating the name to reflect the scope of Schlow's primary service area. The library is supported by the taxpayers of State College borough and College, Ferguson, Halfmoon, Harris, and Patton townships — the municipalities which make up the Centre Region Council of Governments.
However, there were concerns that the historical significance of the library's community connection with the Schlow name might be lost. Family members, the public, the mayor, and other municipal leaders weighed in. After discussions, the facility opened with its new name: Schlow Centre Region Library.
The library offers print books, audiobooks, internet access, computing services, and other media and educational programs. The Children's Department, one of the most popular parts of the library, offers a summer reading program, story times, movies, and other events. The work of Centre County artists is displayed in the Betsy Rodgers Allen Gallery, named for the former director who served for more than 30 years, retiring in 2010.
The Central Pennsylvania District Center, an administrative-service unit based at Schlow, is a central support for libraries and users in Centre, Clearfield, Juniata, and Mifflin counties, helping users gain access to materials that are not available in every county.
Sally Heffentreyer
---
Sources:
Schlow Centre Region Library. www.schlowlibrary.org (Accessed June 7, 2022).
Ready, Frank, "Schlow prepares to celebrate 60 years in downtown State College." Centre Daily Times, May 27, 2017.
---
First Published: July 6, 2022
Last Modified: August 9, 2022