St. John's Episcopal is one of the oldest churches in Bellefonte and the last to still have its spire.
Episcopalians began meeting in Bellefonte in 1825, first in a cabinet shop and later in the Masonic Lodge. Three years later, the Episcopal Diocese of Central Pennsylvania assigned a missionary to the churches of Bellefonte, Philipsburg, and Huntingdon.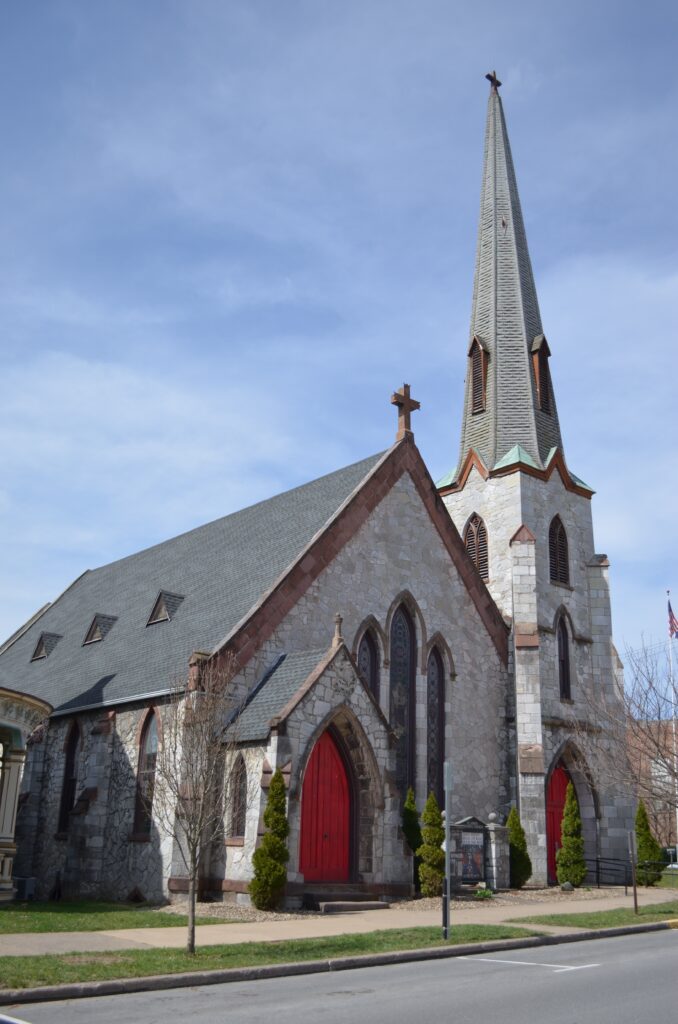 Missionary services were held irregularly, but in 1837 the Reverend George W. Natt, a recent graduate of the General Theological Seminary in New York City, was assigned as rector in Bellefonte. The following year the first permanent home for the congregation was built behind the Centre County courthouse on High Street.
Reverend Natt served St. John's for thirteen years while also conducting services on weekdays in Philipsburg, Lewistown, Lock Haven, and Clearfield.
The current grey-stone Gothic Revival church on Lamb Street was consecrated on June 1, 1872. The St. John's rectory, which still serves as the home of priests assigned to the church, opened in 1877.
A major benefactor of the church and rectory was William F. Reynolds, a wealthy banker and land owner, who built the Reynolds Mansion in Bellefonte in 1855.
St. John's and its rectors were instrumental in establishing other churches in the area, including St. Andrews Episcopal Church in State College.
The original church organ was built by J.W. Steere & Sons in 1893. The mechanical key-action, stop-action organ is still used.
While other churches in Bellefonte have been unable to preserve their steeples, St. John's has continued to do so, making it a landmark in the borough. St. John's is part of the Bellefonte National Historic District.
---
Sources:
St. John's Episcopal Church, stjohnsepiscopalbellefonte.org (Accessed February 18, 2022).
"A Century of Christian Progress, 1837-1937," St. John's Episcopal Church, Bellefonte, Pa.
---
First Published: February 25, 2023
Last Modified: March 4, 2023